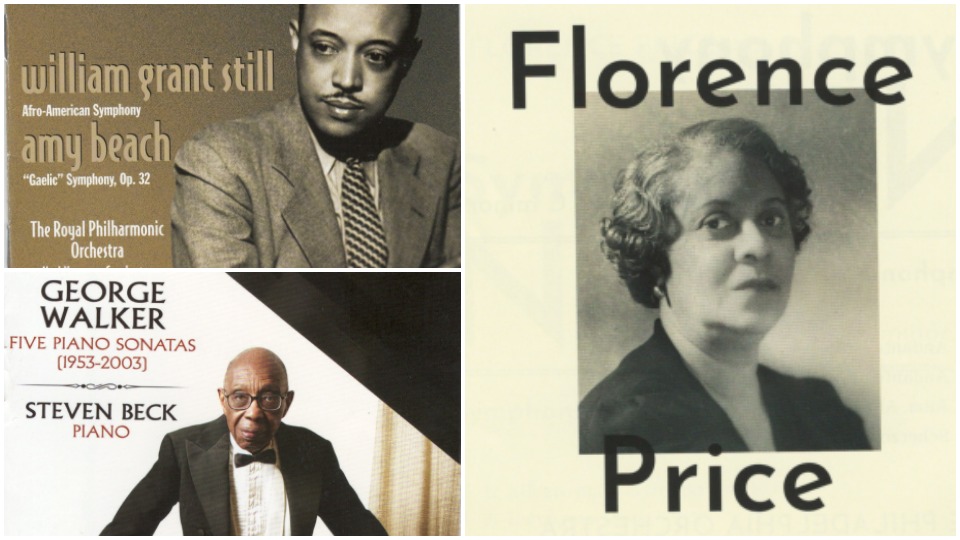 African-American composers have often drawn on ethnic melodic themes, harmonies, rhythms, and instrumentation for their work, drawing from classic forms such as blues, ragtime, and spirituals. But not all, as we shall see later on.
Under review here are three classical CDs featuring African-American composers with greater or lesser (mostly lesser) familiarity, and one non-Black Bostonian lady.
Two by the rediscovered Florence Price
The latest news concerning the long-neglected African-American composer Florence Price (1885-1953) came from the MGM Grand Garden Arena in Las Vegas on April 3, when the Deutsche Grammophon recording of her Symphonies Nos. 1 & 3 won the Grammy Award for Best Orchestral Performance. The musicians were The Philadelphia Orchestra under the baton of its music director, since 2012, Yannick Nézet-Séguin. The Québécois conductor and pianist also directs the Orchestre Métropolitain of Montréal and New York's Metropolitan Opera.
This recording is nothing short of a revelation, helping to restore some of the glory Price was denied during her lifetime. Though there was a moment during the 1930s when her work was featured by several leading conductors such as Frederick Stock and Sir John Barbirolli, the racism and sexism of her day ensured that she and her music would fall into obscurity. Singers were familiar with a few of her songs, but that was about the extent of her renown. After her death, her scores were literally left to rot in her summer house until the new owners discovered them in 2009. The score to her Symphony No. 2 has apparently disappeared.
On the face of the physical CD appear the words "To begin with I have two handicaps—those of race and sex," taken from a 1943 letter to conductor Serge Koussevitzky.
The first symphony, begun in 1931, was given its premiere by the Chicago Symphony under Maestro Stock in 1933 in a concert called "The Negro in Music" at the city's Century of Progress International Exposition. With that performance, she became the first African-American woman to have a work played by a major American orchestra, though the CD program annotator Richard Evidon wryly observes that the fair celebrating "progress," presumably with thousands of worldwide visitors, had restaurants that refused to serve African-American diners.
The symphony's key of E minor is the same as Dvorák's New World Symphony, and at times approaches quoting it. Its first movement, the longest at 18:12, is bathed in rich Romantic harmonies and sweeping gestures, bursting with thematic ideas that only intermittently remind a listener of its Americanness. In the second, shorter at 13:23, the largo, maestoso marking puts it into the arena of a ceremonial Elgar processional, lushly upholstered, homey and reassuring, tension-free with a concluding chorale pointed up by the sound of church bells.
In her third movement, the shortest at 3:41, marked "Juba Dance," we get the traditional symphonic scherzo transformed into an African-American festivity with strong echoes of Scott Joplin's opera Treemonisha. I kept thinking this would be a great encore piece for an orchestra. It has the strongest national and folk character of the four movements. In the final movement (4:52), a kind of perpetuum mobile marked presto, we are back to the European modal model, with a swirling crescendo to finish it off.
My impression was one of more than competent mastery of her orchestra and all its sections, with important solos providing surprising details before the orchestra returns in full array. Yet there is no denying that apart from the novelty (then and even to an extent now) of its composer, the music itself is a conservative throwback to the idiom of her hero Dvorák. The symphony simply does not inhabit the same world as Stravinsky, Schönberg, or even the Americans Charles Ives or Aaron Copland. The avant-garde has been cordially dismissed. Still, like the Amy Beach Symphony, and Still's (see below), it ought to be heard far more.
The Symphony No. 3 in C minor was a 1938 commission by the Works Progress Administration and its Federal Music Project. It premiered in Detroit in November 1940. A local critic wrote, "Mrs. Price…spoke in the musical idiom of her own people, and spoke with authority. There was inherent in both works [the program also included her Piano Concerto] all the emotional warmth of the American Negro." This work displays a deepening command of the orchestra, and a much more thorough infusion of African-American soulfulness. If actual spirituals are not quoted (and I think they are), her main themes summon their timbre. She spills out a constant flow of invention, and by now, unlike in the First, we hear evidence of Gershwin's contributions to American music (which, of course, themselves were inspired by Black American sounds, including William Grant Still—see below). Between her First and the Third, Porgy and Bess had rocked Broadway and no one could escape its influence.
After a thrilling conclusion to the first movement (11:27), the second (9:32) is a languorous, luminous homage to inner peace. The following Juba (5:05) is blues-inflected with more of a Broadway flair, again à la Treemonisha, and the finale (5:04) is a long buildup to the end with cymbal crashes heralding its bombastic moments.
Nézet-Séguin has made the best possible case for these two Price gems. I would hope that other symphonic conductors would adopt them into their repertoires and put their own spin on them. They'd fit in well to any orchestral season, and also with "Pops" offerings, especially during African-American History Month, Women's History Month, or on the Fourth of July.
Not having achieved much recognition in her own lifetime, it is high time to integrate Florence Price's masterpieces into modern musical life. And also not too late for the USPS to celebrate her achievements by issuing a beautiful postage stamp in her honor.
Deutsche Grammophon B0034879-02
William Grant Still (1895-1978) became known as the "Dean of African-American Composers" (as Aaron Copland was considered the "Dean" of American composers overall). His output is vast, consisting of works in many different forms, including an opera, Troubled Island, based on the Haitian Revolution. Still was the first African-American composer to write a symphony, and that is the work reviewed here in a performance by the Royal Philharmonic Orchestra conducted by Karl Krueger. The CD also contains the "Gaelic" Symphony by Amy Beach, which we'll comment on as well.
Still called his work the Afro-American Symphony. Written in 1930, at the height of the Harlem Renaissance years, it premiered on Oct. 29, 1931, with the Rochester Philharmonic Orchestra conducted by Howard Hanson. Still's early musical career brought him to the Broadway stage and to the recording studio, where he worked closely with such figures as Eubie Blake and W.C. Handy. A listener will hear familiar sounds—of the stage, the street and the South—made especially prominent as composers like George Gershwin reconfigured them for his own music. If it seems like you're hearing "I've Got Rhythm," well, William Grant Still got there first. The soaring violins remind a listener of many passages in Porgy and Bess? This 1930 symphony preceded that Broadway opera by at least half a decade.
The 30-minute symphony is in four movements with Italian tempo markings as well as English titles.
The first is "Longing," muted, bluesy, tuneful in a nostalgic Southern mood with spotlights on various solo instruments—a strategy not uncommon in symphonic music generally, but here reminding a listener of the jazz ensemble practice of tossing solo "riffs" to its players.
In "Sorrow," the second movement, the feeling is of resignation and compassion with haunts of seemingly recognizable tunes just out of memory's reach—maybe it's just some standard chord progressions that lead the mind there. It ends with lovely comforting chords. Composer Samuel Barber's well-known "Adagio for Strings," excerpted from a string quartet, is often used at times of national mourning to solemnize the occasion in public performance and on radio. Perhaps the "Sorrow" movement from this symphony might alternatively serve a similar end. Each of the four movements features a verse by Black poet Paul Laurence Dunbar. The verse for this movement reads, "It's moughty tiahsome layin' 'roun'/ Dis sorrer-laden earfly groun',/ An' oftentimes I thinks, thinks I,/ 'Twould be a sweet t'ing des to die/ An go 'long home." Which prompts me to wonder if in some respect this symphony is Still's answer to Dvorák's African-American-inspired New World Symphony with its famous "Going Home" tune.
The third movement, "Humor," Still's version of the traditional scherzo movement in a symphony, is bold, festive, and celebratory with many fleet, skipping tunes, and a prominent banjo in the orchestration. Dunbar's accompanying verse says, "An' we'll shout ouah hallelujahs,/ On dat mighty reck'nin' day."
The final and longest movement, "Aspiration," contains resolute, noble, long-limbed melodies with an overall pensively upward feel. About three-quarters through it, a lively urban dance breaks in with its Big Band sound that leads into the final buildup of heroic proportions. "Be proud, my Race, in mind and soul," says the poet, "Thy name is writ on Glory's scroll/ In characters of fire./ High mid the clouds of Fame's bright sky/ Thy banner's blazoned folds now fly,/ And truth shall lift them higher."
This music shows its deep rootedness in Black American life, a worthy example of proud nationalism in music. Has a ballet company ever used this score for a choreographed work? I think it could be beautiful.
A symphony by Mrs. H.H.A. Beach
On the same disk, same conductor, same orchestra, is the 35-minute"Gaelic" Symphony, op. 32, by, until recent time, undoubtedly America's most accomplished and famous woman composer, Amy Beach (1867-1944), née Amy Marcy Cheney. After her 1885 marriage at 18 to Henry Harris Aubrey Beach, a Boston society physician and surgeon on the Harvard Medical School faculty, she presented herself professionally as Mrs. H.H.A. Beach. Mostly self-educated, she follows in the great German symphonic tradition. Her immediate forebears would seem to be Mendelssohn, Schumann, and especially Brahms.
For a period of three years in the early 1890s, the Czech composer Antonin Dvorák resided in the United States. It was the height of the nationalist movement in music and other arts. The Czech lands were at the time part of the Austro-Hungarian Empire, so the composer worked steadily to create a national Czech music, as composers elsewhere in imperial Europe did. In America, he urged composers similarly to exploit the native sounds of the continent as source material for their work. While some were drawn to Native American themes, Dvorák was especially drawn to the rich African-American folk musics—spirituals, minstrel music, dance tunes, and rhythms. The famous "Going Home" theme in his New World Symphony, while an original melody, is formally inspired by the spirituals he heard in America.
Amy Beach heard Dvorák's call and ignored it. "We of the North," she wrote in a letter to the Boston Herald, "should be far more likely to be influenced by old English, Scotch, or Irish songs, inherited with our literature from our ancestors." To her, the strong British Isles influence in New England spoke more loudly, especially in light of the heavy Irish immigrant influx in her Boston. In her day, to be sure, the Irish, the Italians, Greeks, and Jews, were only beginning to be accepted within the constructs of "whiteness."
Beach had an early success with her Mass in E-flat, premiered by the prestigious Handel and Haydn Society of Boston in 1892, and followed that up with a number of other works for large forces until she resolved to write her symphony. Emil Paur, music director of the Boston Symphony Orchestra, led its premiere in 1896, and the work picked up numerous performances by other orchestras in the following years, remaining, however, something of a curious outlier and never quite entering the standard repertoire, probably owing in large part to the gender of the composer. Though having said which, in truth, very few symphonies by any American composers entered the repertoire until Howard Hanson's "Romantic" Symphony of 1930, and then Aaron Copland's symphonies. To this day, even regular concertgoers would be hard-pressed to hum a single theme from any American symphony.
The "Gaelic" does employ some ancient Irish tunes that Beach encountered in a published collection, but also other themes of her own invention. Her four-movement structure is typical, with contrasting moods and tempos, rollicking, Romantic, marching by turns, even a surprising second movement that starts off "alla Siciliana" (the rocking mode of a Sicilian tune). In all, it's exciting, tuneful, expertly orchestrated, and ultimately a satisfying crowd-pleaser; in short, a great American symphony.
At the same time, given its date of composition, it can be seen as derivative—especially in its great Brahmsian sweep—with nary a hint of the modalities, harmonies, chords, and stretched tonalities of the more recent decades' music coming out of Germany and Austria, such as that by Richard Wagner (already long dead), Anton Bruckner (who died the same month as the Beach premiere), Richard Strauss, or Gustav Mahler, not to mention the then still young Arnold Schönberg. Nor, of course, did it sound particularly "American." Beach's symphony will always have its fans, and rightly so—it should be performed more often as part of our musical history. But at the same time, it can be recognized that this was not music at the cutting edge of its time, and it very soon sounded like yesterday's news. Yet for audiences who still love their Brahms and Mendelssohn, why not program a fine American symphony such as this one from time to time?
Bridge Records 9086
George Walker: Five Piano Sonatas (1953-2003) comprises all five compositions the distinguished African-American musician wrote over the span of half a century. He lived from 1922 to 2018 and completed the fifth when he was already 80. Compared to other modern American composers, Walker was relatively prolific in this form, allowing listeners to this CD to trace his stylistic interests over a long period.
Walker ticked off a number of "firsts" in his career. He was the first Black person admitted to the Curtis Institute of Music in Philadelphia, the first to study with the renowned teacher Nadia Boulanger in Paris, and the first to win the Pulitzer Prize in Music (in 1996 for Lilacs for Voice and Orchestra, a setting of the Walt Whitman elegy for Abraham Lincoln). He was also a fine pianist himself, who left admired recordings of piano concertos by Brahms and Beethoven. His catalog embraces almost every musical form, including vocal music, though not an opera. Reviewing the titles of his collected oeuvre it is hard to spot much overt reference to African-American culture. The fact is that Walker rejected the stereotyped idea that his skin color need determine the sound of the music he chose to create, even as many, perhaps most other American composers of his time freely incorporated every "Black" signifier such as blues, ragtime, spirituals, jazz, gospel, etc. He does have a "Bleu for Unaccompanied Violin," however, which has bluesy traces.
Listening to the five piano sonatas, there are no "giveaways" as to Walker's racial ethnicity, although Ethan Iverson's program note identifies a highly attenuated quote from "Sometimes I Feel Like a Motherless Child" in the 4th, so abstract that I could barely notice it even when pointed out. Most listeners would miss it.
Bridge Records has released this 53-minute album, with the stunning keyboard work of Steven Beck, just in time for Walker's centennial this year (June 27). Let's see if America's musical institutions pay him any attention. The longest of the sonatas is the first at 14:24, and the shortest is the last at 4:47, in a single movement. Aside from eschewing "Black" sound, his work also generally avoids reference to popular music of any kind. The one exception, at least to my ear, occurs in the 1st (1953, revised 1991), with two strong, dramatic movements bracketing a "Theme and Six Variations" in the middle, a lovely invention that could easily serve as a stand-alone piece. The theme is not identified clearly, but throughout the movement I kept hearing "How Can I Keep From Singing?" or so I thought.
The 2nd, at 9:00, from 1956, the only sonata with four movements, begins with a "Theme and Ten Variations." If the theme was from outside the composer's own notebook, I could not name it, though the alteration of heavy-footedness and sprightliness reminded me of Mussorgsky's "Pictures at an Exhibition." The brief Presto movement (1:12) seems to capture an impish child skipping into the room and dashing out of sight again without a word. The following Adagio has the sense of danger, apprehension, and suspense of a Hitchcock movie. The tonal chords of the final movement presage a mood of tranquility, ending with an open inconclusiveness.
In the 3rd, at 11:46, composed in 1975 and revised in 1996, Walker starts off with "Fantoms," a ghost-like apparition, followed by "Bell," which is one of the most extraordinary movements for solo piano I have ever heard: for 2:09 the almost ceremonial intonation of a single chord as though from a large outdoor temple bell, struck each time until its reverberations dissolve, at different intervals and strength, each time seemingly emitting distinct tonalities. On reflection, it seems like such an obvious gesture, but I don't recall ever hearing it quite that way—and not at all like the riotous chorus of bells summoned up in the final "Gates of Kiev" movement of "Pictures." The 3rd concludes with a Choral and Fughetta, the choral(e) inevitably evoking Bach, and the "little fugue" appearing in dissociative form, barely recognizable as a fugue of any sort.
The 4th, at 13:16 from 1984, opens with a magisterial Coplandesque announcement of Something Important, appropriately marked "maestoso" or majestic. The second and last movement is marked "Tranquillo," which it is, but only intermittently, alternating with fast, discordant sections, ending like a carefree, lazy afternoon spent dawdling at the keyboard.
The last sonata dates from 2003, the most compressed, as though the composer had little time left for a more extended statement (although he still had another 16 years of life ahead of him). All in all, it's a satisfying album, and a worthy, though limited introduction to Walker's music for those unfamiliar with him. But with hardly a note of popular reference, it's a heady intellectual affair clearly not aimed at seducing a broad audience.
George Walker: Five Piano Sonatas (1953-2003)
Bridge Records 9554