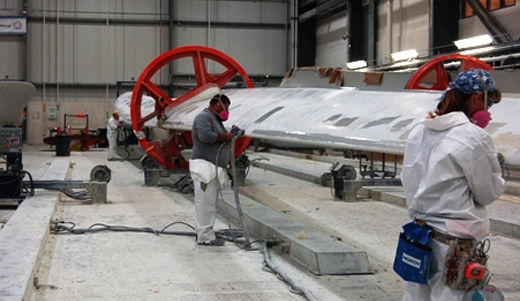 As government statistics reveal that the economy shed an additional 85,000 jobs in December, President Obama announced today, Jan. 8, funding for tax credits to promote new job growth in the clean energy manufacturing sector.
Over 180 companies will receive about $2.3 billion in tax credits to directly create 17,000 jobs. These companies, about one-third of which are small businesses, senior administration officials stated, will be rewarded for innovative, domestic manufacturing of clean energy products like wind turbines and parts, solid state lighting, energy efficient building materials, solar panels and parts, long-term batteries, and equipment for manufacturing renewable fuels, for example.
The tax credits have been awarded to companies who have chosen to build manufacturing facilities in 43 states in the US. They are also designed to leverage more than $5 billion in private sector investments to create an additional 41,000 jobs, senior administration officials said.
"In order to make these jobs really work, [the U.S.] need[s] to be [a] global leader in high-growth industries," one senior administration official said. "Clearly, these clean energy industries are among the highest growth in the global economy today."
He added that the emergence of a major, domestic clean energy manufacturing sector would boost U.S. exports, in addition to creating new jobs.
"Building a robust clean energy sector is how we will create the jobs of the future," said President Obama in remarks at the White House. "The Recovery Act awards I am announcing today will help close the clean energy gap that has grown between America and other nations while creating good jobs, reducing our carbon emissions and increasing our energy security."
"By investing in innovative clean energy manufacturing projects like these, we are not only creating good jobs now, but helping lay a new foundation to keep America competitive in the 21st century economy," added Vice President Biden. "This is what the Recovery Act is all about."
The White House recently called on Congress to double the size of the program to accelerate job creation in the U.S. clean energy manufacturing sector.
This round of tax credits is part of a larger multi-billion package of grants, investments, tax credits and loans from the federal government as part of the Recovery Act aimed at boosting and modernizing the "green economy."
Sierra Club President Carl Pope praised the announcement of the tax credits in a statement. "Clean energy jobs are already putting food on the table and paying the mortgage for tens of thousands of Americans across the country. The tax credits announced today will benefit tens of thousands more," he stated.
He urged Congress to take additional steps to pass comprehensive climate change and clean energy legislation to create more jobs.
Senior administration officials stated they are working with key figures in the Senate, such as Sens. John Kerry, D Mass., and Joe Lieberman, I-Conn., to push forward comprehensive climate change and clean energy legislation.
Photo: Terrie Albano