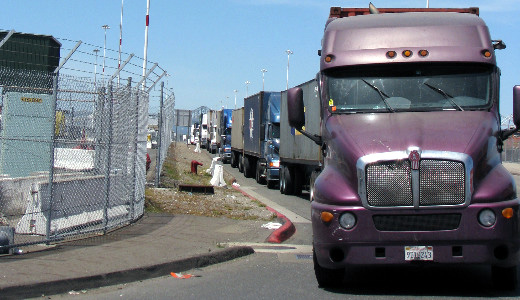 In a move praised by a broad coalition of environmental, labor, business and public health organizations, Representative Jerrold Nadler, D-NY, and 50 other House members from 15 states Feb. 9 reintroduced legislation to protect clean truck programs and cut harmful air pollution now plaguing the nation's ports and surrounding communities.
The Clean Ports Act of 2011 would amend the Federal Motor Carrier Act to let ports enact and enforce clean truck programs and implement environmental programs. It makes clear that an obscure provision in the 30-year-old Federal Motor Carrier Act doesn't prevent local port officials from exercising their existing regulatory authority to clean up trucking operations and create financial incentives to jump-start an alternative fuel economy.
BlueGreen Alliance Executive Director David Foster called the bill "a simple way" the federal government can help local governments cut emissions, boost green jobs, improve public health and help responsible businesses grow during economic recovery.
Studies of pollution around ports and earlier Congressional hearings, have highlighted the deadly effects on surrounding areas of air pollution resulting from port trucking operations. The studies and hearings have also highlighted the plight of truck drivers serving the ports, who as "independent contractors" must buy and maintain their own trucks. As a result, many end up netting as little as $10 to $11 per hour during long workweeks.
In recent years local community-labor coalitions have been working with ports around the country to develop clean trucks programs to sharply reduce air pollution from trucking operations. The nationwide Coalition for Clean and Safe Ports, www.cleanandsafeports.org, now brings together over 150 environmental, labor, public health, faith and other organizations.
The Clean Ports Act would open the way for others to follow the lead of the Ports of Los Angeles and Long Beach, which in 2008 launched a program to replace thousands of old, polluting trucks with clean-burning and alternative fuel vehicles. As a result, pollution dropped significantly and the regional economy registered gains despite the recession.
The Los Angeles port also sought to require trucking companies to sign comprehensive concession agreements, including hiring drivers as employees and taking responsibility to maintain truck fleets. But this is now on hold pending the final outcome of the American Trucking Associations' lawsuit against the employee-driver requirement.
"We know that for these trucks to be replaced promptly and to be no longer polluting the air in nearby communities, companies need to step up and take responsibility for the trucks and their workers," Coalition for Clean and Safe Ports spokesperson Coral Lopez said in a telephone interview. As long as companies can misclassify workers as independent contractors, she said, "we are going to continue the cycle of poverty and pollution."
Ports are the gateways for everything that enters or leaves the U.S., Lopez said, and the Clean Trucks Program is part of operating the ports "in a green and responsible way, that can provide green jobs and good jobs for American workers."
Matt Yates, director of commercial operations for Brooklyn, N.Y.-based American Stevedoring, called modernizing the port "a long-term investment that merits real capital and real commitment between port authorities and private businesses – not workers behind the wheel."
The dilemma facing Los Angeles port truckers, who must now comply with clean air regulations while remaining independent contractors, was summed up by L.A. port driver Alex Mejia: "Now drivers are being forced to pay for the company's new clean trucks, but I can already tell you that these trucks are not going to stay 'clean' for much longer – we just can't afford the maintenance."
Despite working "double shifts," Mejia said he still must choose between buying milk and replacing a filter. "Congress can make sure these companies are playing by the rules," he said. "Otherwise the clean air programs will fail and drivers like me will continue to live in poverty."
Photo: Marilyn Bechtel/PW