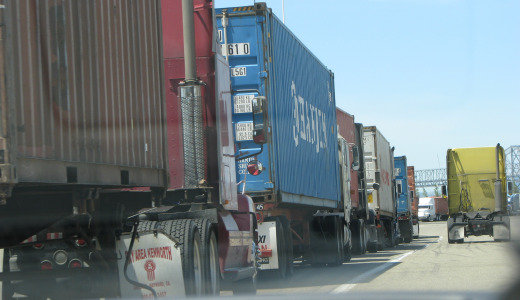 A congressional subcommittee this week heard compelling testimony about the achievements of the Clean Trucks Programs at the Ports of Los Angeles and Long Beach and what's needed to assure their continued success. The body also heard a moving account of the problems faced by low-paid "independent" truck drivers at the ports.
The May 5 hearing was convened as "the first step" to examine progress and challenges in implementing the programs, and to determine if federal law needs changing, U.S. Rep. James Oberstar, D-Minn., chair of the parent Committee on Transportation and Infrastructure, said in an opening statement.
In October 2008 the two ports launched Clean Trucks Programs to replace thousands of old, polluting trucks with newer, lower-emissions vehicles. Along with strict environmental standards and subsidies to help buy new trucks, the LA port planned a "concession" system of requirements for trucking firms working at the port, including hiring drivers as employees, making the firms responsible to maintain the trucks. Long Beach didn't require drivers to be employees.
However, the concession requirements were sidetracked when the Virginia-based American Trucking Associations (ATA) won a preliminary injunction blocking them. A trial in ATA's lawsuit ended late last month and a decision is pending.
At the hearing, officials from both ports said emissions have been cut up to 80 percent two years ahead of schedule. But LA port spokesperson John Holmes said he views the concession requirements, including employee drivers, as vital for long-term success, adding that the broader issue is the right of ports to determine their own standards.
Testimony of 20-year "owner operator" Jose Covarrubias underscored Holmes' contention. "All we are is employees with expenses," he told the subcommittee. In written testimony, he said, "No matter what port truck driver I talk to, the story is the same. The companies just call us 'independent contractors' so we can pay for everything and so that they can avoid paying their taxes. But this can't continue, especially now that we have to take care of the new clean trucks."
In written testimony for the Natural Resources Defense Council, staff attorney Melissa Perrella cited regional air quality agency findings that the Ports of Los Angeles and Long Beach account for "more smog-forming pollution and particulate-forming nitrogen oxides than all 6 million cars in the region."
Communities around the ports have a cancer risk from air pollution 60 percent higher than elsewhere in the region, as well as higher asthma rates, Perrella said, adding that impacts are especially severe in neighborhoods closest to the ports, which are predominantly low-income communities of color.
She said the NRDC disagrees with trucking industry claims that under federal law, ports lack authority to address environmental and safety concerns from port trucking,. She said her organization supports amending the Federal Aviation Administration Authority Act "to ensure that ports can readily address local threats to public health and safety that occur on port property."
The committee also heard testimony from a Teamsters union leader and from industry representatives including the American Trucking Associations' Robert Digges.
Digges and other industry spokespersons say they support the clean air goals. But in his written testimony, he claimed mandating drivers to be employees would greatly harm the many small trucking firms working the ports. He also objected to other regulations in the concession model, among them "submission of truck maintenance, safety and off-port parking plans" which he said are already required and would be a costly burden. Tellingly, Digges noted that employee drivers would also be able to organize into unions – something independent drivers are barred from doing.
Other ports are contemplating similar clean trucks programs, and are watching closely as the drama plays out.
Photo: Trucks line up to pick up loads at the Port of Oakland. (PW/Marilyn Bechtel)