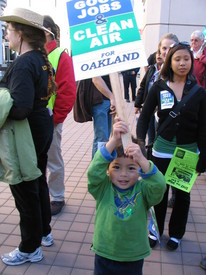 OAKLAND, Calif. — No matter which coast they're on, the nation's ports, the truck drivers who convey most goods to and from port terminals, and the surrounding communities are suffering the same problems: congested traffic leading to inefficient transfer of goods, rampant pollution-related illness, and working conditions binding drivers in an unrelenting cycle of poverty.
Port drivers were hard hit by the 1980 deregulation of the trucking industry. As a result, most are now classified as "independent contractors." They must buy and maintain their trucks, and lack both benefits and the right to organize for better conditions.
Increasingly, environmentalists, drivers, public health advocates, neighborhood residents and organized labor are joining together to press for solutions they say will help make ports more efficient, drastically cut pollution affecting port workers and nearby residents alike, and help drivers win decent wages and working conditions.
The Clean Trucks Program at the Port of Los Angeles and a similar program in Long Beach have taken the lead in this process, replacing thousands of old, polluting trucks with clean-burning and alternative fuel vehicles. The result, according to LA's environment-labor-community Coalition for Clean and Safe Ports, has been a significant drop in pollution, and ― despite the economic crisis ― significant gains for the regional economy. The LA Port had also moved to require trucking companies to sign comprehensive concession agreements, hiring drivers as employees and taking responsibility to maintain their fleets. But this is now on hold pending the December trial of a suit by the Virginia-based American Trucking Association, which seeks to overturn the employee requirement.
The Coalition points out that the LA truck program is endorsed by President Obama, Secretary of State Clinton, and the entire California Democratic Congressional delegation including both senators and Speaker of the House Pelosi. In a break with Bush administration policy, the Federal Maritime Commission has dropped all opposition to the southern California clean trucks programs.
Oakland has also been developing a Clean Trucks Program as part of its overall Maritime Air Quality Improvement Plan, with encouragement from the local Coalition for Clean and Safe Ports. But efforts to develop a similar concession program are delayed pending the outcome of the ATA suit.
On July 30 the Oakland Port Commission gave final approval to a resolution urging Congress to modernize transportation policy so it is clear that ports can set and enforce standards, including for the trucking industry. "Our nation's ports need the tools to protect public health by holding industry accountable to a more responsible means of transporting goods," Port Commission President Victor Uno said in introducing the resolution. "Unless Congress brings transportation law into the 21st century," he added, "we will fail to permanently reduce the toxic diesel pollutants that are contributing to serious illnesses such as asthma and cancer amongst children, port drivers and residents."
Congress is currently considering the Surface Transportation Authorization Act of 2009, to establish national regulatory reforms for U.S. ground transportation.
In Seattle, the Coalition for Clean and Safe Ports "has pushed the port, in the last two years, to implement a lot of what the Port of LA has been implementing," spokesperson Heather Weiner said in a telephone interview. "But the excuse we've heard over and over again is, we don't want to do it because we don't want to get sued by the American Trucking Association."
Weiner said the port has launched a program to ban some of the dirtiest trucks, has provided a small parking lot for the truckers and has allocated some funding for a loan program. "But essentially the truckers are independent contractors and still have to absorb all the costs, the trucks are still in the neighborhoods, and the trucks are not being replaced with clean trucks," she said.
Though the problems are the same, Seattle's port commissioners are elected, not appointed by mayors as in California, she said. Coalition members including the Teamsters Union have formed an election committee that is running a slate of pro-labor, pro-environment candidates.
A similar coalition in New York/New Jersey has a slightly different name, Coalition for Healthy Ports.
Work there is at an earlier stage. The Port Authority of New York and New Jersey has just authorized $28 million to help drivers replace the oldest, dirtiest trucks operating at the port. Grants will cover 25 percent of the cost of replacing pre-1994 trucks, and drivers will be offered low-interest five-year loans.
Among many studies documenting the problems facing truckers and neighboring communities is "Port Trucking Down the Low Road: A sad story of deregulation," prepared by Rutgers University Professor David Bensman and published by the national public policy research center Demos. The study cites the role of diesel emissions, especially from older trucks, in causing major health problems. It also points out that independent truck drivers work long hours for an average annual income of about $28,000.
Lacking benefits, many drivers and their families must rely on public resources for their health care. The report also notes that the current distribution system, with many warehouses at a significant distance from ports, and with port drivers forced into long waits for their loads, is contributing to growing inefficiencies and rising costs to move goods in the U.S.