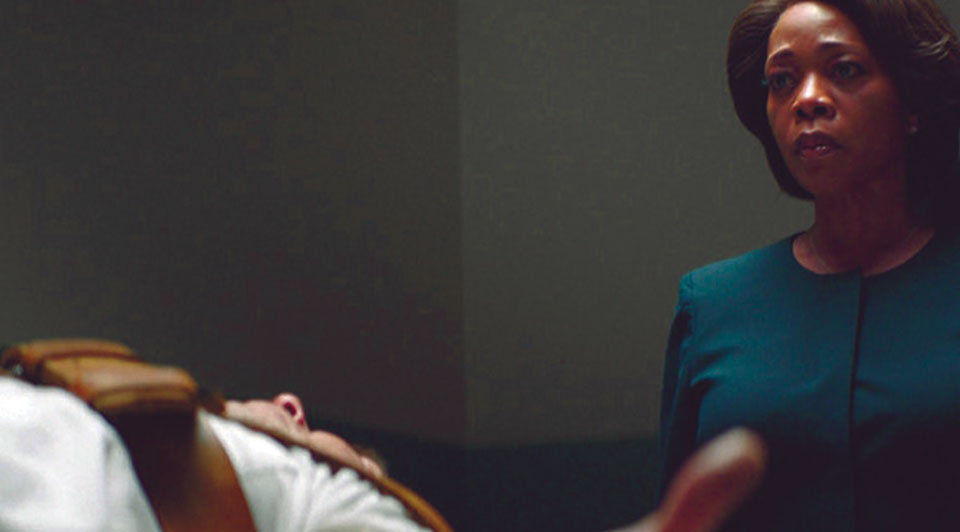 [Note: This review may contain plot spoilers.]
With her first extended feature film, Chinonye Chukwu's Clemency is a gripping death penalty drama. (Her 2012 Alaskaland was only 75 minutes long.) The movie opens and closes with a legally sanctioned execution that is botched at a prison. After a screening, the writer/director told the American Film Institute festival audience that Clemency was shot on location in a penitentiary no longer in use, which enhances and heightens the movie's realism.
Aldis Hodge (Brian Banks, Hidden Figures) depicts Anthony Woods, who claims he is on death row for a murder he didn't commit. Richard Schiff (The West Wing) turns in yet another one of his stellar supporting role parts as a beleaguered man of conscience, portraying Woods's defense attorney. Marty Lumetta is desperately trying to save his client's life, filing appeal after appeal as the literal deadline for Woods's execution nears.
But they are not the protagonists of this tragedy. Alfre Woodard (Spike Lee's Crooklyn, Grand Canyon, Passion Fish, et al), one of our elder stateswomen of the acting profession, delivers a powerhouse of a performance as the prison warden, Bernardine Williams, Clemency's main character. It requires an actress of Woodard's immense stature to convincingly pull off depicting an African-American female warden in sexist, racist AmeriKKKa, but Alfre—who has previously portrayed Winnie Mandela, Harriet Tubman and President Constance Payton in the State of Affairs TV series—acquits herself well.
Woodard creates a nuanced, complex character whose bleak job casts a gloomy shadow over her troubled private life. Williams drinks too much and is having marital problems with her husband Jonathan (Wendell Pierce, who was such a joy to behold as the philandering jazz musician Antoine Batiste on HBO's excellent Treme series). In their first scene together it appears that Jonathan is sexually dysfunctional—so the woman who metes out death is unable to experience sexual satisfaction with her husband. Paging Dr. Freud!
Actually, Chukwu's screenplay reminded me of psychoanalyst/ revolutionary Frantz Fanon's The Wretched of the Earth, considered to be the bible of Third World liberation. Not because Woods is an oppressed Black man who claims to be innocent of the murder he is set to be executed for and whose supporters are seen and heard railing and rallying against capital punishment outside the prison, but in that Fanon insightfully wrote how torture not only affects the victims of it, but of the perpetrators of these crimes against humanity, too. In the same way, Williams's job is taking its toll on her. In a couple of scenes, she tellingly doesn't respond to people calling her "warden,"  but does when she's called "Bernardine."
Warden Williams is grappling with her humanity as the inhumanity of her job requires killing human beings. Perhaps the title Clemency refers more to her than to a last-minute reprieve from the governor for a death row inmate about to be snuffed by the government. Bernardine is seeking merciful dispensation to rescue herself from her role as a state-condoned executioner.
In the grand finale, another execution takes place just off-camera as we watch Alfre Woodard's facial reactions in close-up in the death chamber, rather than a cut to the inmate being executed. In a post-screening Q&A, Chukwu told the AFI audience this was in part because she was sick and tired of seeing dead Black people onscreen. Well, with all due respect, if this is the case, Chukwu might have chosen the wrong genre to write and direct. Although Woodard is a great enough artist to pull this scene off, it is arguably a mistake to exclusively focus on the executioner, not on the victim.
Having said that, Clemency is definitely a well-written, well-directed, well-acted picture. I couldn't help but wonder, though, how many ticket buyers will plunk down the price of admission to see this almost two-hour-long stark cinematic excursion into the death penalty? Especially considering that key elements of the demographic who'd likely be interested in seeing it can't go to a theater because they're like, you know, locked up on death row. Especially as this realistic but disturbing movie is being, rather remarkably, released around Christmas. (What marketing genius came up with that brainstorm?) We'll see if there are audiences with strong enough stomachs for this worthy but grim drama about the grim reaper on Dec. 27 when Clemency is scheduled to be released.
The trailer can be viewed here.