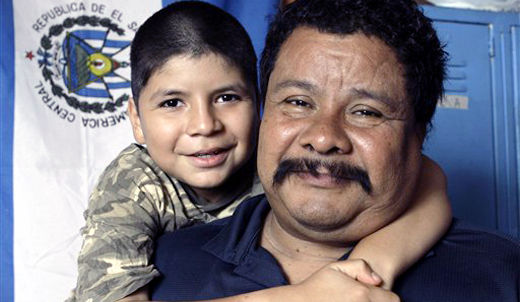 Congressional lawmakers joined several national religious leaders on a conference call today to announce a new mobilization that will deliver over 100,000 postcards to members of Congress urging them to pass immigration reform.
The new campaign is called "Together, Not Torn: Families Can't Wait for Immigration Reform."
Evangelical, Catholic, Jewish and mainline Protestant leaders said the campaign will host 100 events across the country during the President's Day congressional recess as well as other activities including a march on Washington next month.
"During a time when the U.S. faces many challenges, now more than ever, our country needs immigration reform," said Jen Smyers with Church World Service.
"Families that continue to be torn apart can't wait any longer and the faith-based voice must play an important role," she said.
Jennifer Kottler, spokesperson for Christians for Comprehensive Immigration Reform and a pastor with Christian Church (Disciples of Christ), said she is the great-granddaughter of a German pastor that migrated to the U.S.
"I am very proud of my immigrant heritage," she said. "And it is morally unacceptable and economically irresponsible to not pass immigration reform."
Noting that millions of immigrants continue to be oppressed and marginalized, she said the unique new coalition and mass campaign will urge voters to visit and call lawmakers to pass reform, she said.
Kottler called for a tone of civility and respect in the immigration debate. It's a moral issue and people need to be aware how immigrant families continue to suffer, she said.
Galen Carey from the National Association of Evangelicals talked about a woman who recently lost her son in a drunk-driving collision. She was too scared to press charges against the drunk driver because of her immigration status. She was afraid she would be deported, he said. The drunk driver was never brought to justice and the loss of her son has left a hole in the woman's heart, said Carey.
"Stories like these are heard in congregations every day throughout the U.S.," he said. "Today Evangelicals are speaking up and we pray that our country will do the right thing by passing reform, and that they do it now."
Pastor Jon Pedigo with Saint Julie Billart Parish in San Jose, Calif., said he is the grandson of Japanese farmworkers from Hawaii.
"Every day thousands of immigrant families live in fear, and every day families will continue to be torn apart unless we do something," he said, adding that it's not right that entire neighborhoods have to live in fear and distrust of their local police authorities.
"We are here to say we stand with our immigrant brothers and sisters," said Pedigo.
The U.S. should follow its historic tradition and be open to newcomers, speakers on the call said. Every man and woman who comes to the U.S. should have the right to earn a decent wage with labor protections, they said.
The campaign will work with labor unions and community groups as well as other congregations that have non-immigrant parishioners. Organizers seek to heighten awareness in the religious community and urge them to actively play a role in contacting their state lawmakers to pass reform.
Rep. Yvette Clark, D-N.Y., said the issue of immigration reform is very dear and near to her heart. She said she is the second generation from Jamaica.
"Passing reform is about the health and well being of America and it's in the best interests of all of us to address this very important issue," she said. "We all must share the benefits and burdens of this great nation."
Rep. Mike Honda, D-Calif., said immigration reform is really all about representing families of faith, about citizens and legal residents uniting with their families. He said he is committed to moving such legislation forward.
Honda said millions come to the U.S. in the face of physical danger because they love their family and want only to support them.
The immigrant rights movement is also about U.S. trade policies such as NAFTA that devastate local communities in other countries, he said.
Critics contend foreign trade agreements with little to no labor protections in underdeveloped countries are a big reason why immigrants seek employment in the U.S.
In December Rep. Luis Gutierrez introduced a comprehensive immigration reform bill in the House. The big question is when will the Senate move to do the same.
Speakers on the call said they hoped that President Obama and lawmakers will address the issue this year.
"We have to create the political will to move immigration reform along in the Senate," said Kottler. "We recognize it won't be an easy path but this is why it's so important that we come together."
Photo: A 10-year-old boy and his father at Casa Marianella, an immigrant shelter in Austin, Texas. As immigrants from El Salvador, they were held for eight months at a Central Texas detention center that housed families. They have been granted amnesty and now have a home in Austin. The father returned to the shelter to do volunteer repair work. (AP/Harry Cabluck)