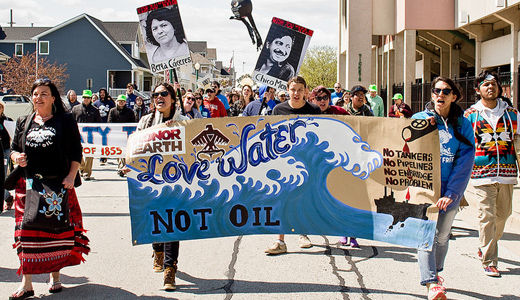 WHITING, Ind. – Martha Torres-Alan has seen a lot of the world but she had never seen anything like the fine grime that coated the bouncy castle at her niece's birthday party.
"I asked somebody what it was and they said it was 'just dust,' it's coming from BP and all the factories. We were all breathing it, there was food there, it was pretty messed up."
Torres-Alan did her research and found that the substance that was just a fact of life for her relatives in East Chicago was petroleum coke, a poisonous byproduct of oil refinement. Not only can petcoke cause respiratory issues for humans, Torres said it is "like coal, but dirtier" as it emits "5 to 10 percent more carbon dioxide than coal," contributing to climate change.
"The disreputable Koch brothers have been using my families home as a dumping ground for years, several of my cousins' kids have severe allergies and asthma and no wonder," said Torres-Alan.
This experience moved her to join up with the Chicago Southeast Side Coalition to Ban Petcoke.
Her organization, along with dozens of other Midwest environmental organizations, gathered in Whiting to take part in the "Break Free from Fossil Fuels" global mobilization to demand that corporate interests "keep it in the ground."
The Midwest Break Free event, one of hundreds held across the world, was held at Whiting Lakefront Park, within sight of a BP oil refinery where workers struck over safety concerns last year. At the center of organizing the event was 350.org, an Oakland, California-based environmental organization founded by author and climate activist Bill McKibben.
The name of 350.org refers to 350-parts-per-million, or what was considered to be the "safe" level of carbon dioxide for our atmosphere. Last year, we surpassed 400 parts-per-million; April 2016 was the hottest on record.
This is the hottest year we've ever measured, and so it is remarkably comforting to see people rising up at every point of the compass to insist on change," said McKibben.
"BP Whiting Refinery is the literal end of the line for tar sands oil-one of the most damaging forms of extreme fossil fuel," said Kevin Whelan, Minnesota 350.org executive director, "but today at Break Free-Midwest, we see a new kind of climate justice movement emerging. A diverse coalition of environmental justice leaders, unions, students, community groups who took bold action for a just transition to a livable future."
Indeed, the diverse coalition of groups on hand represented the many forms of resistance needed to rein in the worst climate offenders.
Jean Ross, co-president of National Nurses United, re-committed the 185,000 nurses of her union to the fight to transition away from fossil fuels.
"We are putting the fossil fuel corporations on notice: business as usual is coming to an end," said Ross, "we are fighting for a political future that's healthy and clean, free from pollutants not to mention the economic and social effects of the climate crisis."
Lorrell Kilpatrick of Black Lives Matter- NW Indiana/Gary – highlighted some of those social effects when she put the spotlight on environmental racism.
"You absolutely cannot separate social justice and environmental justice in any movement that's for the people," she told the crowd of 500. "In Northwest Indiana we see that the communities most affected [by industrial pollutants] are racial power minorities.
"The insidiousness of racism makes us believe that if we don't live in these areas, if we don't look like these people, that we're not affected. That's not true. We breathe the same air; we're drinking the same water. We're all affected by it."
Throughout the day, during the many speak-outs the voices of indigenous peoples were prominent.
Tara Houska, campaign director of Honor the Earth, Native American advisor to Democratic presidential candidate Bernie Sanders, and member of the Ojibwe tribe, told the story of the Seven Fires.
She said that in the time of the seventh fire, the people would be given a choice: the path of destruction and greed, or that of brotherhood.
"We are in that time right now, we are in the time of the seventh fire," she said. "Indigenous people want to keep [fossil fuels] in the ground because we are in the places where these projects happen, we are in the 'out of sight, out of mind' areas. And we watch our communities crumble and our waters become contaminated.
"We also have amazing allies and we have seen that this is no longer the fringe. We defeated Keystone XL," she continued. "Those guys over there," she said pointing to the BP refinery, "are not going to be happy to see us, but I'm going to be very happy to see them."
That may have been an understatement. The event came to a close with a march to the gates of the BP refinery. Marchers carried large facsimiles of an oil pipeline and flags bearing an image of Earth, chanting all through the suburban town. Finally, they arrived at the refinery and staged an act of civil disobedience, conducting a sit-in past the refinery's main entrance. Forty-one protesters were arrested for trespassing.
350.org reports that, all told, the global mobilization represents the "largest global civil disobedience in the history of the climate movement" with "thousands risking arrest." Climate activists everywhere from German to the Philippines are upping the ante when it comes to their own safety in order to secure a future for the planet.
"With the rising temperatures, the people rise," said Payal Parekh, Program Director for 350.org, "it is up to us to get out of fossil fuels and accelerate equitable an energy transition towards 100 percent renewables."
Photo: 350.org media resources.