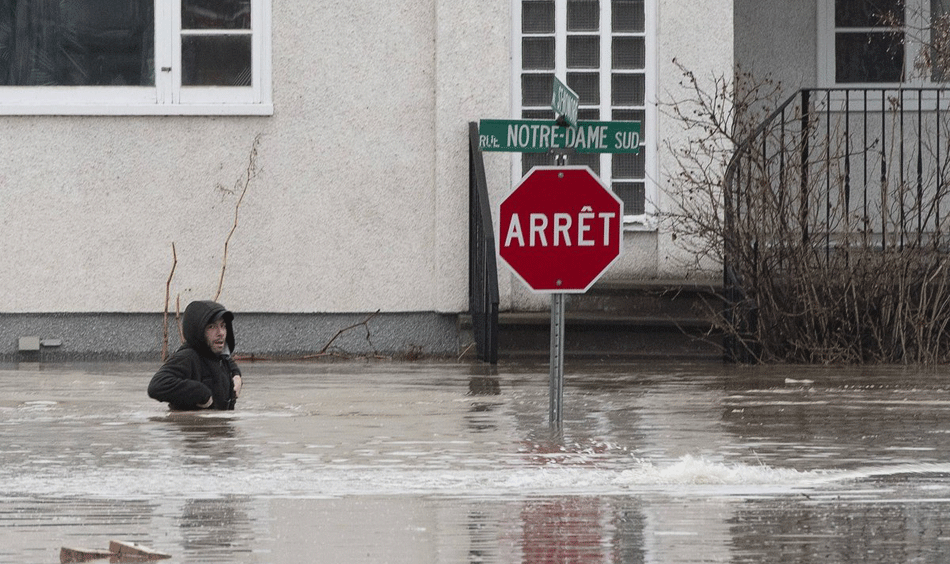 Flooding in four Canadian provinces has forced thousands of people to evacuate, and leaders across the country are blaming climate change.
Communities in Manitoba, New Brunswick, Ontario and Quebec are all impacted and both Montreal and Ottawa have declared states of emergency, CTV news reported Saturday. The flooding comes just two years after heavy rain and snowmelt contributed to the worst floods in decades in Ontario and Quebec, according to Global News.
"This flooding is happening here in Quebec, it's happening in Ontario, it's happening in New Brunswick. And really sadly, what we thought was one-in-100-year floods are now happening every five years, in this case, every two years," Environment Minister Catherine McKenna said Thursday, according to Global News. "I remember sandbagging with folks in both Ontario and Quebec just two years ago … people whose houses were being affected whose lives are being affected. We know that climate change is real … we are going to continue to see this."
Flood records have been broken along some parts of the Ottawa river, and more records are expected to break in coming days, CBC reported Sunday. The Ottawa River Regulating Committee predicted water levels would peak Tuesday or Wednesday. Records are already being broken in Lac Coulonge, Arnprior and Ottawa.
"They say it's 100-year storms — well it's a few years later and we're back in the same boat," Ontario Premier Doug Ford said Friday, according to Global News. "Something is going on and we have to be conscious of it."
The city of Montreal extended a state of emergency for another five days on Sunday, Global News reported. The city expects to see water levels continue to rise Monday and Tuesday, as residents and authorities are working to prevent dikes from failing in some areas.
In Pierrefonds, water levels have surpassed the 2017 levels and residents are working to hold back the waters by building a 0.5 kilometer (approximately 0.3 miles) dike on top of a permanent dirt dike.
Allison Hanes warned in The Montreal Gazette that this could be the "new normal" for the region:
Although Pierrefonds borough Mayor Jim Beis says lessons from 2017 and quick action have protected hundreds of homes this time around, the flooding is already worse in some areas and the toll already higher than the calamity of 2017.

We are in uncharted waters. But the really scary part is that this could be the new normal — a terrifying new reality that has long been foretold, but is now upon us.
Canadian Public Safety Minister Ralph Goodale explained why climate change makes historic flooding more likely, as Global News reported.
"This is one of the most obvious manifestations of a changing climate," Goodale said. "More unstable weather conditions where you can get precipitation that dumps years worth of moisture in a day or two. And then it all floods and causes enormous damage to private property as well as public infrastructure, as well as the economy."