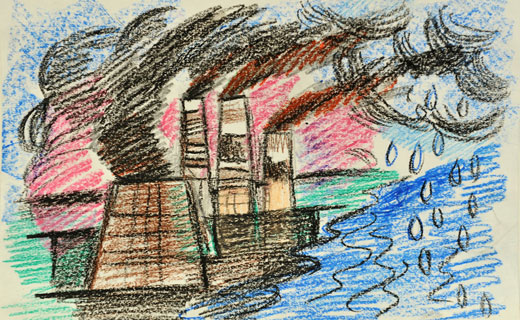 The Intergovernmental Panel on Climate Change (IPCC) is in the process of finalizing the different sections of its massive every-seven-years report. The first portion of the 5th Assessment has already been released, and the next is scheduled for release in March. Copies of the draft of that section, about the impact of climate change on human society, have recently been leaked.
While the draft is not finalized yet and may undergo revision, it offers dire warnings about the interactions between a warming world, other natural systems on which humans depend, and human social interactions.
The latest leaked draft predicts that as global warming changes the climate, resulting in both more rain in some areas and more drought in others, extreme weather events and sea level rise, human societies will be increasing affected. This will lead in a variety of ways to increasing stresses on people, agriculture, water systems, the world's refugee crisis, and human habitation near oceans, among other impacts.
The report predicts that as a result our future looks likely to be one with growing poverty, growing water and food stresses, flooding and the spread of desertification, ocean acidity and overfishing destroying many fisheries, spread of diseases, as well as extinction of many species of animal and plants that can't adapt quickly enough to changes in their habitat.
Climate change is not just about the weather getting hotter. It is about the linked natural and human systems we all depend on. As severe drought causes crop failure in important agricultural areas, food prices increase. In an effort to increase the stressed food supply, some farmers draw down the water table for irrigation, mining water from underground aquifers that is not being replenished. As flooding impacts agricultural production in other areas simultaneously, prices rise even further. Over the past decade there have been several spikes in world food prices, leading to food riots. This was one factor in the Arab Spring revolts.
This illustrates the interconnections affected by climate change. Climate change is not the sole or main cause of the problems the world faces, not by itself, not yet. But it makes virtually all other problems worse. A United Nations study of Darfur cited the effects of climate change on water and agriculture and land as one of a number of interlinked factors driving the conflict. Human access to protein is challenged by these physical changes to the climate and our agricultural practices.
Meanwhile, even companies that occasionally admit that climate change is a problem (even as they fund climate change deniers) try to limit the impact on their particular company and business. For example, in Chevron's "7 Principles for Addressing Climate Change," they appeal to our sense of fairness: "Broad and equitable treatment of all sectors of the economy is necessary to ensure no sector or company is disproportionately burdened." At the same time, the industry is planning to take advantage of the melting of Arctic ice by drilling in the Artic Sea, in one of the areas most inhospitable for safe oil exploration.
Fossil fuel companies are feeling pressure from the growing climate change divestment movement. While it will not likely cut into their massive profits soon, it places these companies on the defensive. Business professionals are beginning to build a case for divestment on purely financial terms. Cities and states around the world are attempting to grapple, sometimes in conflict with central governments, with necessary adaptations to climate change, including through divestment Issues related to climate change and fossil fuel use are beginning to affect local elections.
Other environmental battles continue to play an increasing role in the public dialogue. Effort to build unity between environmental struggles and the labor movement and other progressive movements are growing.
As news reports continue over the next months until the complete final IPCC 5th Assessment is released, the scientific arguments for more climate change activism are reinforced. The history of the coming decades will be one of massive environmental struggles, alongside the struggles of other progressive movements to save humanity from exploitation and oppression.
The science is not divorced from these movements – it adds depth and detail to the reasons why humanity needs to fight to take more serious action to prevent the worst impacts of climate change, and fight to demand that corporations pay the costs of their pollution. As prominent Indian activist Dr. Vandana Shiva says, "It is not an investment if it is destroying the planet."
Photo: Following the Copenhagen Climate Change talks in December 2009, the United Nations Office in the Russian Federation, together with the Young Peacekeepers Movement, sponsored an art contest called "People in the face of climate change." UN Development Program in Europe and CIS CC 2.0