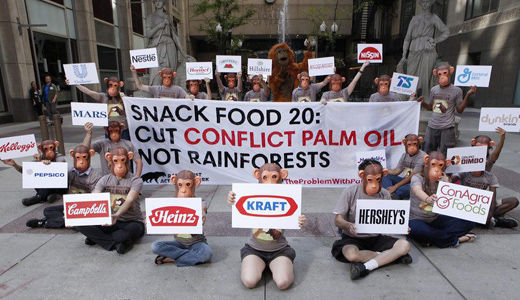 NEW YORK – Most notable about the Sept. 21 People's Climate March in New York City was its emphasis on diversity – both in terms of participants and the issues they supported. With climate change itself being a multi-faceted problem, marchers made it clear that the issues that contribute to it are numerous. People's World spoke there with the Rainforest Action Network (RAN) to focus on one in particular: the excessive use and abuse of palm oil, and its many destructive implications.
Adrienne Fitch-Frankel, a national organizer with RAN and advocate for environmental and human rights, remarked, "Palm oil is one of the leading drivers of climate change. And all of a sudden, all of these big food companies," like PepsiCo, the Hershey Company, Hormel Foods Corporation, Kellogg Company, and Kraft Food Group, Inc., "are using it. So we're calling on them to be more responsible and protective of climates like the rainforest," which are torn apart and decimated to make way for large palm oil plantations. "Companies producing palm oil are just getting away with cutting away massive tracts of rainforest," she continued. "These companies need to reform their practices."
Fitch-Frankel said "all of a sudden" in reference to a disturbing fact: that palm oil imports to the U.S. have seen a 485 percent increase in the last decade. Naturally, rainforest depletion has increased in tandem with this uptick in palm oil plantations. Ninety percent of these areas exist in Indonesia and Malaysia, where in total, such plantations cover 16 million acres of land (an area roughly equal to the size of West Virginia, according to a palm oil fact sheet released by RAN). For Indonesia in particular, 98 percent of its forest may vanish by 2022, according to a statement by the UN's Environment Program (UNEP).
Like setting off a carbon bomb
So how is this rainforest destruction connected to climate change? Well, Fitch-Frankel explained, it has environmental consequences that go beyond how land alone is affected. When rainforests are destroyed, she said, "Carbon is released from the trees, which grow on layers of peat moss," or peatlands. "These peat moss swamps contain huge amounts of carbon themselves," – billions of tons, in fact – "which is then released into the atmosphere. So clearing a whole area of rainforest – it's like setting off a carbon bomb."
'Carbon bomb' is an apt way to describe it. According to Think Global Green, the world on average now loses a portion of rainforest the size of New York State each year, and the carbon thus released now accounts for about 17 percent of all global emissions that contribute to climate change. In particular, it releases more carbon in total than all cars, trucks, planes, trains, and ships – a sobering fact, given the damage that manmade vehicles have done just by themselves.
Rendering once-prosperous communities endangered
The unfortunate ripple effect of this decimation reaches into the ecosystems that depend upon it, rendering once-prosperous communities of wildlife suddenly endangered. Indonesia's rainforests contain 10 percent of the world's known plant life, 12 percent of mammals, and 17 percent of all known bird species. The animal that is most at risk right now is the orangutan, which struggles against the risk of extinction (in our lifetime!) in the rainforests of Borneo and Sumatra. The Sumatran orangutan's population dropped by 14 percent between 2004 and 2008, largely due to loss of habitat for the development of palm oil plantations. Meanwhile, those that wander accidentally onto the plantations are often shot and killed by workers, along with tigers and elephants.
Those workers, by the way, are no safer than the animals. In fact, they're often exploited and underpaid, and palm oil plantations are notorious for forced child labor, according to information from Oxfam, a community-based international confederation that fights poverty and injustice. Female workers in particular are exposed, sometimes while pregnant, to harmful spraying, fertilizing, and weeding on these plantations.
The Snack Food 20
RAN recently released the "Snack Food 20" – a list of popular snack companies whose products contain palm oil – making their complicity public for the first time. These include the aforementioned Pepsi, Hershey, Hormel, Kellogg, and Kraft products, as well as the following groups: Campbell Soup Company; ConAgra Foods, Inc.; Dunkin' Brands Group, Inc.; General Mills, Inc.; Groupo Bimbo; Hillshire Brands Company; H.J. Heinz Company; Krispy Kreme Doughnuts Corp.; Mars, Inc.; Mondelez International, Inc.; Nestlé S.A.; Nissin Foods Holdings Co., Ltd.; the J.M. Smucker Company; Toyo Suisan Kaisha, Ltd.; and Unilever.
Pepsi, easily being the most recognizable of these companies in the U.S., was the focal point of the Stroller Brigade – a protest led prior to the Climate March, formed by mothers and their families partnering with the Rainforest Action Network. The demonstration occurred on Sept. 9, during which concerned mothers called for PepsiCo CEO Indra Nooyi to have the company remove palm oil from its products. The event took place in Nooyi's hometown of Greenwich, Conn., and consisted of many tri-state area moms. They followed up the event by delivering over a quarter million petition signatures to Pepsi's global headquarters in White Plains, N.Y.
Mothers and activists Harriet Shugarman (Bergen County, N.J.), Debra Mahony (Fairfield County, Conn.), and Susan Rubin (Westchester County, N.Y.) – members of the Stroller Brigade – also sent an open letter to Nooyi, calling for immediate action. They remarked, "We are three mothers who live in the tri-state area. We are witnesses, firsthand and in our own communities, to the impacts of climate change. We are reaching out to you in regards to the historic leadership opportunity you face right now on the issue of climate change and palm oil. We are writing as fellow mothers, daughters, and working women. We speak for thousands of mothers around the country – neighbors, friends, relatives, as well as Rainforest Action Network members, who share our concerns that climate change is a direct threat to our children's future."
No better forum than a crowd of 400,000
Less than two weeks after these actions, the People's Climate March seemed to help continue RAN's campaign to expose the dangers of palm oil development, as well as the irresponsibility of corporations that continue to turn a blind eye to the threat. Certainly, there was no better forum for such a message than a crowd of 400,000 marching in solidarity through the Big Apple.
"We're calling on PepsiCo to make a change and create stronger policies," Fitch-Frankel concluded. After all, "if these companies can do that, it will have a massive impact on protecting the earth."
Photo: Appropriately wearing orangutan masks, Rainforest Action Network members take part in the People's Climate March to expose the danger posed by palm oil and rainforest destruction. RAN Facebook page