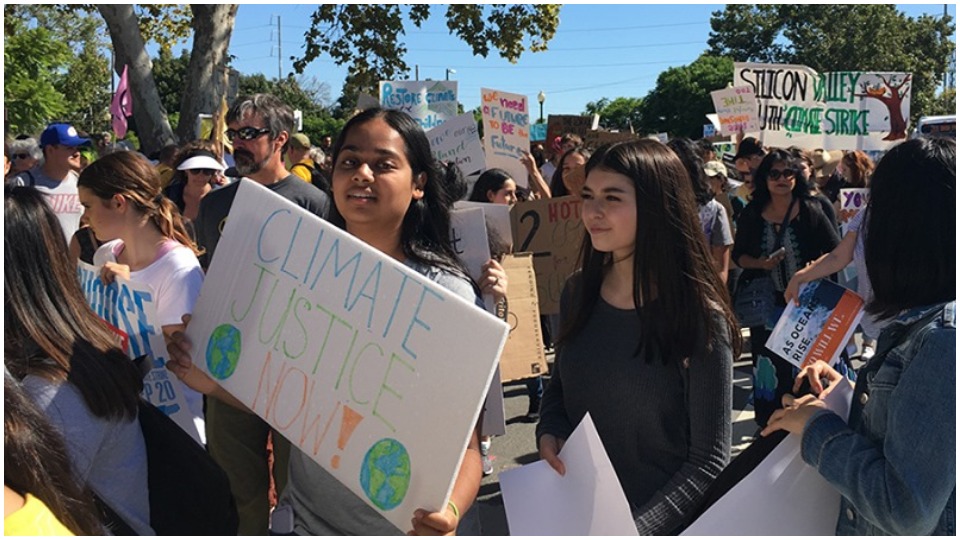 SAN JOSE, Calif.—The call "This is what democracy looks like" echoed across downtown as some 1,500 students and their allies marched from the Diridon train station to City Hall as this city's contribution to the global climate strike demanding action to rein in global warming and the fossil fuel industries that seek to block action against it.
Sindhu Vajrala, a junior at St. Francis High School in San Jose and one of the event organizers, explained that she joined this struggle because she realized that climate change affected everyone and that she needed to take responsibility "outside of our little bubble," with concern for parts of the world already hard hit by the climate crisis, particularly regions already marked by poverty. She noted that the team organizing the event had grown from just three last year to 150 now.
The crowd clearly reflected her sentiments, singing an environmentalist take off on the traditional union song "Which side are you on?" recognizing that there's no place for neutrality in this struggle to save the planet. As one youth speaker said, "We cannot wait for someone else to do the action—we must be the heroes! No one is too young to take a stand; no one is too young to make a difference!" The marchers responded with a vigorous chant of "¡Si se puede!"—"Yes, we can," the watchword originally popularized by the United Farm Workers in their union struggle.
Other speakers emphasized the importance of political action in the climate fight, including both pressuring legislators and getting out the vote, and of recognizing the need to fight racism as a part of this and every struggle in the U.S. today. Among the demands put forward by Silicon Valley Youth Climate Strike, the event's organizers, were "Environmental Justice and a just transition for all communities on the frontlines of poverty and pollution."
San Jose Mayor Sam Liccardo was also among the speakers at the City Hall rally. He drew loud cheers when he began his speech by thanking the protesters "for reminding us what democracy looks like." He pointed out that San Jose is the largest city in the country to provide the option of consumer choice electrical power for all residents and drew more applause when he stated that the San Jose City Council had unanimously voted to declare a climate emergency.
The crowd also responded enthusiastically to several speakers who voiced support for the Green New Deal now before Congress—another demand of the Silicon Valley Youth Climate Strike.