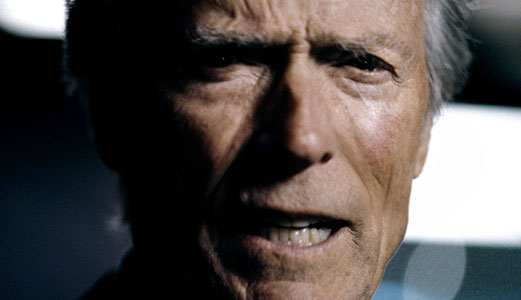 Republicans, already on the defensive this week over a drop in the unemployment rate and new polls showing President Obama besting Mitt Romney in an election match-up, are going ballistic over a Clint Eastwood Super Bowl ad.
The ad, sponsored by Chrysler has Eastwood, a Republican, touting progress in the economic recovery and particularly the auto bailout. Eastwood says, ""It's halftime. Both teams are in their locker rooms discussing what they can do to win this game in the second half."
The ad goes on to point to the ability of Americans to come together during times of crisis and act as one. "People are out of work, and they're hurting. And they're all wondering what they're gonna do to make a comeback. And we're all scared because this isn't a game. The people of Detroit know a little something about this. They almost lost everything. But we all pulled together, now Motor City is fighting again."
GOP strategist Karl Rove says he was offended by the ad. "I was, frankly, offended by it. I'm a huge fan of Clint Eastwood, I thought it was an extremely well-done ad, but it is a sign of what happens when you have Chicago-style politics, and the President of the United States and his political minions are, in essence, using our tax dollars to buy corporate advertising and the best-wishes of the management which has benefited by getting a bunch of our money that they'll never pay back."
Determined not to allow facts to get in the way of his rhetoric, Rove ignored that both Chrysler and GM have paid back their bailout loans with interest.
Conservative ideologue Michelle Malkin didn't care for it either, tweeting: "Agh. WTH? Did I just see Clint Eastwood fronting an auto bailout ad??? #SuperBowl"
Right-wing policy wonk Mary Matalin had another view. "It's certainly not a pro-Obama commercial; it's a car commercial," she told CNN.
Over 110 million people watched the Super Bowl.
Eastwood, who reportedly opposed the auto bailout, retorted that he's not supporting President Obama. "I am certainly not politically affiliated with Mr. Obama," Eastwood said in a statement released to Fox News. "I am not supporting any politician at this time."
Obama advisor David Axelrod was pleased with the ad. "I knew nothing about the ad until I saw it," Axelrod said on MSNBC Tuesday morning. "Honestly, I don't understand why every American doesn't feel good about the fact that the auto industry is coming back."
Over 250,000 have viewed the ad on YouTube.
Eastwood's 2008 movie "Gran Torino" was made in Detroit.
Photo: Clint Eastwood featured in an ad titled "It's Halftime In America," which aired during Super Bowl XVLI, Feb. 5. Chrysler Group LLC/AP