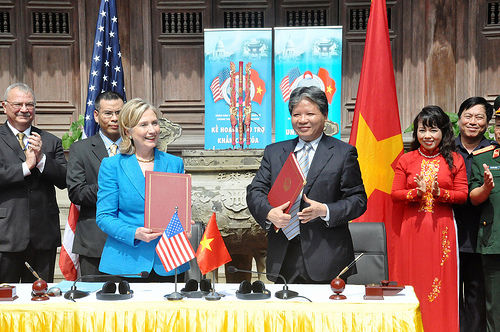 (Morning Star) Visiting U.S. Secretary of State Hillary Clinton has lectured her Vietnamese hosts on human rights and issued vaguely worded pledges to help the developing country to tackle the horrific legacy of Agent Orange.
During the Vietnam war, U.S. warplanes sprayed 12,000,000 gallons of the toxic chemical cocktail on the country to destroy forests in order to deprive resistance forces of cover and food.
After meeting her Vietnamese counterpart Pham Gia Khiem in Hanoi yesterday, Ms Clinton expressed concern over the alleged "arrest and conviction of people for peaceful dissent, attacks on religious groups and curbs on internet freedom."
She then pledged to increase U.S. co-operation with Vietnam "and make even greater progress" on the consequences of Agent Orange.
About three million people have suffered from cancers, birth defects and other ailments due to the effects of the herbicide.
After her talks with Mr Pham, Ms Clinton attended a luncheon hosted by the local American Chamber of Commerce.
Photo: U.S. Secretary of State Hillary Rodham Clinton and Vietnamese Justice Minister Ha Hung Cuong smile after signing a memorandum of understanding for the U.S.-Vietnam PEPFAR Partnership Framework at Ngoc Lam Pagoda in Hanoi, Vietnam, on July 22, 2010. (USAID photo/ Public Domain)