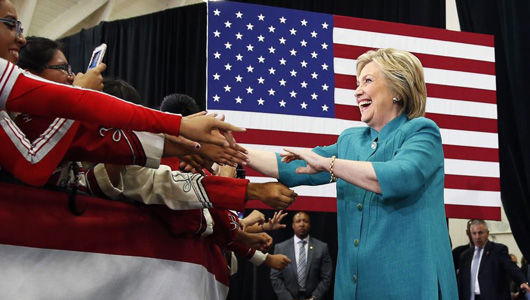 In balloting within the Democratic Party yesterday, Hillary Clinton gained enough delegates to be chosen as its nominee for president at its national convention in July.
She became the first woman in the history of America to win the presidential nomination of a major political party.
House parties celebrating the smashing of the glass ceiling were held across the nation. Parents made sure their young daughters understood the significance of Clinton's win.
President Obama telephoned Clinton to congratulate her "on winning enough delegates to clinch the Democratic nomination."
He also called Senator Bernie Sanders to thank him for "energizing millions of people," to participate in the political process and for putting front and center issues such as wage inequality and economic security.
Obama and Sanders are meeting Thursday in Washington to discuss, among other things, the future of the "political revolution" that has been launched by the Sanders campaign.
Balloting yesterday took place in California, Montana, New Jersey, New Mexico and in North and South Dakota. It was the last Super Tuesday of the 2016 presidential primary season.
As Clinton pointed out in her victory speech, her win is a major milestone in the fight for women's rights. "The victory doesn't belong to one person," she said. "It belongs to generations of men and women who fought and sacrificed for equal rights."
To loud and sustained cheering, she congratulated Sen. Bernie Sanders for running "an extraordinary campaign" and for his long service as a public official fighting for progressive goals.
She said that the "vigorous debates" between herself and Sanders "were very good for the Democratic Party and for America."
She concluded by saying, "The end of the primaries is the beginning of the work we must do."
That work is to protect the White House from being captured by the right wing and to increase the number of progressives elected to the House and Senate.
It might be an uphill battle.
Economic insecurity
Many working people whose standards of living have plummeted and whose jobs are no longer secure are supporting Republican nominee Donald Trump, who is posing as a strongman who will single-handedly solve the problems facing America.
What's more, the Libertarian Party and anti-Trump right wingers are expected to saturate the airwaves with misleading ways to address the economic insecurity felt by a growing number of workers today.
The real value of wages has dropped dramatically in recent years and many people, especially single moms, cannot make ends meet even with two or three jobs. Many economists believe the minimum wage must be raised to at least $15 an hour.
Furthermore, there are 29 million people without health insurance and millions more are underinsured. The cost of healthcare has risen for many, despite Obamacare.
Our justice system is broken and the school-to-prison pipeline is sucking in large numbers of Americans, especially young African American men.
Young people who go to college carry a heavier burden of debt than any other segment of society and older people are in desperate need of increased Social Security.
To win the election, the Democratic Party will need a hard-hitting campaign of comprehensive, honest, workable answers to these and many other challenges plaguing Americans. It will have to bring unity back to the coalition that elected President Obama: working people, minorities, millennials, women's rights advocates, immigrant rights activists and others.
"Transforming our country"
Sanders said in his speech last night that "we understand our mission is more than just defeating Trump. It is transforming our country."
However, he emphasized that "we must not allow right wing Republicans to control our government."
Sanders said he is optimistic about the future of America because of all the young people who have joined the "political revolution" for "social justice, economic justice, racial justice and environmental justice."
Democratic political strategists are saying that to assure victory, Clinton must convince people who support Sanders to bring their enthusiasm and energy to her campaign.
To help build unity, Democratic Party leaders have given Sanders supporters five seats on the platform committee of the upcoming Democratic National Convention.
Furthermore, several party leaders have pledged to support a measure that will be introduced by Sanders to require that super delegates vote for the candidate who won their state's primary or caucus.
Super delegates are elected officials and others chosen by the Democratic Party to participate in the National Convention. At present they can ignore the outcome of their state's primary or caucus and vote for whomever they wish.
Donna Brazile, vice chair of the Democratic National Committee said she is looking forward to lively, intense debates at the National Convention.
"Some people observe disagreements and see disunity," she said. "But the Democratic Party is like a family. To come together in the end, everyone must feel free to express their opinions."
Photo: Hillary Clinton claims historic win on Tuesday night. | AP