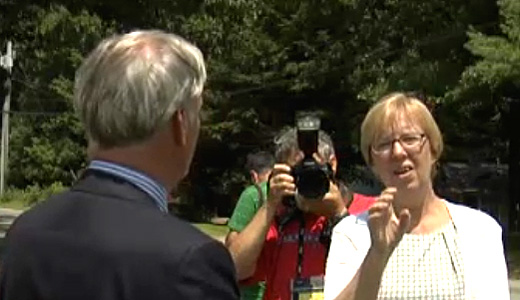 SPRAGUE, Conn. (PAI) — The coming closing of the unionized Fusion Paperboard plant in Sprague, Connecticut, became a political football in the Nutmeg State's governors' race, as the right wing Republican nominee accused the workers of causing the closing – and the workers, their union and the leading public official in the plant's town all called him on it.
And in the process, the workers, members of Steelworkers Local 1840, showed the Republican nominee, former hedge fund financier Tom Foley, didn't even know what he was talking about.
The fracas started July 29, five days after Fusion, which produces high-performance recycled boxboard and paperboard at its mill, sent a required plant closing notice to state officials while also notifying Steelworkers Local 1840, which represents the 145 workers there.
Connecticut promptly said it would demand Fusion repay a $3 million economic development loan it got several years ago to upgrade its equipment. The state wants its money back, plus interest. The loan requires a firm to stay in the state for 10 years. And Local 1840 filed a labor law-breaking complaint against Fusion. The closing is planned for Sept. 22.
Local 1840 President Rich Harrelle said Fusion and the local signed a 6-year contract three months ago, after 18 months of talks. He said he thinks "the company knew" it was closing even as its management talked contract with the local. "That's not fair," Harrelle added.
On July 29 Foley rushed to Sprague to blame his foe, Democratic Gov. Dannel Malloy, for Fusion's closing – and put his foot in his mouth by disclosing he really blames the workers. The workers and the town's top public official, First Selectman Cathy Osten, appeared at Foley's small press conference outside the plant. What happened next was a lulu.
"Have you reached out to the first selectman of Sprague?" asked Osten, who is also a Democratic state senator, in conversation caught on videotape and posted on the Internet.
"No, I haven't," Foley said.
"Have you reached out to the union president?"
"No, I have not."
Foley then charged that Osten and Malloy "wasted" taxpayer money by giving the plant owners the $3 million loan. Osten told him he lacked all the facts. One, of course, is that the firm is on the hook for repaying the loan. Another is that the loan was to help develop jobs in Connecticut.
"Excuse me, this is my interview," Foley responded.
"This may be your press conference but eastern Connecticut is extremely important to me," said Osten.
Foley wasn't done. The tape shows he then says the pay of the workers caused the plant to close. Foley is a former hedge fund manager whose fund was known for buying plants, milking them and closing them. The hedge fund – not his – that owns Fusion decided to close the Connecticut plant. Last year, it closed a Fusion plant in the South.
"You want to blame people who are hundreds or thousands of miles away, malign management," Foley told the workers and Osten. "Listen, you have failed, because you have lost these jobs."
Wait, it's not over. One Local 1840 member spoke up.
"You need to point out to me and my family…?" the worker began. Foley cut him off, saying, "I didn't come here to talk to you. I came here to talk to the press."
In a later letter to the Hartford Courant, Osten later called Foley's performance "shallow, political theater." She noted he blamed the workers for losing their own jobs.
Malloy's campaign press secretary, who attended Foley's press conference to keep tabs on his boss' foe, just smiled and declined to comment to reporters that day. The Steelworkers and other unions support Malloy, who is known for walking a picket line with Connecticut nurses whom a New Jersey chain forced to strike. The last word in Foley's fiasco came from John Shinn, Steelworkers District 4 director, whose area includes Connecticut.
"The governor and our local leaders have done everything in their power to help create jobs and make life better for working people and their families in Connecticut. Foley's disingenuous claims that the workers and the governor are somehow to blame for Fusion Paperboard's unfortunate decision to close its plant couldn't be further from the truth," he said.
"The governor has worked tirelessly with plant management since April to try to keep the plant operational, including offering state aid.
"Unfortunately, our nation's failed trade policies, which for 20 years put the interests of billionaires and multinational corporations ahead of working people and small businesses, are to blame for the problems Fusion, and many other companies, have faced in recent years. These failed policies have cost thousands of Americans good jobs, including the workers at Fusion Paperboard.
"Foley's effort to shift the blame for this situation onto the shoulders of the workers and the governor is politics at its worst. Gov. Malloy has proudly stood up for working people throughout his time in office. We are confident he will continue to do so in his second term."
Photo: First Selectwoman of Sprague Cathy Osten confronts Republican gubernatorial candidate Tom Foley outside Fusion Paperboard. WNPRNEWS, Connecticut's Public Media.