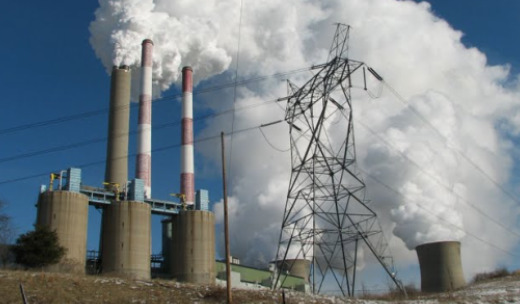 Coal plays a role in four of the top five causes of death in the U.S. – heart disease, cancer, stroke, and chronic lower respiratory diseases – says a report by Physicians for Social Responsibility released today in Washington.
The report, titled "Coal's Assault on Human Health," adds another dimension – it's bad for our health – to the growing concern over coal's damaging role in global warming and its other negative environmental effects.
"Each step of the coal lifecycle – mining, transportation, washing, combustion, and disposing of post-combustion wastes – impacts human health," says the report.
Mineworkers themselves and their communities are among the leading victims, the report says.
"Coal mining leads U.S. industries in fatal injuries and is associated with chronic health problems among miners, such as black lung disease, which causes permanent scarring of the lung tissues," it notes. In addition, communities near coal mines breathe in toxic coal dust as a result of blasting, collapse of abandoned mines, and dispersal of dust by coal trucks and trains.
Burning of coal, primarily by coal-fired power plants, poses an enormous national health threat, the report says. The process releases mercury, toxic particles, nitrogen oxides, sulfur dioxide, and dozens of other substances known to be hazardous to human health.
The report says, "Coal combustion in particular contributes to diseases affecting large portions of the U.S. population, including asthma, lung cancer, heart disease, and stroke, compounding the major public health challenges of our time."
Waste from coal-burning plants is also a major health hazard, the report finds. There are 584 coal ash dump sites around the country and at dozens of these sites, toxic residues have seeped into water supplies.
The report also emphasizes the potential health effects of global warming, including disease related to worsening air quality, drought and famine.
The report's lead authors are Alan Lockwood, professor of neurology and nuclear medicine at the University at Buffalo, N.Y., who specializes in environmental factors and neurological disease, and the health effects of burning coal; and Kristen Welker-Hood, a nurse and environmental health scientist who is director of PSR's Environment and Health Program and was senior policy fellow in the Center for Occupational and Environmental Health of the American Nurses Association.
The report backs passage of a strong climate bill by Congress. It calls for slashing carbon dioxide emissions "as deeply and swiftly as possible," a halt to construction of coal-fired power plants, stringent air quality regulation and enforcement, and national investment in clean energy to replace coal.
A shortcoming of the report, however, is that it does not address the impact on jobs and livelihoods of shutting down the coal industry. Unemployment itself has well known adverse effects on health, including stress, worsened diet, loss of health coverage and ability to pay for health care, housing problems that may increase exposure to unhealthy conditions, and so on. Some communities and states rely on the coal industry for a chunk of their tax base, so a loss there can mean cuts in public health, environmental and safety programs.
Mineworkers and their union, among the most militant fighters against the coal companies, are worried. United Mineworkers of America President Cecil Roberts, writing in the latest issue of the union's journal, argues that "Coal miners have a right to be worried" that climate change legislation "will have … far-reaching effects on their jobs and their families' future." Roberts says his union wants Congress to "pass legislation that maintains coal's position as the dominant source of electricity generation in America."
Earlier in the year, Roberts said he welcomed new ideas about how to do things differently. But, he said, his first responsibility is to represent his members. "I have to live in the real world," he said.
West Virginian John Case, who writes on economics and related issues for this newspaper, commented, "In the 'real world' where people have to live on the land and drink water that flows upon it, this type of mining [coal] has to go. But – and here is a lesson that many who support progressive, environmentally friendly laws don't seem to get – workers who lose their jobs to progress must be compensated with full and complete retraining and transition costs. You can't have environmental progress at the price of workers becoming poorer. That too is 'the real world'."
"There will be no green recovery, or any recovery, in our country if the rights of working people to full compensation for their labor, and full investment in their abilities and security, are put on the back burner," Case said.
There needs to be a commitment, he said, "that ANY and EVERY worker sacrificed to cleaner energy be fully retrained and compensated, along with his or her children who were counting on those miner wages and benefits to get to college, and have access to health care."
Photo: Coal-fired plant in Spelter, W.Va. (picasaweb.google.com/lh/photo/_b-Cqxv87AaiQJY0smrP3A CC3.0)