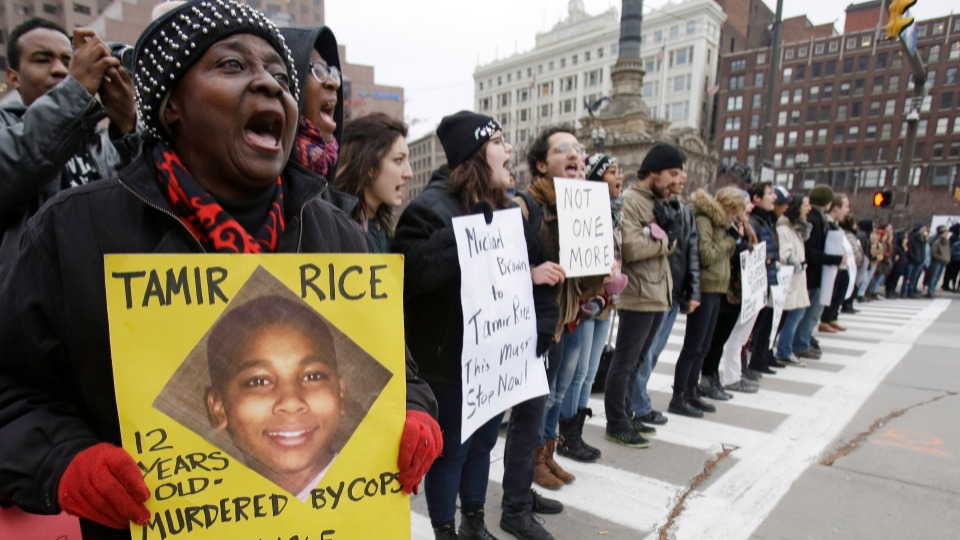 CLEVELAND—Nearly seven long years after 12-year-old Tamir Rice was shot down while playing in a park by Cleveland police officers, his mother Samaria Rice is still fighting for justice. A multi-racial, working-class, and youth-led coalition has formed in support of Ms. Rice in calling for the Department of Justice under Attorney General Merrick Garland to re-open the investigation into the murder of her son.
The coalition, Tamir's Campaign for Justice, is also urging the U.S. House Judiciary Committee's Subcommittee on the Constitution, Civil Rights, and Civil Liberties to ensure transparency and accountability for the corrupt and insulting mishandling of the previous federal investigation by the Trump administration.
The investigation into the fatal shooting of Tamir was inexplicably shuttered by the Trump DOJ in December 2020, one month before the former president left office. A whistleblower leaked to the New York Times that career DOJ prosecutors had in fact requested a convening of the grand jury, but former Attorney General William Barr ran out the clock on statutes of limitations critical to the prosecutor's legal strategy, before ultimately denying those requests.
Due to this gross miscarriage of justice, Tamir's Campaign is asking racial justice allies to help pressure the new Biden administration to take the unprecedented step of reopening a closed investigation. Ohio Sen. Sherrod Brown and New York Rep. Jamaal Bowman are among the elected officials who have already joined the call.
"We want to send letters and make phone calls, produce digital content, create social media storms," Josiah Quarles, an organizer with Tamir's Campaign, told People's World.
But these actions are just the beginning. The movement's organizers say they will do everything in their power to secure justice."This is not simply a letter writing campaign. Sometimes, you have to get out into the streets," Quarles said.
Though the campaign is in Tamir's name and is largely centered around demands that his killers be held accountable, Samaria Rice sees a higher purpose in the campaign's work. She sees it as an opportunity to help Black people all over the nation bring change for urban communities and dismantle white supremacy.
Still, the campaign's organizers are disappointed that it has been forced to appeal to national leadership for answers. They say the entire situation should have been handled at the local level. But that was never possible, one organizer said.
"We don't have real leaders in Cuyahoga County," said the Rice family's counsel, Subodh Chandra.
"Think of what it took for Derek Chauvin to be held accountable," Chandra said. He spoke of how Minnesota Attorney General Keith Ellison handled the process, ensuring justice in the case of George Floyd's murder.
Chandra says conflicts of interest prevented the leadership of the Cuyahoga County justice system from doing their jobs properly and professionally. "They just couldn't bring themselves to charge the people they work with day in and day out," Chandra said.
Samaria Rice says she knows nothing can bring her son back. But she is out for neither revenge nor for personal gain. She wants to set a precedent that what happened was unacceptable and that no family should be mistreated, bullied, and harassed by the system that's meant to protect them.
She wants the world to remember her son; she wants his life to have mattered.
A name known around the world
The name Tamir Rice is one that by now is known around the world. Yet, lost in so many conversations about his murder is one simple, but critical fact: Tamir Rice was just a child.
"His favorite food was pizza, cheese pizza. But he liked nothing else than cheese on his pizza." Samaria Rice said, speaking to community members and other supporters on a Zoom call on May 12.
"He's not eating cucumbers, he's not eating tomatoes, he's not eating any of that. So I gotta kinda sneak stuff in on him," she said with a laugh. Samaria's face still lights with joy when she talks about her late son.
But the gnawing grief, the thought of what her son's life could have been, shadows her spirit.
Samaria Rice grew up impoverished in a troubled neighborhood and a broken home, she told the activists. She endeavored to give her four children the opportunities she never had, moving around to find better public schools and encouraging them to explore different hobbies and passions.
With this love and support, Tamir thrived. "He could've been the next Lebron James," she said, her eyes glistening with pride.
Tamir was a creative and curious kid, eager to help his teachers, active in all sorts of activities, from basketball to music to soccer. He was full of life, brimming with potential.
But then, in less than one second, a grown man, empowered by the law, took that potential away from the world. "He was only twelve for five months," Samaria said.
She still remembers every part of that terrible day: The young man at her door, speaking words she just couldn't believe; her other son bounding out the door with realization at what had happened; the chaotic scene at the park, with officers circling around her son, sprawled helplessly in the grass; the long wait in the E.R., surrounded by hostile police.
Her last memory of him, broken on the hospital bed, haunts her the most.
"I will never get that image out of my head. It's all I have left. It's like a stain on my brain," Rice said.
Apologists for murder
It is impossible to justify Officer Timothy Loehmann's callous actions that day, though his apologists have tried. Within one second of arriving, before his police cruiser had even been put in park, Loehmann opened fire on the 12-year-old boy. No word of warning was given, not even a moment's hesitation. Tamir never had a chance to even recognize what was happening before his life was taken from him.
The egregiousness of Tamir's murder, a child killed in broad daylight while playing at the park,  incited community outrage and drove local "leadership" into action.
An investigation conducted by the Cuyahoga County prosecutor's office, led by then-Prosecutor Tim McGinty, attempted to provide cover for the officers, emphasizing law enforcement voices while minimizing statements from eyewitnesses who contradicted officers' version of events. The prosecutorial team seemed to be on the side of the defendant officers, an unthinkable dynamic in any normal court case, according to Chandra.
Chandra told the activists gathered at the campaign's Zoom call about the full extent of prosecutorial misconduct in the case.
Prosecutors virtually always make a request of the jury to charge or not charge, yet they dragged their feet here. They released 'expert' testimony (that had not yet actually been provided) to the press in order to bolster the defense's case.
McGinty was critical of the Rice family's experts and refused to send their reports to the grand jury, a stunning defiance of basic legal procedure.
McGinty even pointed an airsoft pistol at one of the experts and asked him how he'd respond. Tamir never pointed the gun at the police. This was a blatant mischaracterization of the events that day, one intended to plant seeds of doubt in the jury's mind.
Then, the prosecution did something so outrageous, so brazenly corrupt, that it somehow made all this seem like a regular process: They allowed the defense to read pre-written statements, without any cross-examination.
A proper cross-examination, routine in any testimony, would have revealed discrepancies in the officer testimonies. Officer Frank Garmback said the window of their patrol car was rolled up, yet Loehmann claimed to have issued commands at Tamir to drop the weapon while driving. How does one yell out of a closed window? The officers were never asked such a critical question.
Why did McGinty do this? Because his interests, his sympathies, lay with the police, not the family of a murdered child or the truth.
"You've probably heard the saying a grand jury would indict a sandwich if the prosecutor wanted," Chandra said. If McGinty had wanted charges filed, they would have been filed, according to him.
The sabotage of the Rice case was ultimately successful; the grand jury outrageously declined to press charges. The announcement of the decision was delayed by McGinty for the winter holiday season, likely to stymie any organized protest against it.
McGinty, from start to finish, acted as the personal defense team of the police officers and insulted the Rice family, leading them on for months.
Shaken, but still determined
The murder, the corruption, the insults… they all shook Samaria Rice's spirit.
"I thought America was supposed to be the land of the free. I really thought we had an American dream. That's what I thought," she said.
But Samaria Rice refused to fold. Though she was livid, the anger only fueled her desire for justice.
In the summer of 2016, the Rice family finally won a critical and long-fought battle. They had sued the City of Cleveland in civil court for the damages and trauma suffered from Tamir's shooting. The City recognized the case would be a harsh and uncertain legal battle and agreed to settle with the Rice family for the sum of millions.
But it wasn't money Samaria Rice wanted. Money couldn't bring her son back. She wanted the City to admit complicity and reckon with how it failed her child.
Nevertheless, a successful civil suit provided the Rice family desperately needed momentum to continue their struggle. After the County Prosecutor failed to bring an indictment, the family and local organizers petitioned the Obama administration's Justice Department to open its own investigation of Tamir's murder, which it did.
Yet once again, the institutions that were supposed to pursue justice instead closed ranks to protect the police.
After the Obama administration allowed justice, in this case, to be deferred, Trump's DOJ did everything and anything possible to stymie, slow, and disrupt the investigation. When Trump lost re-election in 2020, and the prospect of the investigation continuing under the Biden administration became clear, the investigation was abruptly ended.
Attorney General William Barr did not even have the decency to inform the Rice family. The probe was shuttered quietly, and in the shadows, with virtually no explanation.
When they finally offered Samaria Rice an explanation of their decision, she was out of town. Ms. Rice offered an alternative date; instead, the DOJ simply leaked the decision to the media and never contacted her again.
"She was prepared to accept the result of a fair process. But she has never been given a fair process. Never," Chandra said."Our system of justice bends over backward to afford these officers special treatment."
The Rice family's journey has been grueling and painful. The memory of Tamir still burns raw in Ms. Rice's heart.
Yet despite the countless setbacks, the harassment, the vicious rhetoric weaponized against her son, despite the trauma on her family, and the personal stress and grief she has endured, despite all this, Samaria Rice persists in her mission for justice.
"I'm a servant of the Lord, I'm a servant of the people. This is what he put me here for, and this is what I'm gonna do," she said.
"This is my way of giving back, of building Tamir's legacy."