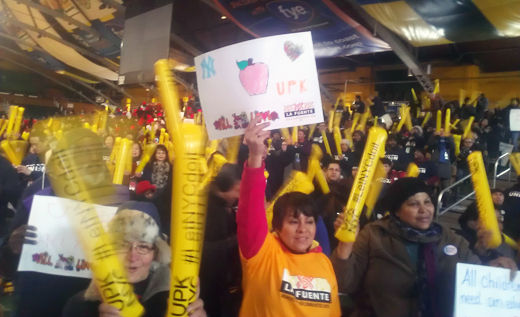 The House of Justice, headquarters of the National Action Network on 145th St in Harlem was packed. It was standing room only as participants filled the aisles and spread out to the sidewalk where makeshift speakers amplified the program.
This is Rev. Al Sharpton's home turf and easily 500 of his members, supporters and allies were waiting to hear Mayor Bill de Blasio speak on the struggle to provide universal pre kindergarten (UPK) for New York's children.
Elected officials of all races came from across the city to show their support for the mayor's proposal that UPK be enacted and paid for by taxing those who make $500,000 and up.
Taxing the rich to fund early childhood education is a campaign promise that de Blasio's opponents used to attack him as a socialist. Nevertheless, the candidate went on to win with 72 percent of the vote.
Speaking for the electoral majority Sharpton said "I never heard of folk who lose the election but now say 'do what I say.'" He continued, "They are out taking polls. We took one in November… It's an insult to the people of this city like we don't know what we voted for." The crowd roared its approval.
While UPK still has majority support, there are real obstacles that must be overcome to make it a reality.
First by law all city tax increases have to be approved by the state legislature where it faces real opposition.
The state Senate is led by an alliance of the Republican Party and a breakaway group of "independent Democrats".
A promising signal is that the movement for UPK has already began to divide that alliance. Jeff Klein, leader of the Independent Democratic Caucus has sided with de Blasio.
Second, Gov. Cuomo who is running for re-election, is opposed to any increase in taxes, particularly from those who are filling his campaign coffers. In fact he is running ads all over the state boasting about the tax free deals he is ready to make to attract business.
Cuomo and each governor since Pataki has supported UPK, but the support was hollow without dollars mandated to fund it.
Now in response to the pressure being levied it seems resources will in fact be made available but as de Blasio has pointed out, what happens if there is a budget deficit? The mayor wants to create a dedicated revenue stream to pay for UPK to guarantee it not be subject to up and downs in economy.
Since Mayor de Blasio took office in January he has been under constant attack by the media, from not closing the schools during a big snowstorm to using a knife and fork to eat his pizza.
The latest attacks are coming from the charter school industry who were given an additional 14 rent free spaces in public schools. To avoid the displacement of special needs public school children three colocations were denied by the Dept. of Education. The charters schools launched a huge media campaign falsely claiming that de Blasio was out to destroy them
On Tuesday, Mar. 4, the day that De Blasio called a rally in the state capitol urging state officials to support the tax the charters closed down their 22 schools and bused 7,000 parents and students to Albany attempting to eclipse the thousands at the mayor's rally.
Cuomo chose to show up at the charter school rally.
Zakiyah Ansari advocacy director for the Alliance for Quality Education and mother of eight started a petition calling on the governor to "stop ignoring public school students" and received 13,000 signatures in four days.
She delivered the petition to Gov. Cuomo joined by hundreds of parents, students and education advocates.
At the rally Mayor de Blasio said, "Our fight is not with charter schools … A system that allows so many of our children to not be effectively educated perpetrates inequalities that were long ago unacceptable. And we have to look that in the eye and say okay now we won't accept this reality."
Mayor de Blasio explained what was needed in order to prepare students. "Begin at the beginning," he said. "If you don't get early childhood education right we know if they are not on grade level by third grade the chance of ever getting to grade level diminishes. When we talk about solutions, not band aids to help a few but solutions, we start with early childhood education because it is the foundation."
Neighborhood like Harlem along with neighborhoods of working families across the state are mobilizing now to make their voices heard. New Yorkers will travel to Albany on March 20th for a rally and lobby day connecting the struggle for UPK with other issues under the banner of demanding a New York that works for all.
Photo: Estevan Bassett-Nembhard/PW