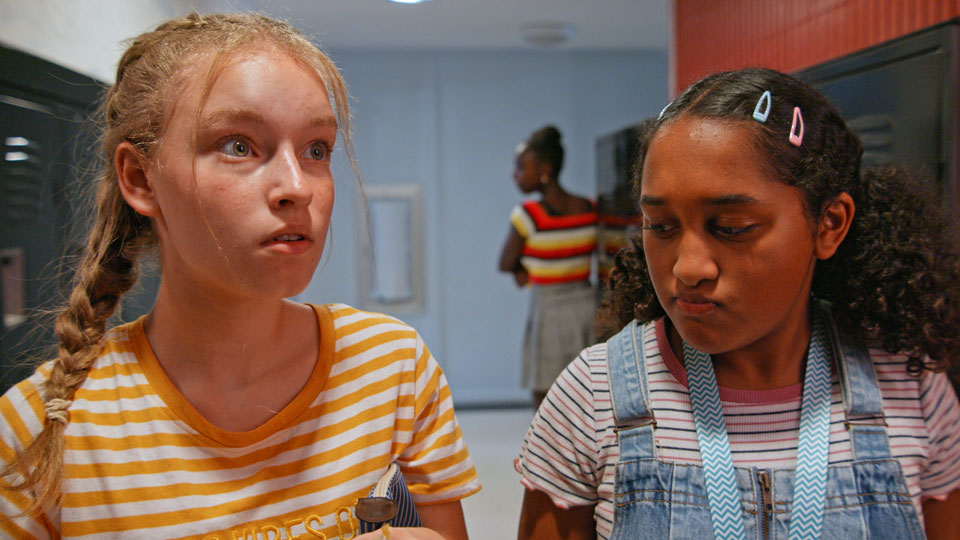 Code Red is taking on a topic that affects more than half the human population but is often dismissed and stigmatized. The short film puts menstruation, a.k.a. the period, center stage in a coming-of-age story that has relevance beyond adolescence and middle school. Period poverty is defined as a lack of access to menstrual products, education, and hygiene facilities for those that experience an occurrence that is as natural as breathing, but has far too often been regarded as "unclean" and "unsightly." The film uses characters and symbolism to push back against the shaming in a vibrant and comedic way.
Written and directed by Ringling College of Art and Design Film graduate Jada Wing Hang Poon, Code Red tells the story of a frantic afternoon in the life of a sixth-grader named Karman who gets her period for the first time while in class. What follows is an adventure to get a menstrual pad so she can go on with her day. Such a simple task turns out to be harder than it sounds, as the film puts the spotlight on the lack of menstrual product access for girls in schools and women around the world.
Although Code Red isn't a full-length film, it packs quite a punch in its boldness regarding the technicalities of a period. The vibrant energy of the young cast translates into the atmosphere and color witnessed on screen. This includes the display of blood itself. This may seem like an obvious inclusion given the topic, but one has to keep in mind that for decades commercials on television selling menstrual pads and tampons often use the color blue instead of red to symbolize blood. As though the actual natural color coming from a woman's body is too scandalous for the general public. Director Poon isn't shy with showcasing the blood, and that small act in itself goes a long way.
It's a funny short with a lot of charm to it. It feels like something close to an afterschool special, but one we know certain areas of our country would not dare to air on regular television. The cast is young, but don't let that trick you into believing it's a tale only for the youth. It's a story that will resonate with many because it is an issue that affects millions of people around the world.
According to a study in BMC Women's Health, an estimated 500 million people who menstruate deal with a lack of access to menstrual products and hygiene facilities. In a world where the wealth gap between the rich and the poor grows wider every day, it should come as no surprise that this lack of access often affects those who are working-class and low-income.
A 2019 survey by Reuters Health found that nearly two-thirds of women in the United States with a low income were unable to afford menstrual products. Half of those who participated in the survey noted that sometimes they had to choose between buying food or items needed to deal with their periods.
Around the world, and particularly in the U.S., this problem is magnified by the fact that tampons and other menstrual products are not deemed as "essential," and are therefore assigned sales tax when bought. This is in stark contrast to other items that are deemed essential health purchases, such as prescriptions, some over-the-counter drugs, toilet paper, condoms, and groceries.
To put this in perspective, the drug Viagra, an erectile dysfunction medication used by men, isn't taxed in any state except Illinois, but menstrual products mainly used by women are taxed in 31 states in the country.
Coupling that example with the fact that recent studies have shown that products marketed towards women are generally more expensive than those marketed towards men, it is clear there is a disparity along gender lines. And things just got a whole lot worse given the current tampon shortage.
The latest goods affected by supply chain issues intensified by the COVID-19 pandemic and inflation are tampons. While manufacturers like Procter & Gamble and Edgewell Personal Care are blaming the shortage on various vague problems like lack of raw materials and workers, what isn't vague is the price increase. According to NielsenIQ, tampon products and packages of menstrual pads saw 9.8% and 8.3% price jumps respectively in May of this year. This has put stress on not only individuals but on nonprofit organizations that provide menstrual products to those in need.
The Pink Tax Repeal Act, introduced by Rep. Jackie Speier, which would ban the practice of charging higher prices based on "gender for products and services" has yet to be passed despite being introduced in 2019. This is in contrast to swiftly passed legislation in a number of states over the last few years that impose restrictions on a woman's right to choose abortion and access to birth control.
Code Red is a puzzle piece in sparking a much-needed conversation about all the ways women are exploited under a system that prioritizes profits and patriarchy. The creators involved are also using the film's official Facebook and Instagram pages to highlight organizations that Poon and other crew members are getting involved with that support women's rights and aim to end period poverty. It's an example of the many ways film and storytelling can be tools for progressive change.
The short film is currently making the rounds in a number of film festival screenings and will hopefully be available for broader consumption in the near future. The public trailer can be viewed here.