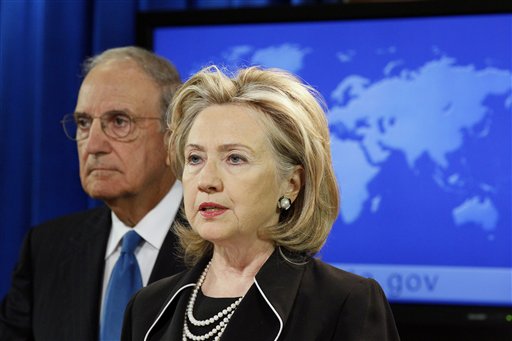 Last week's announcement by Secretary of State Hillary Clinton that direct Israeli-Palestinian talks will restart Sept. 2, after a nearly two-year gap, is being greeted with caution if not downright skepticism. Just weeks earlier, Atlantic magazine's Jeffrey Goldberg stirred up a storm when he reported, following interviews with Israeli "decision-makers," that "there is a better than 50 percent chance" that Israel will launch a military strike against Iran by next July. The timing seems anything but coincidental.
Israeli Prime Minister Benjamin Netanyahu and Palestinian President Mahmoud Abbas are to begin the direct talks in Washington, after individual meetings with President Obama and a state dinner the day before. Even the most optimistic commentators say the talks face enormous obstacles.
Top among them is the issue of Israeli settlements in East Jerusalem and the West Bank, which have gobbled up vast tracts of land in what is supposed to be the future Palestinian state. Israeli settlement construction and expansion in East Jerusalem is particularly inflammatory for Palestinians, as it is obviously aimed at stymieing the deeply-felt Palestinian demand that East Jerusalem be the capital of the Palestinian state.
Palestinian leaders had insisted on a settlement freeze as a precondition for direct talks. A partial freeze announced by Netanyahu last year under heavy pressure from the U.S. is due to expire Sept. 26. Abbas and other Palestinian leaders have said talks cannot proceed without a freeze. Clinton's announcement made no direct mention of settlements. She did say, ""It is important that actions by all sides help to advance our effort, not hinder it." Some commentators suggest the U.S. may have obtained behind-the-scenes agreement from the Israelis to continue a freeze de facto.
Palestinian leaders wanted a one-year timetable for the talks to arrive at an agreement on the key "final status" issues: borders of the Palestinian state, East Jerusalem, and Palestinian refugees. Clinton spoke only of an intention to complete the talks within a year. "We believe it can be done within a year and that is our objective," U.S. special Middle East envoy George Mitchell told reporters.
Mitchell reiterated what has become a widely asserted point of emphasis with the Obama administration: resolving the Israeli-Palestinian conflict is not only "very much in the interest of Israelis and Palestinians, of all people in the region; it's in the national-security interest of the United States."
The view that U.S. national security requires ending the Israeli-Palestinian conflict is a new element in U.S. policy – although it was raised as far back as 2006 in the bipartisan Iraq Study Group report. Now top Pentagon leaders are saying it. The national security angle adds weight to Obama's repeated statements of his determination to achieve Israeli-Palestinian peace with a Palestinian state: the two-state solution.
But far-right extremists opposing such a solution play a powerful role in Israeli politics and society and hold key positions in the Netanyahu government.
So it is reasonable to be suspicious about the "news" that "Israel is getting ready to bomb Iran," as the September Atlantic magazine cover story proclaims.
The author, journalist Jeffrey Goldberg, is well connected in both Israeli and Washington circles, and his provocative article has gotten worldwide attention, much of it outraged.
But a key element of the article has gotten little play.
Goldberg writes, "On my last visit to Israel, I was asked almost a dozen times by senior officials and retired generals if I could explain Barack Obama and his feelings about Israel." A senior Israeli official told Goldberg, "This is the problem. If he is a J Street Jew, we are in trouble." J Street is the liberal "pro-Israel pro-peace" organization established to, as Goldberg puts it, "counter the influence of AIPAC," the right-wing lobby group. Goldberg notes that American Jews "are, like the president they voted for in overwhelming numbers, generally supportive of a two-state solution, and dubious about Jewish settlement of the West Bank."
The Israeli official said, "We're worried that he thinks like the liberal American Jews."
And Goldberg reports that, in a meeting he had with Obama chief of staff Rahm Emanuel, Emanuel "suggested that the administration is trying to thread a needle: providing 'unshakeable' support for Israel; protecting it from the consequences of an Iranian nuclear bomb; but pushing it toward compromise with the Palestinians."
Goldberg writes, "Emanuel, in our meeting, disputed that Israel is incapable of moving forward on the peace process so long as Iran looms as an existential threat."
It seems evident that the supposedly off-the-record comments by Israeli officials about a looming military strike on Iran have much to do with the serious pressure that the Israeli government is now facing from the U.S. to finally make a two-state peace with the Palestinians.
David Kay, the former UN arms inspector in Iraq, suggests that "Israel is engaged in psychological warfare with the Obama administration – and it only partly concerns Iran." Kay writes in The National Interest, an international affairs journal, "[O]f probably greater importance to the current Israeli government is avoiding the Obama administration pushing it into a choice between settlements and territorial arrangements with the Palestinians that it is unwilling to make and permanent damage to its relationship with the U.S."
"Hyping the Iranian nuclear program and the need for early military action is a nice bargaining counter," writes Kay, and the intended bargain is: "if the U.S. wants to avoid an imminent Israeli strike, it must make concessions to Israel on the Palestinian issues."
Yet many experts say it is precisely an Israeli-Palestinian peace agreement, establishing a Palestinian state beside Israel, that will deflate anti-Israel posturing and threats, real or imagined, from Iran. Thus peace advocates are urging the Obama administration to do what it takes to ensure these peace talks bear fruit.
Photo: Secretary of State Hillary Rodham Clinton, accompanied by special Mideast peace envoy George Mitchell, announces Aug. 20 that Israeli and Palestinian leaders have agreed to resume direct negotiations. (AP/Alex Brandon)