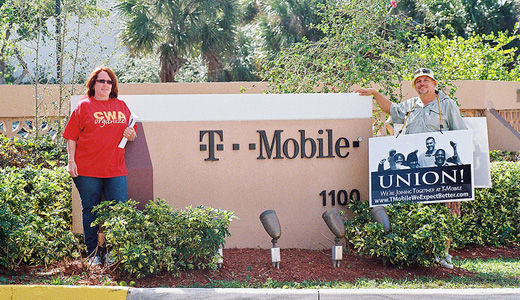 WASHINGTON – The German model of collective bargaining, and what the U.S. can learn from it, was the top topic of conversation between three U.S. union leaders, acting U.S. Labor Secretary Seth Harris and German Labor Minister Ursula von der Leyen at a recent dinner at German Ambassador Peter Ammon's residence in D.C.
That model produces much better labor relations than in the U.S., but the model by law is also more pro-worker than in the U.S. Ammon and von der Leyen explored the contrasts with Harris, AFL-CIO President Richard Trumka, Communications Workers President Larry Cohen and Auto Workers President Bob King.
Their informal talk was held at a time of contrasts in labor relations in the two national economic powerhouses. On the one hand, management at U.S. subsidiaries of German-based firms – notably but not exclusively T-Mobile – act like other U.S. corporate executives in their resistance to unionization. Sometimes, they break labor law to prevent it.
On the other hand, the Obama administration wants to open talks with the 27-nation European Union – where Germany is the leader and economic heavyweight – over a proposed "free trade" pact. Unlike other such trade pacts, this one would be with a group of mostly developed nations with strong worker protections. The AFL-CIO has taken no formal position on a free trade pact with Europe.
The story is not all one-way: A German television documentary exposed low pay and bad working conditions for temporary workers whom subcontractors hired to help handle the holiday rush for gifts, at three Amazon.com German warehouses. Von der Leyen opened an investigation and is demanding answers from Amazon.
The talks at the ambassador's dinner table were general, and also covered ways to increase dialogue between workers and management in the U.S. Such social dialogue in Europe has produced social compacts all over the European Union, where firms sign open pledges of pro-worker principles to obey in their labor relations.
U.S. workers and unions dealing with the U.S. subsidiaries of the European firms, including telecom firms, drug companies, auto makers and others, find themselves often denouncing the hypocrisy of the subsidiaries, saying the U.S.-based managers don't live up to their own companies' pledges in the social compacts.
Several U.S. unions, including the Communications Workers, the Steelworkers and the Bakery, Confectionery and Tobacco Workers and Grain Millers, have forged strong working alliances with their European counterparts. That's useful because European nations not only have higher union densities than in the U.S. but because European unions have greater legal rights and clout. Both can be, and sometimes have been, used to help U.S. union counterparts facing labor law-breaking managers.
Photo: German-owned companies like T-Mobile do not extend to U.S. workers the same collective bargaining rights that they extend to their workers in Germany. Here, union members in Washington, D.C. protest the company. Communications Workers of America