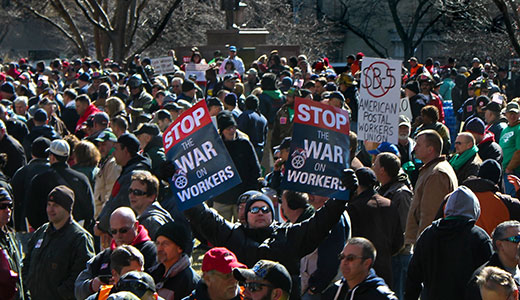 Today, We Are Ohio, a coalition of unions and other supporters of worker rights, filed nearly 1.3 million signatures to force a repeal referendum on Ohio Gov. John Kasich's anti-collective-bargaining SB 5.
Earlier this week Wisconsin Gov. Scott Walker signed his bill that eliminates the right of public employees to collectively bargain, taking away a right that had been guaranteed by law in his state for more than 50 years.
In an interview this week Walker told the Milwaukee Journal Sentinel that collective bargaining is not a right, but rather an expensive "entitlement."
The governor must not have read U.S. labor law. The National Labor Relations Act, which has been the law of the land since 1935, says it is the policy of the government of the United States to encourage collective bargaining.
The governor certainly didn't "get" the hundreds of thousands of workers who jammed the streets of Madison and are now pulling off one of the biggest recall elections in the history of the United States. The demonstrations were clearly carried out by people intent on defending their rights.
Walker claimed the workers got in such an uproar because he didn't fully explain himself. He said he should have built his case sooner.
In fact, Walker devoted his entire election campaign to avoiding any mention to the voters of his anti-worker intentions. He spent plenty of time greeting people with children at shopping centers and eating at picnics and street festivals. But he never told the people that his first major push as governor would be to take away their collective bargaining rights.
He was much more straightforward, however, in his dealings during the campaign with his corporate and big business backers, among them the Koch brothers. To them he promised that after the election he would "take down the workers and their unions."
The day the demonstrations against him broke out in Madison, Walker told the press the protests would fizzle out within days. Instead, they grew into a workers' uprising of historic proportions.
This week Walker again told the press that people will soon forget the whole uproar. We don't think so.
The right of workers to bargain collectively with their employer over their basic conditions of work – the right to have a say on equal terms – is a 76-year American tradition, a deeply felt one. It's not a privilege that Walker, Kasich or any other politician can simply revoke. The public won't allow it, as the people of Wisconsin and Ohio are showing.
Photo: Andrew Samis/We Are Ohio