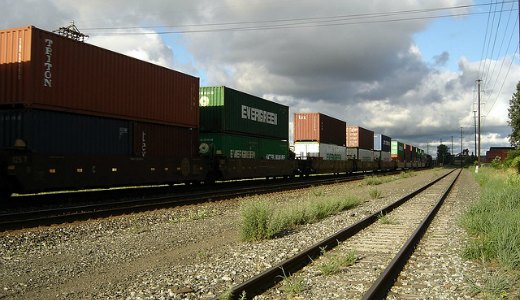 Ever wonder what it's like to go to college in a declining city? Ever wonder what it's like to go to college in the Rustbelt? For a year I got to experience that. Funny thing about cities like Erie, Pa. – no matter what kind of decline, economic downturn or changes they go through they often never lose their initial reputation as a city of industry.
When I came to Erie in the summer of 2010 from my hometown in the coal regions of Pennsylvania near Pottsville, I knew almost nothing about the city. I was young, naïve, and it was my first time away from home on my own. There are three colleges in Erie. There's Penn State Behrend, a state school. Then there are Gannon University and Mercyhurst College. Thing about Erie: not only is it an industrial city but it's an Irish working class hotspot. Settled originally by Irish immigrants ,the city itself maintains much of its Irish Catholic heritage.
Me, I was attracted to Mercyhurst College because of its status as one of the top Catholic liberal arts colleges in the Midwest. Now top liberal arts schools tend to run on the expensive side of things. Mercyhurst isn't cheap. It runs well over $40,000 a year for tuition costs.
At the time I wasn't worried. My mom had a decent job as a bookkeeper and my dad worked hard at various miscellaneous jobs to help our family income. Fresh off President Obama's stimulus I had initially received generous financial aid on both the state and federal level with a scholarship from Mercyhurst itself.
I entered Mercyhurst as a young, ambitious 18-some-year-old who was at the time socially and politically unaware. It turned into one of the greatest years of my life.
It started with the environment in Erie. Parts of the city like the waterfront are very nice and being redeveloped for tourism. Other parts with abandoned factories and mills are not so nice. When I arrived at Mercyhurst I got my first dose of working class political activism; before I had been somewhat politically unknowledgeable.
I met people who grew up in the Erie area. Who valued hard work. Some of these kids despite generous financial aid still had to work two jobs just to pay their tuition bills. They came to Mercyhurst over a state school because they wanted the quality education they felt the school could provide.
Then I was exposed to professors who were active in organized labor, LGBT rights, disability rights, and other progressive movements. I was writing for the school newspaper, the Merciad, at the time. Before I began to be influenced by progressive politics and values, I wrote several conformist opinion columns against progressivism.
But then a chain of events happened. I came out as gay. The backlash to this on a Catholic campus is never easy. So I found myself needing allies. I quickly sought out the same professors who influenced me, the ones who were progressive.
Then my grades were slipping. I had been pretty smart in high school. I took honors and AP classes. But in college that transition can be tough. Having a moderate disability I found myself having to explain my condition to my professors in order to get the accommodations I needed. So I inadvertently not only started writing about gay rights, I started writing about disability rights as well.
Finally the culture of Erie rubbed off on me. While I was active in the local disability rights organizations I came into contact with the labor movement. I met one man who was a disability rights advocate for people with autism. He worked for General Electric, the largest employer in Erie. He was also a labor activist in one of the local unions. Although I'm not a union member, this probably was the final turning point: meeting him.
By this time the end of the year was rapidly approaching. I had done OK for myself in the end academically. I admit I wasn't the most popular person in a small college like Mercyhurst. The faculty loved me. But the student body, most of whom are conservative Catholics, didn't take well to my writings in the newspaper which were my primary means of activism.
That combined with the fact that Tom Corbett, the new Republican Pennsylvania governor, cut education in half in his budget. There was a big uproar on campus. Many students including myself lost our financial aid.
Without the state grants, my tuition jumped. I was also ineligible for further federal aid. Faced with a loss of financial aid and being a very unpopular political radical on campus. I decided to transfer my credits and my activism closer to home.
This winter I will be starting school again nearby. I've got mixed feelings about my time at Mercyhurst. I like how it introduced me to the progressive movement. I did leave a lasting impression on campus. I helped revitalize the campus Gay-Straight Alliance. I was one of the founding students of a campus disability rights group. I met professors there who were real radicals. I got involved because of them and other members of Erie's renowned working class culture.
Next time I could do without the political unpopularity though!
Photo: Railroad tracks in Erie, Pa. InsaneNinja [at] gmail.com // CC 2.0