Since the drone attack on Venezuelan President Nicolás Maduro on August 4, there has been a rapid escalation of tensions between Venezuela and neighboring Colombia. There is a real danger that this escalation will lead to armed efforts to overthrow the Venezuelan government and even military conflict between the two countries. For us in the United States, there is also the danger that the reckless and bellicose attitude of the Trump administration will lead to an escalation of our own country's involvement.
To recap: Venezuela is in the throes of a severe, destabilizing economic crisis, which manifests itself in galloping inflation and the scarcity a number of goods in the shops. Exacerbating this are the hostile attitude and actions of the United States, which has imposed sanctions on Venezuela designed to make it as hard as possible for the country to pay its bills and get financing from international sources.
On Saturday, August 4, two armed drones were launched in an apparent attack on Maduro while he was reviewing a military parade in Caracas. Maduro was not injured, but seven soldiers in the parade did suffer injuries.
The right-wing opposition in Venezuela, which includes some very violent elements, has been, for several years, organizing street riots, the destruction of government property, and other destabilizing actions. The drone attack on Maduro was the culmination of a series of escalating provocations.
Shortly after the failed attack, a Venezuelan citizen living in Bogota, Colombia, Salvatore Lucchese, claimed that he orchestrated the drone attack with the aid of dissident Venezuelan military personnel. He said that more attacks would follow. Lucchese, a former police chief who had done jail time for his part in some violent protests, says he has resigned from the right-wing political party "Voluntad Popular," (People's Will) in order to advance the armed struggle against the Venezuelan government. Jaime Bayle, a Peruvian who runs a public affairs television show in Miami, Florida, also claimed to know about the planned attack in advance, saying he approved of it and of other attacks that are to follow with the explicit purpose of killing Maduro.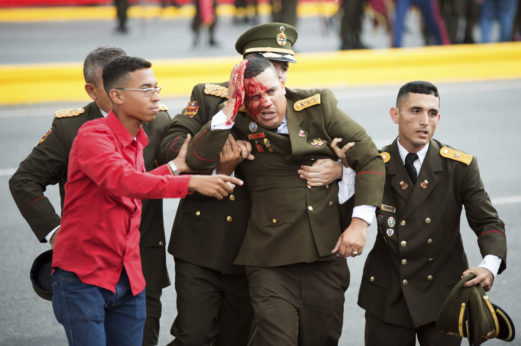 Lucchese is not the only one to claim credit for the drone attack, but the fact that he boldly announces this from a neighboring country is significant. Soon after the attack, President Maduro issued a statement blaming outgoing Colombian President Juan Manuel Santos for the deed. The comments by Bayle in Miami also implicate the United States. Normal responses of the Colombian and U.S. governments to such an incident would be to act against these two individuals, who have just confessed publically to criminal actions. Yet neither the Colombian nor the U.S. government has taken action. So even though U.S. National Security Advisor John Bolton claims that the United States has no intention of invading Venezuela or overthrowing its government, both our government and Colombia's are heavily implicated.
On Tuesday, August 14, Venezuelan Attorney General Tarek William Saab announced that the number of specific individuals who have been implicated in the drone plot has risen to 34. At that time, arrest warrants had been issued for 17 of the 34; the names of some have been handed over to Interpol. The Venezuelan government has also accused another former legislator, Julio Borges, of being involved in the conspiracy. Borges is evidently also living in Colombia, so Venezuela has asked Interpol to issue a "red note" warrant asking Colombia to extradite him back to Venezuela.
Some of the people on Saab's list are quite high-ranking political and military figures. A member of the National Assembly from Tachira state on the Colombia-Venezuela border, Juan Requesens, has been arrested and charged with "treason, terrorism, association to commit a crime, and homicide." In the last few years, Tachira, and its capital San Cristobal, have been hotbeds of right-wing radicalism and have been the scene of particularly violent opposition rioting. Several high-ranking military officers have also been arrested.
On August 7, an extreme right-winger, Ivan Duque, was sworn in as president of Colombia. Duque is an ally of far right-wing former President Alvaro Uribe and thus can be expected to intensify his country's hostility to Venezuela.  And under President Trump, the United States is far more likely to fan the flames of conflict than to try to calm tensions or stay out. Far from it, a year ago Trump reportedly asked his aides why the United States could not simply invade Venezuela.
This  weekend, U.S. Defense Secretary Jim "Mad Dog" Mattis was in Colombia, ostensibly on a humanitarian mission. He used the occasion to praise Colombia and blast Venezuela. Whether such Trump administration blasts are going to be purely verbal, and not something worse, in the coming weeks and months remains to be seen.