Young people in Villa Rica are like young people everywhere. When school is done, they take to parks, each other's homes, and street corners to talk, joke around, flirt, and otherwise discuss the day with their friends. That's what was happening on May 1 in Villa Rica, a small town with just over 16,000 residents, located in the Department of Cauca, Colombia.
On that day, hard reality would shatter their group in a terrifying and brutal way. At approximately 7:30pm, two hooded men on a motorcycle pulled up. Shots rang out and bullets flew toward the gathering on the corner. The youth scattered, hiding where they could, running as far and fast as possible when they couldn't. When it was over, five of them lay wounded.
Johan Felipe Mera Loboa, 19 years old, was running down the street when a bullet caught him, sending him tumbling to the ground. Bleeding heavily, he was rushed to the Valle de Lili clinic in Cali. He would not see another 24 hours. He was pronounced dead at 4:00pm the next day. Johan Mera died for no other reason than that he was young, a victim of "social cleansing" by a paramilitary death squad.
Throughout Colombia, paramilitaries are threatening and assaulting the population in an attempt to derail the peace process. Barring that, they hope to render null and void all agreements for social investment and land rights that would hamper the free reign of big landowners, narco-traffickers, and transnational corporations. Make no mistake, paramilitaries are closely tied to these interests. U.S.-based corporations like Coca-Cola, Drummond Coal, and Chiquita all have paid and granted access to death squads targeting unionists.
Cauca, home to Colombia's largest indigenous population, is also the department now most affected by death squad violence. Paramilitaries are asserting control over any whom they deem could be in their way. In Villa Rica, they target young people. In fact, in this small town alone, in one two-week period between April 23 and May 8, five youth were killed and five wounded in paramilitary attacks.
Just days before that spate of lethal violence, the paramilitary group Gaitanist Self Defense Forces of Colombia (AGC-Autodefensas Gaitanistas de Colombia) circulated a flier in Villa Rica. In a rambling pamphlet that abused punctuation and grammar, the message was nonetheless chillingly clear:
The gaitanist self-defense forces of Colombia, in View that the population does not want to get the call we see the obligation to act by force and malicious waves we do not hold ourselves responsible if in the midst of the crossfire children, mothers, fathers, husbands, wives fall We do not want to see either cat or dog after 9pm we do not want to see anyone in the streets, in the ball fields, in the schools, universities The functionaries who leave late From their work places it does not matter to us at all if we kill whatever Child of a whore who is fucking with us in the streets, the community [that] did not want through the good way will touch the bad.
If the local authorities do not go where the thieves rats marijuana smokers are we Will go for them.
THE cleansing has just begun, death for all
To make their point, the AGC not only threaten and murder their targets. They then terrorize the grieving. The day after Johan Felipe Mera Loboa was killed, the mourners at his wake were attacked by hooded men on motorcycles. One woman was wounded. A day later, armed men on motorcycles would repeatedly return to circle the home of Mera Loboa's mother when she arrived home from his funeral.
Paramilitary violence, government failure
What is happening in Villa Rica is happening throughout Colombia, but especially concentrated, as already noted, in Cauca, and in the neighboring departments of Villa de Cauca and Nariño. And paramilitaries are not the only threat. Rural, indigenous, and Afro-Colombian communities are subject to both neglect and repression by the state. The Colombian government is failing to meet many of its obligations for infrastructure development, repatriation of the displaced, and other crucial components of the accords. Those who protest are often subject to repression by the Colombian Armed Forces.
In the city of Buenaventura, in the Department of Valle de Cauca, as well as the Department of Chocó, located in the north, popular strikes began in mid-May. The state's chronic negligence of these peoples – the majority Afro-descendants – constitutes systemic racism. Chocó has the highest rate of poverty in Colombia, with 65.9 percent of its population in a state of poverty and 37.1 percent in extreme poverty. The percentage of children who never reach their first birthdays is a stunning 42 percent. Meanwhile, in Buenaventura, more than 60 percent of maritime commerce in Colombia moves through this, the nation's most important port. However, the city suffers an unemployment rate of 62 percent and a poverty rate of 64 percent. There is no access to basic services, including adequate hospitals, for most of the population.
In both Chocó and Buenaventura, the government has deployed ESMAD, the Mobile Anti-Disturbance Squads of the Colombian Armed Forces. In spite of the strikers suffering attacks with tear gas and physical assaults, with several detained, the strikes have persisted. In Chocó, the government has finally entered good faith negotiations with the popular movement to end the strike there. In Buenaventura, ESMAD continues to patrol the streets, but both the strikers and the government are reopening dialogue. The systemic racism that characterizes the state's historic negligence of these peoples is now brutally in the open with the violent repression of the strikes.
In Tumaco, Nariño, one state south of Cauca, the Colombian Armed Forces have violently suppressed demonstrators protesting drug eradication programs that include spraying crops with Monsanto's Roundup Ultra herbicide. Coca, marijuana, and poppy-growing communities note that while eradication goes forward, the government's promises for plant substitution programs and infrastructure development do not.
When farmers try and avail themselves of what resources are available, they must travel long distances over primitive roads where they are vulnerable to paramilitary assaults. On May 18, the president of the Community Action Council of the village of Jardín, a subdivision of Tumaco, disappeared while installing a trap to catch fish. When his wife went looking for him, all she found was a trail of blood. The next day, Orlando Quiñones, also a community leader in Tumaco, was assassinated.
Military or paramilitary – who can tell the difference?
Just under 100 miles (154 kilometers) to the north of Villa Rica is the municipality of Corinto. This is an area that my organization, the Alliance for Global Justice, has visited several times over the last ten years. In Corinto, violent repression and extrajudicial executions are more likely to occur at the hands of the Colombian Armed Forces than paramilitaries. When paramilitary violence occurs, it is often said that these are from elements of the military who change into street clothes by night to commit their atrocities.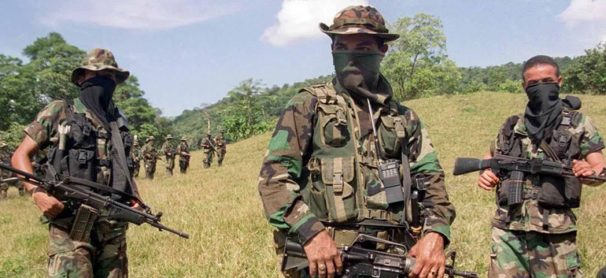 In Corinto, just eight days after Johan Mera was killed in Villa Rica, a similar incident occurred. A minga, an encounter of indigenous communities, was underway. Abandoned by the state, and with no reasonable alternatives, the participants were marching and attempting to eradicate sugar cane from a plantation to prevent lasting damage to their land and communities. I have seen with my own eyes the miles and miles of monoculture sugar cane plantations in Colombia, and heard many testimonies about the deep damage to the land. I have heard first-hand accounts of the violence used to suppress workers who try to organize, and the family farmers and villages that resist the sugar cane encroachment. Many Colombian communities have been displaced to accommodate the big agribusinesses of sugar.
The minga's work crew was attacked by ESMAD, who fired on them with tear gas. The participants, deciding not to confront the police, retreated seeking refuge elsewhere. ESMAD troops chased after them, switching to live ammunition. The soldiers were neither being attacked nor endangered. ESMAD fired on a group gathered by the farmhouse entrance, wounding two, Pedro García Leal, a spokesperson for the group, and Daniel Felipe Castro Basto.
Castro Basto came from the community of San Pedro in the Corinto Indigenous Reserve. A young man of 17, he was already married, his wife preparing to give birth any day. During the attack, a bullet entered Castro's body through his left side, under his shoulder and went through his lungs. Like Johan Felipe Mera Loboa, both Pedro García Leal and Castro Basto were rushed to Cali's Valle de Lili medical clinic.  Castro Basto died on the way.
War by the numbers
In times of war and repression, bullets and numbers fly together. For those of us outside conflict zones and the reach of those bullets, numbers become a necessary reality. Through these numbers of the dead, the wounded, the disappeared, the threatened, the displaced, and through the lens of trends and percentages and rates, we ascertain the direction in which a conflict is going, whether sinking deeper into chaos and bloodshed, or moving toward that hope we hold most dear – peace with justice.
I am paid to study and think about and read these numbers, to try and make sense of them. At my desk at the Alliance for Global Justice, I am the staff most responsible for developing our solidarity projects concerning Colombia. So, I can give you numbers.
I can tell you, for instance, that peace accords are being implemented in Colombia that aspire to end 53 years of civil war. That war has left more than 220,000 persons dead, some 92,000 persons disappeared, and over seven million persons displaced from their homes.
I can tell you that since January 1st of 2016 alone, according to official statistics, 156 social movement leaders have been killed. I can tell you that since 2012, when the peace process began and the Marcha Patriótica movement for a just peace was founded, 124 Marcha leaders have been assassinated. I can tell you that assaults against popular movement leaders are at the highest levels in over a decade. As a resident of the United States of America, I can tell you how the U.S. has spent some $11 billion via Plan Colombia to support war and repression in Colombia.
Yes, numbers help us assess and understand conflict in Colombia. They do not communicate the whole reality, the hopes and fears, the victories and all-too-frequent tragedies that underlie them. Throughout Colombia, rural communities and working people are demanding social investment and infrastructure development instead of repression and the neglect of the state. They are ready to give birth to a new and more just Colombia.
But this won't happen without the support of the international community. Colombia's attempts at peace have failed before. Sadly, part of the reason has been the silence of the international community. During the peace process of the 1980s and 1990s, some 6,000 leftist political candidates and officials were murdered, bringing the process crashing down. While death squad murderers carried out their activities with impunity, Colombia, in collusion with the United States, escalated the war.
What you can do
One of the best ways we can build international awareness regarding Colombia is to go there and see for ourselves what is happening beyond the numbers. Delegations of accompaniment are especially powerful demonstrations of solidarity to popular movements. This is multiplied when delegates return home and share what they have learned. There are several U.S.-based solidarity organizations that organize such trips. (AfGJ still has spaces open for our June 30-July 10 delegation. Applications can be requested by sending an email to DELEGATIONS@AFGJ.ORG.)
Whether one can go to Colombia or not, the most important thing any of us can do is act to change U.S. policies toward Colombia. There are three areas we especially need to focus on:
First, we must end the practice of U.S. requests for extraditions of former insurgents and paramilitaries. This interferes directly with the peace process and protects corrupt Colombian politicians and business persons from expository investigations into national and corporate paramilitary ties. We should repatriate all those we are currently holding, especially Simón Trinidad, aka Ricardo Palmera, whose role for the FARC was not to plan military actions, but rather to act as a peace negotiator. (In fact, he was arrested while traveling to negotiate the release of prisoners of war held by the FARC.)
Secondly, we must oppose U.S. policies that prioritize funding the means of repression in Colombia over social and infrastructure investment. The Trump administration is making severe cuts to foreign aid, including to Colombia. What is not clear is whether military aid will be maintained at current levels, since related current budget proposals are not yet fully available. Even with major funding cuts, the U.S. continues to maintain policies toward Colombia that favor repression and corporate plunder over the rights and needs of communities.
Finally, we must challenge media representations that whitewash the problems in Colombia and portray the country as some sort of flourishing and free democracy, especially when compared with Venezuela. Corporate media is actively diverting our attention away from the continuing abuses that constitute daily life in Colombia. Instead, it fans the flames of intervention against next-door Venezuela.
Contrary to the corporate-media hype, and with all its problems, Venezuela is a significantly freer society, including for its dissidents, and a nation that has made progress against poverty and illiteracy and for health care that puts Colombia to shame. Colombia and Venezuela are both keys to the future of Latin America, and their fates are completely intertwined. Solidarity with the people of Colombia is solidarity with Venezuela and vice versa.
My most recent trip to Colombia was in October 2016. I visited La Cominera, a village in the hills above Corinto. Just a short time before, Cecilia Coicue, a local leader of the Fensuagro agricultural workers' union, was assassinated while attending to a stream that fed her farm. I went to her farmhouse with a couple of community members. It was as if the place was still waiting for her to come home.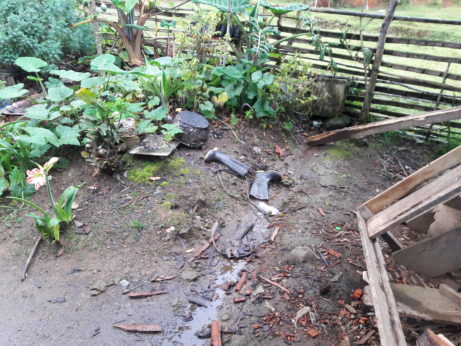 I saw a pitcher of juice left out on the table, her rubber boots lying beside her colorful flower garden. Geese honked angrily at my intrusion and chickens combed over the grass, picking at the abundant bug life. Soon a small white dog came running up, happy for some company. I spent a little time scratching behind his ears and asked who was feeding him. I was told that neighbors had been stopping by since most her family had no choice but to leave the area after the murder. They had joined the millions who have been displaced by political violence. Cecilia Coicue's death was just one of several similar tragic incidents against rural leaders that had occurred there in recent months.
While petting her lonely dog, I thought how the numbers couldn't tell his little, insignificant story – that his owner would never come home.  We can count the dead and the disappeared and the displaced. But it is in looking at the faces of the dead and those left behind, yes, even their lonesome pets, that we begin to grasp something of the war's cruelty. Still we must go beyond that to apprehend what these lost ones lived and struggled for. Their deaths can only make sense if we the living take up their brave struggles and keep them moving forward, committed as they were, to never forget, to never give up.