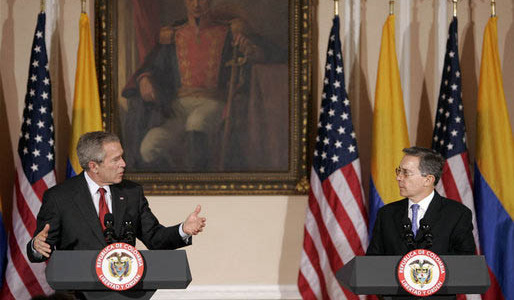 President Alvaro Uribe, a top U.S. ally in South America reviled by the left everywhere, is now banned from a third term. Carlos Lozano, director of the Colombian Communist Party's Voz newspaper was overjoyed: "It's the beginning of the end of the horrible night of Uribism."
Colombia's Constitution prohibits repeat presidential terms. How could Uribe have run for a second term?
To bypass the constitution, signatures were gathered for a petition submitted to the country's Congress as preparation for legislation authorizing a popular referendum. This last posed the question of amending the constitution to allow for presidential reelection. That scenario worked in 2006, helped along by paramilitary and narcotrafficker influence in Colombia's Congress. Uribe was accused of buying congressional votes. This time, on February 27, however, the Constitutional Court ruled seven votes to two that the enabling law was unconstitutional. The referendum set for late March to coincide with congressional voting was off. The presidential election takes place May 30
The court objected to excessive money used to secure petition signatures, Senate changes in the wording of the law on the petition and as passed by the Colombian House of Representatives, voting ineligibility of five congresspersons, and congressional voting that was scheduled in such a way as to exclude opponents.
Thousands afterwards gathered outside Bogota's Palace of Justice shouting or holding up signs saying, "The referendum is gone" and "The constitution lives." The question remains as to what happens under "Uribism without Uribe." Uncertainty derives in part from contrasting views as to the origins of the court decision.
Perhaps, some say, Uribe was undone from "inside the institutional oligarchy itself." Facing corruption allegations, charges of administrative arbitrariness and possible waning of international (read investor) support, Uribe is perceived as weakened. Possible attention from the International Criminal Court looms because of massacres and human rights abuses. The court reportedly came under pressure to approve the referendum in exchange for Uribe's agreement not to run for reelection.
Uribe's personal vulnerability was on display with the repeat jailing recently of his cousin Mario Uribe. The Supreme Court is charging the former Senate president with garnering votes in Cordoba through paramilitary influence. Allegedly cousin Mario amassed land using paramilitaries as enforcers. Five of Mario Uribe's close associates are being prosecuted for paramilitary ties, with one already sentenced to 40 years in prison. President Uribe himself achieved a number 82 ranking, out of 104, in a U.S. Defense Department tabulation of Colombian cocaine traffickers, according to Newsweek in 2004.
Others argue that popular mobilization forced the hand of the Constitutional Court. Transportation workers were on strike last week in Bogotá. Students have demonstrated against educational funding cuts. On February 18, city streets throughout the nation overflowed with protesters against government decrees under a so-called "Social Emergency." These decrees would set in motion privatization of health care for the poor. Marchers demonstrated against new government subsidies for the rich. The specter of "ungovernability" is at hand, according to this line of reasoning.
The court's decision has energized electoral work in behalf of congressional candidates of the leftist Alternative Democratic Pole coalition. Carlos Lozano welcomed the court's "historical verdict" backing legality, the constitution, and "mechanisms of counterweight" against "personal appetites" for power.
But "Uribism without Uribe" is unlikely to go away soon, especially in view of the favorable electoral prospects of newly announced right-wing presidential candidate Juan Manuel Santos. One ancestor served as president, and until recently his family controlled El Tiempo, Colombia's only national newspaper. Cousin Francisco serves as Colombia's vice president. Last year Juan Manuel had to resign as defense minister because of the "false positives" scandal. Soldiers had killed nearly 2,000 innocent, poor young men and dressed them as dead guerillas so as to exaggerate anti-insurgent success. Two years ago, Santos directed the murderous U.S.-assisted attack in Ecuador against FARC guerrillas.
Venezuelan Communist Party head Oscar Figuera pointed out, "This triumph does not signify that imperialism is destroyed, or that the Colombian bourgeoisie will not join forces to continue oppressing the people." Santos, he suggested, "represents the politics of war, of permanent aggression "and continued aggression against Venezuela.
Prior to the court decision, CIA Director Leon Panetta was in Bogotá conferring with President Uribe, reportedly about the pending U.S.-Colombia free trade agreement and Colombia's scandal-ridden DAS intelligence agency. And who knows what else?
Photo: Colombian President Alvaro Uribe, right, with President George W. Bush in 2007. http://commons.wikimedia.org/wiki/File:Alvaro_Uribe_and_George_W._Bush.jpg