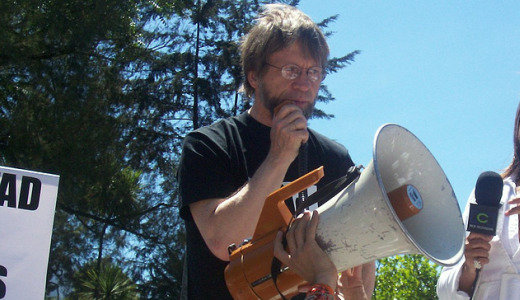 The process of finding a successor to Colombian President Alvaro Uribe has yielded an unconventional favorite. Green Party candidate Antanas Mockus registered 38 percent approval in polls four weeks ahead of elections set for May 30, up 18 points in two weeks and 9 points ahead of the runner-up, former Defense Minister Juan Manuel Santos. Mockus is projected to beat Santos in June 20 second-round voting, 58 percent to 37 percent.
Santos, member of a powerful political and publishing family, embodies the current government's anti-terrorism line and war against leftist guerrillas. A court in February denied Uribe's unconstitutional bid to run for a third term.
The son of Lithuanian immigrant parents, Mockus served twice as Bogota's mayor, ran as Conservative Party vice presidential candidate in 1998, gained 1.2 percent of votes in 2006 presidential voting, and joined the Green Party last September. Many regard the former philosophy professor at Colombia's National University, where he served as rector, as eccentric, considering that he bared his backside to protesting students, threw water at a debate opponent, and rode an elephant at his wedding. He bicycles to work.
As mayor, Mockus built a reputation for efficiency, honesty and ethical behavior. That positions him well as an alternative to current leaders identified with corruption and scandals including: payoffs to land owners, ties to paramilitary killers and drug impresarios, payoffs to congresspersons, special privileges for family members, and promotion of terror and spying against political opponents. Juan Manuel Santos' defense ministry was responsible for the "false positives" scandal: the killing of citizens so bodies could be dressed as guerrillas to advertise victories.
Analysts of the Mockus phenomenon emphasize the role of his candidacy in obscuring working class election alternatives and glossing over class-based exploitation and oppression in Colombia. According to Nelson Lombana Silva, middle class voters, dismayed at the "Uribe Project splashed with narcotrafficking and paramilitarism," look favorably upon values represented by Mockus who is seen as such as "cultivated," "decent" and "pure."
For Milton Caballero honesty is fine, "but it's not enough." Mockus' neo-liberal instincts are clear, Caballero suggests, in support for partial privatization of state-owned Ecopetrol, hikes in student fees, labor "reforms" in 2003, and support for recent Uribe health system cuts.
While casting Democratic Security – the U.S.-supported militarization project costing $19.2 billion annually – as "democratic legality," Mockus refuses to "condemn state crimes committed by the present government." He promises to sustain war against FARC guerrillas while rejecting humanitarian exchange of prisoners and, by implication, negotiated settlement of civil war. President Uribe said in 2003: "I have found in Mayor Mockus a firm helmsman, unwavering and steady." Mockus recently suggested, "Bullets are also a pedagogical resource."
Mockus obtained his Ph.D. degree in France. Part of his 2004 world tour included a stint at Harvard University where he taught Spanish. His trajectory puts him at considerable distance from realities like Colombia's oppressive rural-urban divide. The poor, most of them inhabitants of rural areas or displaced from the country, increased by 20 million during Uribe's tenure. Some 60 percent of Colombians live in poverty, 65 percent in rural areas.
Left electoral prospects are grim. In the 2006 presidential elections, Carlos Gaviria, candidate of the left coalition Alternative Democratic Pole, gained second place with 22 percent of the vote. Polling now gives Pole candidate Gustavo Petro 2.9 percent and fifth place. One analyst with a long memory wonders about the worrisome precedent of General Rojas Pinilla in 1970. After defeating traditional parties in first-round voting, he lost the second round through fraud.

Mockus proposes a referendum on continuing Colombia's toleration of drug trafficking. That's good news for writer Raúl Crespo who says, "It's time to take off the mask of Colombian-U.S. drug trafficking," but perhaps bad news for Washington. Mockus' discounting of links between FARC survival and Venezuela's government would fall in the same category. "Nations ought to respect the sovereignty of [other] countries," he suggested.
Argelio Pérez Fabra provided apt summation: "Mockus and Santos are each a horse of the same neo-liberal color. Soon one will be playing the good cop role, the other the bad cop, like in the gringo movies."
Photo: Antanas Mockus speaks at a rally in 2008.