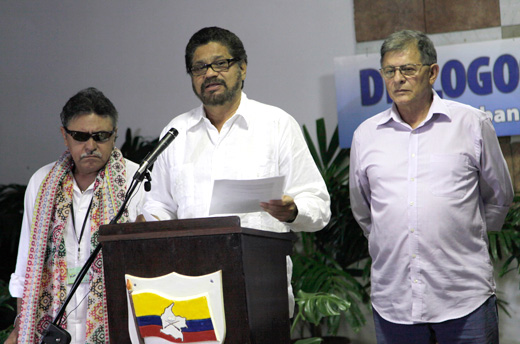 Negotiations to end 50 years of armed conflict between the Colombian government and the Revolutionary Armed Forces of Colombia (FARC) have continued in Havana for 18 months. But presently the talks are in trouble.
After reaching partial agreements on agrarian reform and political participation, negotiators tackled drug trafficking. However, on May 4 after five months of discussion, they recessed without an agreement. Remaining agenda items are: care for victims of violence, disarmament, and implementation of peace.
FARC negotiator Fidel Rondón told an interviewer that drug trafficking is "the nodal point of the Colombian economy." Discussion of how to curb the drug flow, he said, became "uncomfortable to the present economic model, previous governments, the financial sector, and industry." He further explained: "The FARC's sin was to share space with small farmers and exist in areas where illegal cultivations predominate. We impose a tax on all big capital circulating through our regions in order to develop the struggle for peace in Colombia."
Fellow negotiator Andrés París warmed to the interviewer's suggestion that the U.S. government be at the negotiating table. "Drug war is an integral part of how narco-trafficking works as the link between North Americans arms sales to Colombia and equipping the Armed Forces," he said. "And there are the chemicals supplies for processing these drugs that also are North American." The negotiators denounced the U.S. State Department's $5 million reward for help in capturing top FARC leader Timoleón Jiménez as "interventionist pressure and blackmail." The United States views Jiménez and the FARC negotiators "as principal Colombian narco-traffickers" and targets of extradition.
In an early May press conference Iván Márquez, head of the FARC negotiating team, condemned Colombia's ambassador in the United States, Luis Carlos Villegas, for his stipulation that with peace, "Colombia will not abandon certain tools such as extradition [of FARC leaders] which could serve as an instrument to ensure the non-repetition of crimes by the FARC."
Márquez said responsibility for drug trafficking has to be share. "The production and marketing of illicit drugs has been permeating the whole country for decades, starting with the oligarchy's links to finance capital," he said. "That sector is so powerful today, among other reasons, because of money laundering from drug sales and other not so holy businesses. Drug trafficking is a transnational, capitalist business, which has penetrated institutions and the national economy."
FARC negotiators are refusing to begin talks on victims, the next agenda item. As explained by Rondón, "We want to deal with the whole weight of responsibility borne by both the establishment and the insurgency … We ask for creation of a commission to clarify the conflict and move beyond the government's version of the last three or four decades. There needs to be a discussion of responsibility for the state's war against the people going back to 1936."
París reiterated Iván Márquez's "warning that if creation of this commission is not facilitated, it will be difficult to begin the point of discussion. The government starts out as if we were an insurgent state having to respond to the country." In fact, said Paris, "we are victims because the guerrillas came into being because of state violence. The government … is working to turn the negotiations in Havana into a Nuremberg tribunal to put guerrillas on trial. We have to say the truth here: He who began the conflict has the major responsibility for this ominous 50-year era. If there is no advance on forming this commission, the talks end there."
París observed, "We would be agreeing with a government that … puts us in the national and international public pillory for being responsible for more that 600,000 Colombians disappeared and dead in this long conflict. … And they want to make us responsible for the internal displacement of millions of Colombians."
According to a FARC statement on April 30, newly appointed army commander-in-chief Juan Pablo Rodríguez asserted, "It will only be possible to reach peace in Colombia when the [FARC] terrorists are defeated completely." But that's an "authentic declaration of war," the FARC said, adding, "True peace is not victory, but is social justice and democracy for all Colombians."
On May 6. Attorney General Eduardo Montealegre's revealed that emails of the FARC negotiating team and those of Cuban journalists and President Juan Manuel Santos himself had been intercepted. The hacker, he indicated later, had "sold the information obtained illegally to particular people and also to sectors of the public [security] force. Political groups are involved with this action against the peace process."
The outcome of presidential elections May 25 is important. President Santos, running for re-election, supports the peace process. Ex-President Alvaro Uribe, Santos' predecessor, epitomizes opposition. His protégée Oscar Iván Zuluaga, candidate of the conservative Democratic Center Party, is gaining ground on Santos. A crucial poll four weeks prior to the elections indicated 27 percent of likely voters favor Santos, with 19 percent of them supporting Zuluaga. In an almost certain second round of voting, the candidates are separated by two points.
According to analyst Humberto Vélez R., the Zuluaga campaign and high military commanders are demanding pre-conditions and FARC concessions for talks to continue, especially because "military defeat of the guerrilla is just around the corner." Recent Datexco polling data suggests that "the end of internal armed conflict is in sixth place among the electorate's concerns; unemployment and security are more worrisome." Polling in Colombia is problematic, however, insofar as almost 60 percent of adult Colombians do not vote, and polling is concentrated in urban areas.
Photo: Iván Márquez, center, chief negotiator for the Revolutionary Armed Forces of Colombia (FARC) speaks to journalists accompanied by fellow FARC members Jesus Santrich, left, and Ricardo Tellez at the close of a round of peace talks with Colombia's government in Havana, Cuba, May 4. (AP/Ismael Francisco, Cubadebate)