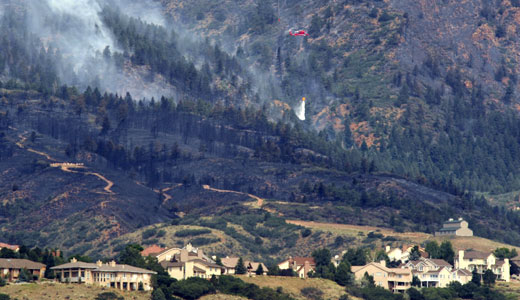 Colorado's Waldo Canyon Fire – which has forced the evacuation of 35,000 people, destroyed 346 homes, and burned for six days at the edge of Colorado Springs – is the most destructive brushfire on record for the state. According to experts, this havoc is just the beginning of what global warming will wreak in the future.
This is what climate change looks like.
Scorching temperatures and winds stoked the flames over the past few days, which has eaten up 18,500 acres of land so far. Firefighters managed to form containment lines around just 15 percent of the wildfire's perimeter on June 28.
Elsewhere in the state, the High Park Fire remains active, and has very recently had a potentially upsetting ripple effect: it has blackened the nearby Poudre River with ash, possibly killing schools of fish beneath the now-tainted water. The river is filled with dust and debris from the fire as well. The more ash collects in the water, experts believe, the higher the fish mortality will become.
"This is going to happen over time" as the wildfire continues, said Ken Kehmeier, an aquatic biologist with Colorado Parks and Wildlife. "When the river turns black, fish are getting all that particulate matter that could affect oxygen levels. We could see fish struggling due to their gills getting clogged up with ash."
In the case of the Waldo Canyon Fire, meanwhile, authorities say that arson cannot yet be ruled out as a culprit for the blaze. But the more likely causes for it, note scientists, are several: shorter winters with reduced snowfall, earlier springs, and extreme and early summer heat, all of which occurred this year.
"What we're seeing is a window into what global warming really looks like," said Michael Oppenheimer, a Princeton University climate scientist. "It looks like heat; it looks like fires; it looks like this kind of environmental disaster. This provides vivid images of what we can expect to see more of in the future."
The aforementioned weather conditions, he added, were exactly what he and his colleagues at the U.N. Intergovernmental Panel on Climate Change had predicted would result from a carbon-induced climate shift.
Dr. Steven Running, a University of Montana forest ecologist, noted that mountain snow generally melted two weeks earlier than average this year in the U.S. "That just sets us up for a longer, drier summer. Then all you need is an ignition source and wind. Now we have a lot of dead trees to burn, and it's not even July yet."
But the problem runs deeper than just disasters that have been observed this year alone. Since 1950, the number of heat waves worldwide has greatly increased, according to a report by nonprofit science outreach group Climate Communication. The "remarkable run of record-shattering heat waves in recent years," said the report, "from the Russian heat wave of 2010 that set forests ablaze to the historic heat wave in Texas in 2011" all serve as examples of the ongoing climate change issue.
Others understand that right-wing efforts to deny the existence of climate change, to loosen regulations on pollution, and to divert attention away from environmentalism are only going to add to the problem.
Rep. Harry Waxman, D-Calf., remarked, "Extreme events like the wildfires in Colorado are going to get worse unless the Republican-controlled Congress changes course soon."
Photo: AP Photo