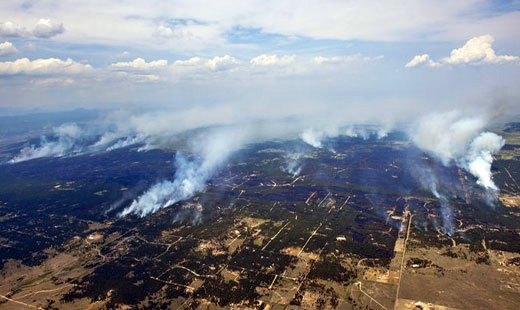 Over the weekend, Colorado has suffered from not one, but five separate wildfires, one of which has become the most devastating blaze in the state's history. Fueled and agitated by hot, windy weather and, in at least two instances, lightning during storms, the fires have collectively burned an estimated 19,212 acres.
The smallest of them was a half-acre fire at the U.S. Air Force Academy just north of Colorado Springs. It was reportedly started by lightning, and is now being contained. Meanwhile, a fire just west of the town of La Veta scorched 42 acres and forced 200 evacuations before being contained. A 400-acre "Big Meadows fire" in Rocky Mountain National Park – also sparked by lightning – is 95 percent contained.
But the other two wildfires – the Royal Gorge and the Black Forest – are much worse. They have caused much damage and, in the case of the latter, at least two confirmed deaths.
The Royal Gorge fire started on June 11, south of the Royal Gorge Bridge near the town of Canon City. It has now been fully contained, but not before burning 3,800 acres. 48 structures and parts of the bridge were damaged, though no homes were lost.
The Black Forest Fire, on the other hand, is still ongoing. It is the worst fire ever to hit Colorado. Beginning in the town after which it is named, it destroyed 485 homes and took the lives of two people, whose names the Sheriff's department has not yet released. It's still uncertain what caused it. Overall, 38,000 people have been evacuated. 457 firefighters are combating the blaze, with the assistance of the National Guard. Total firefighting costs have so far reached $5.2 million. 75 percent of the fire has been contained, thanks to the help of some rain, and certain areas have been cleared for local residents to return, but workers are still trying to get things under control.
Such efforts are strained, due to the fact that the U.S. Department of Agriculture's Forest Service literally ran out of money to pay for firefighting equipment this year, after Congress only provided half of the total sum of money it has cost to fight wildfires so far. The Forest Service came up $400 million short, and actually had to borrow money from other forest management programs.
As such, in Colorado, firefighters may fall short in terms of the equipment they need. On the positive side, however, many will now be unionized and enjoy other workers rights protections, thanks to Senate Bill 25, signed into law on June 17 by state Gov. John Hickenlooper. The bill gives firefighters a voice on safety issues, the right to collectively bargain, and the right to unionize. The only negative aspect to the legislation is that it does not cover volunteer firefighters or clerical personnel, something many workers have taken issue with.
Durango Fire & Rescue Authority chief Dan Noonan remarked, "If this bill were truly about 'firefighter safety,' it would include every volunteer and government wildland firefighter in the state of Colorado, not just career firefighters. The vast majority of Colorado's fire service is built upon volunteer firefighters and medics."
And yet, as Steamboat Springs Fire Rescue captain Michael Arce said, state firefighters who will now enjoy union membership will have "access to a lot of information through the International Association of Firefighters; valuable information ranging from safety training tips to the announcement of new firefighting equipment."
Most believe the importance of worker rights and safety will need to be underscored as climate change-caused brushfires become more and more commonplace, and increasingly more destructive, as scientists predict.
Climate change researcher Max Moritz, of the University of California-Berkeley, noted, "The speed and extent to which some of these changes may happen is surprising. These abrupt changes in fire patterns will not only affect people's livelihoods, but they will also add stress to native plants and animals that are already struggling to adapt to habitat loss."
Frederick Smith, a professor at Colorado State University and head of the Warner College of Natural Resources' Department of Forest and Rangeland Stewardship, said that the danger is greater for firefighters as this happens. "These events are catastrophic and will have huge consequences. The amount of money that we spend for fire suppression now is huge. There is going to have to be some rethinking on how we approach living in these environments. Continuing to put young workers at risk to fight fires is not something we want to do."
Photo: Plumes of smoke rise from the Black Forest wildfire. John Wark/AP