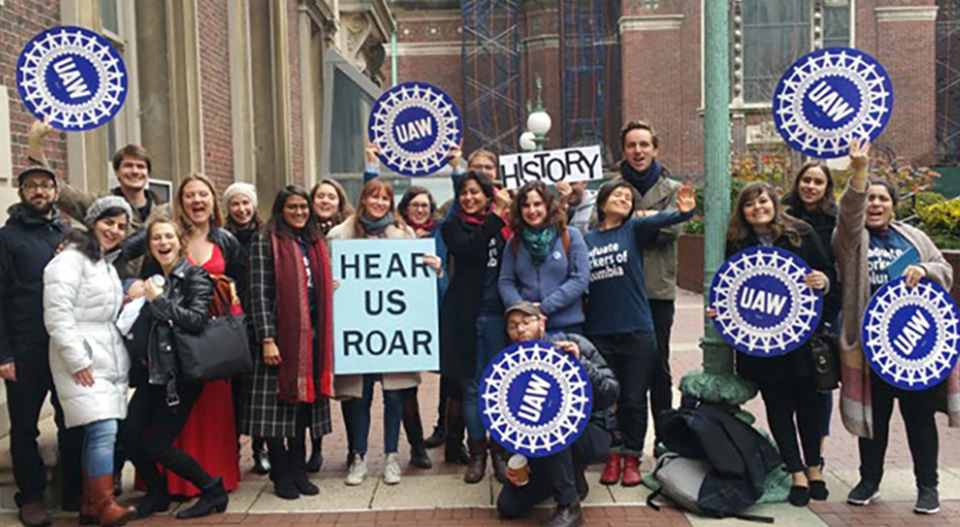 NEW YORK — The National Labor Relations Board (NLRB) has certified the vote of Columbia University's teaching and research assistants to join the United Auto Workers (UAW). The University must now start negotiating a collective bargaining contract with them.
For three years, Columbia tried to prevent the TAs and RAs from exercising their right to organize and join a union. The university cited a Bush-era NLRB ruling that said TAs and RAs are not "employees" covered by the National Labor Relations Act.
But the Obama-era NLRB used the Columbia case as a model for reversing the previous ruling.
The RAs and TAs were declared to be employees and won the right to hold a union election this past December. They voted 1,602 to 623 to unionize.
The university continued its push against the union.
Many of its six objections were ludicrous. For example, the university charged that video filming of both pro- and anti-union TAs and RAs, done for Columbia's student newspaper, prejudiced the vote.
On March 7, NLRB Hearing Officer Rachel Mead Zweighaft tossed out all of the university's objections and certified the results of the December vote.
The new TA-RA unit is called the Graduate Workers at Columbia-UAW.
The victory of the Columbia employees has opened the way for similar employees at other private universities to start unionizing drives.
In fact, the same day Zweighaft announced the Columbia decision, workers at Boston College filed for a union recognition election. That unit would cover 1,200 TAs and RAs.
TAs and RAs at Columbia not only won the December vote, but signed a petition in January urging the university to drop its objections and start bargaining.
They also organized a rally defending foreign-born TAs and RAs against Trump administration anti-immigrant executive orders.
"We are excited about the board's decision upholding the overwhelming result of our democratic vote," Olga Brudastova, a research assistant in Columbia's Department of Civil Engineering and Engineering Mechanics, told the UAW.
"We bring in nearly $1 billion each year in grants and contracts and teach courses from chemical engineering and applied physics to biology and religion, but for too long Ivory Tower administrators have been calling all the shots," she said.
"Now that we've officially won our union, we can focus on bargaining improvements in a fair contract, including things like stronger protections against sexual harassment, as well as broader efforts like defending funding for climate change research and expanding the rights of international students to work in the U.S. after graduation. We look forward to working with the administration to help make Columbia the best place it can be to work and study for everyone."
Addison Godel, a teaching assistant in the Architecture School, added "Thousands of RAs and TAs like me have won a voice to make sure Columbia University is the best place possible to learn and work. This marks a major victory for the entire Columbia community."
Julie Kushner, the director of UAW Region 9A, said "Confronting the major challenges facing U.S. higher education – winning debt-free college, increasing STEM funding, protecting diversity and inclusion on campus and more – will require the power and strength of workers' collective voices, especially in the era of Trump."