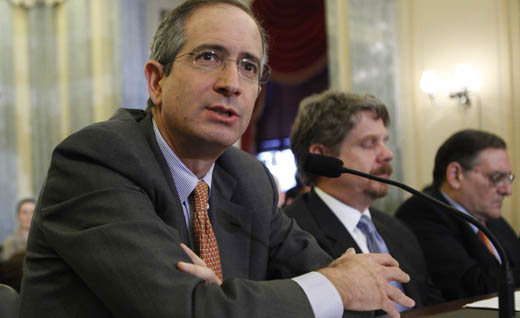 Many people in my age group don't read the news because they are simply not interested. But, the youth of our nation need to be informed though because many things of what's happening today in the world factor a role in our life.
For those who are not aware, Comcast has announced they will merge their company with NBC. Many view it as a way for Comcast to increase its content business. NBC will own 49% of the new deal. Comcast will own and will manage 51% of the new entity.
This new entity will be worth over $37 billion. This merger is the second largest merger after AOL and Time Warner, which was valued at $350 billion.
The FCC had a public forum that I attended downtown at Northwestern University Law School. It was a great forum. Commissioner Michael Copps made a magnificent introduction. Speakers Jeffrey Blum, Susan Crawford, Markham Erickson, Travis Parsons, Josh Silver, Scott Wallsten and Susan Whiting gave remarks on a panel about the merger and online video distribution considerations.
Some of the speakers seem to be advertising their companies, but then again that is their job. Others were dramatic about the impact of the merger, saying that lots of people would cut-off their cable TV subscriptions and switch to online media. Other gave facts and figures.
The youth should get more involved like issues like these and voice your opinion because you can and will be affected by these ongoing issues.
For example, Comcast and NBC said, "The combination of assets creates a leading media and entertainment company with the proven capability to provide some of the world's most popular entertainment, news and sports content, movies and film libraries to consumers anytime, anywhere."
But what does that mean for young people? Other cable providers will have to buy rights to carry NBC content. This will cost companies money which means they will raise prices and who will be affected? The answer is you, the consumer. That's money out of your pocket.
There is an upside, though. If you are a customer of Comcast you will have free access to NBC content for three years.
This new jointure will own the majority of popular cable television channels such as Bravo, Syfy, CNBC, Oxygen, E!, A&E etc.
Comcast is also is the one who controls the "pipes," which other companies use for online content. Comcast has been penalized in the past for limiting bandwidth to promote its own content.
The companies' jointure will mean there will be multiple positions that consist of the same thing so many people will lose their job. That is crucial to people suffering in this economy today.
Photo: Comcast Corporation Chairman and Chief Executive Officer Brian Roberts, left, John Wells, president, Writers Guild of America, West, center, and Mark Cooper, director of Research Consumer Federation of America, testified before a Senate Commerce Committee hearing on consumers, competition, and the proposed Comcast-NBC merger. Manuel Balce Ceneta/AP