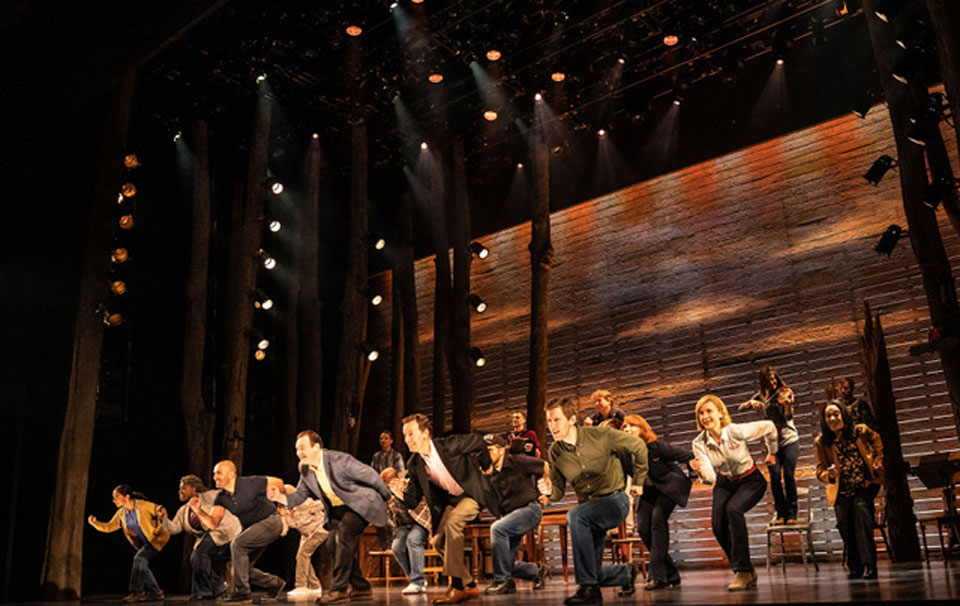 LOS ANGELES — The critically acclaimed and widely celebrated Broadway musical Come From Away has landed once again at the Ahmanson Theatre in downtown L.A. for a short run of the touring production. It opened June 1 and runs only through June 12.
The blockbuster show is a kind of collective musicalized journal of those few days on and after September 11, 2021, when flights into the U.S. were blocked. Airplanes that had already left for the U.S. were ordered to land at Gander, Newfoundland, the small town that welcomed 7000 of the world's stranded passengers and buoyed their spirits until flights resumed. Undoubtedly, many of the characters and their stories are true to life, yet shaped and juxtaposed for maximum dramatic effect. "Cultures clashed," reads the promotional material on the production, "and nerves ran high, but uneasiness turned into trust, music soared into the night, and gratitude grew into enduring friendships."
A heartwarming audience-pleaser from beginning to end, in one long, intermissionless cathartic flow.
The show has no curtain. We enter the theater and see a stage set with tall trees suggestive of the wooded forests of sparsely populated Newfoundland. On each trunk, there's an array of attachments, obviously part of the theatrical lighting scheme. But at first glance—our times since 9/11 being what they are—all I could think of was surveillance cameras and how ubiquitous they have become.
It's those cameras that got me thinking not only about what Come From Away says and means to an adoring public but also what it doesn't convey.
Come From Away is still playing on Broadway, as the tour continues its peregrination across North America, to Tempe, Costa Mesa, San Jose, Seattle, Spokane, Vancouver BC, Edmonton, and Calgary AB. Along the way, it's picked up any number of awards—Best Musical, a Tony Best Direction of a Musical, Best Production, and more. Like the 9/11 event itself, the show has hit a nerve as the fearful events of 20 years ago are reviewed with empathy, care, generosity, and appreciation while we focus on a few key representative stories and themes.
The overarching theme, of course, is how the good people of Gander and surrounding towns welcomed the strangers into their hearts and homes, attending to all their needs as best they could, even creating a special "zoo" in an unused hangar for all the pets and other traveling animals on board, and a separate kitchen for kosher Jews, Muslims, Hindus, and vegetarians. They asked for no special thanks because, as several characters put it, they were just doing what anyone would do under the circumstances. The very fact that they had to say that forces theatergoers to ask themselves if indeed under such emergency conditions ordinary U.S. citizens would be so guilelessly openhearted. When I think of Katrina, Maria, and other major catastrophes, I'm far from sure. No one in Canada at the time seemed to be scheming how to profit financially off the situation.
Newfoundlanders like to poke gentle fun at themselves and some of this comes out in the show, as kitsch. There's the obligatory moose reference, the screech rum, and the yellow fishermen's hats. Much is made of the custom of kissing a cod, turned here, of course, into a contributing element to a budding love story. The dominant musical influence is of Celtic origin—Irish, Scottish—with appropriate instrumentation and dance.
The truthiness of theater
Truth is a highly selective animal. Out of all those 7000 characters who passed through Gander during those fateful days, why pick out these particular ones? Well, there was Bonnie, the first female pilot for American Airlines, there was Ali, the capped Egyptian Muslim upon whom suspicious eyes turned, there were Nick, the timid middle-aged Brit, and Diane, the Texas divorcee who hit it off, there were Kevin and Kevin, the gay couple experiencing some snags in their relationship, Garth the town mayor, the helpful and creative Beulah from Gander who bonds with Hannah, the Black woman from New York, over the fact that they each have a firefighter son, the local gal who tends to the zoo and supervises the first birth of a bonobo in Canada, the Orthodox rabbi, the Hindu travelers, the union head who, as the action begins, is leading a busdrivers' strike (suspended for the duration, and resumed as the bookend two hours later when all the "from away" have gone away).
The newbie newswoman Janice is a somewhat bumbling comedic figure, but it's here, in Gander at this unprecedented moment, that she earns her chops. It turns out she has the only live footage of the events.
Needless to say, everyone's a performer, acting, dancing, singing, playing an instrument.
Amidst all the possible choices, naturally the creators highlighted those with (inspiring) (cute) (heartbreaking) (amusing) (poignant) stories, calculating that all the right racial, ethnic, and gender boxes are ticked. Otherwise, there wouldn't be much of a show, right? Or it would be subject to criticism for not having this or that kind of role. Well, that's commercial show business, but the point is that truth, or shall I say, truthiness, is a malleable concept.
What did they know and when did they know it?
Much more is known now than these unwitting passengers knew in the moment about what actually happened on 9/11, what led up to it, what security gaps and failures existed, and what ensued from this event. The emergence of the surveillance state was largely a post-9/11 phenomenon (thus my association with the lights mounted on trees).
But other things are known now, too, and receive no attention or even awareness in the show. With all flights in or out canceled, there was still that one planeload of Saudi citizens that President George W. Bush allowed to depart, getting hundreds of potential suspects as collaborators out of the country and away from the arm of the law. Was it ironic or historic, cynical or merely sentimental to include Bush on TV uttering a resolute prayer?
If Osama bin Laden and his collaborators (mostly fellow Saudis) were responsible for the attack, well, these were the very same forces that Pres. Carter started to arm as the mujahideen to oppose socialist transformation in Afghanistan in 1979, knowingly provoking the Soviet intervention. And weren't Taliban leaders welcomed down to W's Texas ranch? And wasn't oil a critical factor in this story? It pops up only incidentally here because Nick says he's in the oil business and the gay couple has founded some environmental group.
Come From Away has an epilogue taking place ten years later when some of the travelers return to Gander for a reunion. By 2011, many of these facts were known, and the U.S. was deep into its brutal, futile (though profitable) wars in Iraq and Afghanistan. But no one on stage seemed to have any second thoughts about any of this as they gathered for a grand old party with the locals and, with typical American generosity, presented a substantial gift of money to fund scholarships for Gander kids' college education.
It's the relentless feel-good intent of the musical that sadly just forms part of the cultural support system for the "manufactured consent" that pushes criticism to the sidelines, presupposing a smug consensus about the nobility of U.S. intentions. ("They hate us because of our freedom.")
It's not just about what we lost, but what we found. A comforting if clichéd sentiment.
To be fair
Now, I do want to be fair. Come From Away does show how Muslim characters are kept at arm's length, looked upon questioningly, subjected to a humiliating full body probe when no one else is, and a couple of hijab-wearing Muslim women protest that they were born in Brooklyn! And Bob, an African-American character, is shocked when the mayor asks him to go into residents' backyards and take their barbecue grills because the town needs a whole lot of them for a big cookout. Bob fears he's going to be shot on sight for trespassing and stealing and is pleasantly surprised not only by the absence of racial animosity but that at every home he's offered a cuppa tea. No one even puts their name on their grill to make sure they get it back. The stores do not sell but give away all their food and supplies. O Canada, just your standard hippie commune.
One of the most applauded scenes in the musical is the lovely fugue of prayers rising up from this sudden Babel—Jewish, Muslim, Hindu, Christian, and I'm not sure what else. Yes, we are all one, aren't we, under God?
The story and the scenes are memorable, the music itself not so much. It's what has become Broadway's standard now, a kind of musicated speech, realized by the team of Irene Sankoff and David Hein on book, music, and lyrics. Influences of rap and Sondheim can be heard. Although the spotlight is on individual characters and their stories, the chorus—the mass—is the true protagonist. I would have liked the band to be less amplified so that the vocal harmonies (and words) could emerge more audibly. The entire cast is in constant motion. It's practically a ballet for voices. Tony Award winner and Outer Critics Circle Award winner Christopher Ashley directed.
Come From Away was originally co-produced in 2015 by La Jolla Playhouse and Seattle Repertory Theatre, and presented in 2016 by Ford's Theatre in Washington, D.C., and Mirvish Productions at the Royal Alexandra Theatre in Toronto. It had initially developed in 2013 at the Canadian Music Theatre Project, and further shaped at Goodspeed Musicals' Festival of New Artists, in East Haddam, Conn. It took a lot of input, and audience reaction along the way, to perfect the version we now see on stage.
A real ensemble masterpiece with actors filling multiple roles, the final result is a thrilling crowd-pleaser guaranteed to produce a standing ovation every time. Still, one must ask questions.
Venues of the Center Theatre Group continue to require masks, along with proof of full vaccination, and a government—or education-issued ID. More information regarding safety updates as well as audience vaccination, testing, and mask requirements is available at CenterTheatreGroup.org/Safety.
Come From Away has performances through June 12. Tickets are available through CenterTheatreGroup.org, Audience Services at (213) 972-4400, or in person at the Center Theatre Group Box Offices (at the Ahmanson Theatre) at The Music Center, 135 N. Grand Avenue, Los Angeles 90012. For further information, visit: www.ComeFromAway.com or Facebook: https://www.facebook.com/ComeFromAway/.
The trailer can be viewed here.