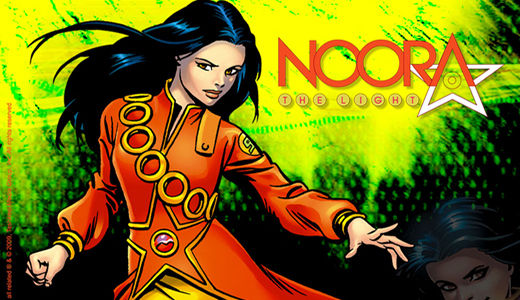 Children worldwide need role models that represent the planet's varied nations, languages, cultures and faiths. Sometimes forging tolerance and acceptance comes in the form of superheroes. And that's what Kuwaiti-born Dr. Naif Al-Mutawa is doing in his popular comic book, The 99, based entirely on Islamic values, culture and history.
Al-Mutawa, father of five, said he wanted to make sure children have positive role models that fight for universal values.
Promotion of better East-West dialogue was one of the inspirations for The 99, which represents the 99 magic stones and power of God as mentioned in the Koran.
Al-Mutawa says they are meant to teach a moderate, peaceful and loving Islam. He adds the aim is to promote values such as cooperation and unity throughout the world by focusing not on "tiny differences setting us apart rather than celebrating those positive things that bind all good people together," Al-Mutawa wrote recently on CNN.com. "If we allow small-minded men to spout fear and hate in the name of our religion, we will enable them to brainwash another generation as they did our own.
"To sit by silently," he said, "makes us all complicit."
Al-Mutawa founded Teshkeel Media Group, which released the first edition of The 99 in the Middle East in 2006, and was made available in the U.S. the following year. Available in English and Arabic, it is popular in many nations, including India, China, Turkey and Indonesia, the world's most populous majority Muslim nation. A cartoon based on the comics is in the works and expected to be released worldwide this year. A theme park based on the heroes opened in Kuwait last year.
The series consists of ordinary teenagers and adults from all parts of the world who come into possession of one of the 99 magical and mythical Noor Stones (Ahjar al-Noor, Stones of Light) and find themselves empowered in specific forms.
Forbes recently named The 99 as one of the top 20 trends sweeping the globe.
More recently, 99 caught the attention of President Barack Obama who praised Al-Mutawa at the Presidential Summit of Entrepreneurship as one of the most innovative entrepreneurs helping to spread a positive understanding of Islam.
Al-Mutawa has a PhD and master's degree in Clinical Psychology from Long Island University as well as a master's in Organizational Psychology from Teacher's College, Columbia University. In addition, he has extensive clinical experience with former prisoners of war in Kuwait and the Survivors of Political Torture unit of Bellevue Hospital in New York.
He recalls reading Richie Rich, Casper the Friendly Ghost and Archie at camp in New Hampshire as a kid.
Later this month in a special series of six episodes, 99 superheroes will meet face to face with American icons from the Justice League of America, which includes Superman, Batman, Wonder Woman and other famous heroes from DC Comics.
During the episodes The 99 and the Justice League will not initially trust each other, but will go on to learn that the bad guys are behind their mistrust, says Al-Mutawa. It's only when they collaborate that good can truly overcome evil, he adds.
Much of Al-Mutawa inspiration comes from the terrible things he has heard over the years by some people in the name of Islam. Consequently, his mission is two-fold: to defend Islam from its detractors as well as to defend it from its own extremists.
"I wanted to show that these people are the problem, not Islam," he said to ANBA, a Brazil-Arab news agency. Still, the series is not religious. "I am Muslim so The 99 is influenced by Islam, but there is no religious content," he added.
Al-Mutawa says that only a tiny minority of Muslims preach hatred and violence, which does not represent the majority of its true believers.
"Fifteen years ago I walked out of a mosque in silent protest of the imam's sermon. Outside, the heat of the desert sun could hardly match the fire of the rhetoric being spewed forth inside," he wrote.
"That day I felt complicit. I had reached a point of intellectual critical mass where my love for my religion overwhelmed my sitting in silence any longer."
The 99 characters will change the story says Al-Mutawa, and refers to the 99 attributes of Allah in the Koran, things like generosity and mercy and foresight and wisdom.
"Today, through The 99, this proud Muslim is using the lead of his pencil to take a stand. For all our sakes, I hope the pencil really is mightier than the sword," he wrote.
Photo: www.the99.org