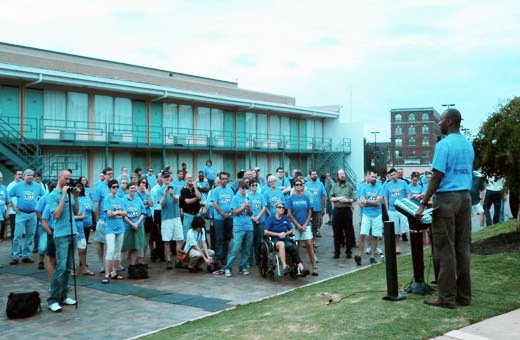 MEMPHIS, Tenn. – More than a hundred people, many wearing the Tennessee Equality Project's purple t-shirts, gathered in front of the historic Lorraine Motel and Civil Rights Museum here, in support of a non-discrimination ordinance Sept. 16. The motel was the scene of the assassination of the Rev. Dr. Martin Luther King Jr. in 1968.
A reading of the ordinance, which will ban the city of Memphis from discriminating against its workers based upon age, disability, sexual orientation, or gender identity will be read by the city council for its third time this Tuesday.
Before the rally began, people stood in small clusters talking to one another. Rev. Darnell Gooch Jr, sporting a closely-cropped beard and wearing dark sunglasses and a Roman Collar, said he was at the event because "everyone deserves to be treated equally." Gooch is the rector at the Cathedral of Praise in Memphis.
Cole Weintraub, a law student at the University of Memphis, gave as his reason for spending Sunday afternoon at the rally: "The LGBTQ struggle is the civil rights struggle of my generation."
As she walked up to the rally, Alinda Higgins, who works in the paint department in a local hardware store said, "We shouldn't have to worry about who we are, who we're with, who we know, or what we look like." She was out to fight to "give us all equal rights."
Moments before the rally began, David Allred, a bespectacled man with a handlebar mustache mused, "If you look at the most viable cities in the U.S., the ones that have the most worker protections are the ones that are the most economically successful." Allred, a trainer for a national cable company, was present with some friends who nodded as he spoke.
Ann Gullick, the chairperson of the TEP Shelby County Committee, officially started the rally with a stirring call to action. Standing at the microphone, she proclaimed, "Wednesday will be a new day for City of Memphis workers!"
Jonathan Cole, the vice-President of the TEP, followed up by telling the crowd that they had just learned Bellevue Baptist Church, a megachurch in the Memphis area, but outside of the city limits, was mobilizing its members to swamp the city council chambers with opposition to the ordinance.
"You will hear many untrue and offensive statements," Cole declared, but "I encourage you to take the high road…and remain positive."
In an email sent by David Coombs, Bellevue's administrative pastor, he encourages his congregation to not only email their opposition to Memphis city council members but to show up and grab all the front rows in the chamber.
Also speaking was Virginia Awkward, who became known as an openly lesbian police officer on the television program Real Police Women of Memphis. Awkward, who could only publically identify herself as a city employee, declared: "I've been protecting and serving the City of Memphis and putting my life on the line. I don't think a little legal protection is too much to ask for."
Tourists visiting the museum, some from as far away as Australia, also joined the rally.
Awkward drove her point home – "This very ground was built on the struggle for equality and equal rights."
By far the most moving speaker was Ellyahnna Hall. Hall, a transgender woman who works at the Mid-South Center for Peace and Justice, moved many in the crowd to silent tears when she spoke about her struggle: "I've lived on the streets before. I've lived in homeless shelters. I've walked past restaurants were people were eating inside and I had to eat out of a garbage can. I can't express that feeling. I know the difference between having and not having. I know what it is like having a job and worrying about if someone will find out I'm transgender…and let's be honest: people really don't care who you are if you're a city worker. You don't care what gender someone is if they are working to get your power back on after a storm or get a tree off your roof."
The crowd roared with laughter and applause when County Commissioner Steve Mulroy introduced his special guest, an average opponent to the anti-discrimination ordinance, represented by an empty chair.
According to Mr. Mulroy, the chair said that they were against discrimination when it came to everything that wasn't a lifestyle choice, or something they were born as. To which he responded by admitting he didn't know if being gay was a choice. But he knew, "No one is born Christian," which elicited a chorus of "amen" and "that's right" from the many people of faith present." Mr. Mulroy continued, "I also know no one is born Republican, but I would never want the city to discriminate against either one of them." He paused, "And personally, I think being a Republican is a lot more morally suspect than being LGBT."
The rally wrapped up with the sponsor of the amendment, City Councilman Lee Harris. Harris said that he thought "this is one of the most important civil rights issues today." He also acknowledged that the opposition would be present, and likely in large numbers. "I am told," he said, "that there will not be any seats available. That's good. We need to stand up. In struggles like this, you can never sit down."
Photo: James Raines/PW