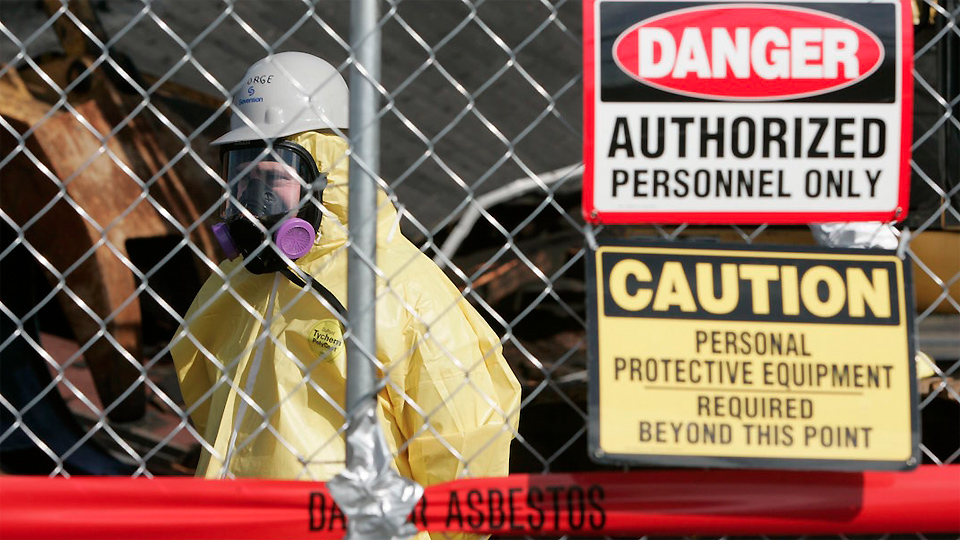 WASHINGTON — The Communications Workers (CWA) want to stop Donald Trump's deregulatory crusade in its tracks. In early August, the union joined three other progressive groups in telling U.S. District Court Judge Randolph Moss that Trump's order to federal agencies to kill two rules for every one they propose, and to count a rule's costs but not its advantages, "would confer enormous benefits on big business"—and is unconstitutional to boot.
That's because Trump would force the agencies to break the laws setting them up, the union, the Natural Resources Defense Council (NRDC), Earthjustice, and Public Citizen said.
Moss heard arguments on the case on August 10. When he will rule on it is unknown. But the union and its allies say Trump's deregulatory crusade could harm millions of people.
The suit focuses on chemical exposures the Environmental Protection Agency specifically regulates, including two—trichloroethylene and asbestos—that menace workers on the job, says Dave LeGrande, the union's safety and health director. In prior court papers, CWA added that Trump's order increases the risk of infectious disease exposure for nurses.
There's "the possibility" Trump's order, carried out by agencies, "could take away coverage by important safety and health standards," he told Press Associates Union News Service.
"It could cover not only environmental issues, but consumer issues and toxic substance-related issues," LeGrande added. The endangered rules "are really valuable protections."
On January 30, Republican President Trump ordered agencies to cut two federal rules for every one they propose, and to count a rule's costs but not its benefits. His corporate backers and the radical right applauded the edict.
Public Citizen, which carried the load in the courtroom session with Judge Moss, said Trump's executive order "violates the U.S. Constitution by requiring agencies to violate the statutes under which they operate."
CWA's general counsel spoke for the union in Judge Moss' courtroom. LeGrande, from later conversations, indicated Public Citizen's lawyer found Moss "receptive to our arguments and critical of the administration's attempt to wipe out important" regulations.
That's what NRDC told Moss. Trump's order, its attorney said, "forces agencies to delay, weaken, or forgo new public protections authorized or mandated by Congress to protect health, safety, workers, and the environment, across a broad range of topics—from automobile safety, to occupational health, to air pollution, to endangered species," according to NRDC's release after the court hearing.
"No one thinking sensibly about how to set rules for health, safety, the environment, and the economy would adopt the Trump Executive Order approach—unless their only goal was to confer enormous benefits on big business," Public Citizen President Robert Weissman added.
"This order is part of the Trump administration's plan to empower big business to poison our water, pollute our air, endanger workers, and cheat our economy," he said.
Three weeks before Judge Moss' federal court hearing, CWA and its allies tried to convince him to issue an immediate permanent order banning Trump's deregulation scheme. He did not.
Trump's "Executive Order 13771 is not business as usual," their July 21 court papers for the immediate injunction said. "Belying any notion the order simply 'guides' officials in their construction of statutes"—as Trump's Office of Management and Budget claims—"the president's chief advisors explained it 'puts in place a constant deregulatory regime.'"
The CWA and its allies reiterated no federal laws let Trump or his Office of Management and Budget "make an agency's rulemaking authority contingent on the agency's ability to offset a rule's costs through repeal of existing rules."
Nevertheless, federal agencies yanked 469 proposed rules and moved another 391 to "long-term" or "inactive" status, the July 21 filing said. It did not specify how many were pro-worker rules.
And the CWA and its allies repeated their point, made in the original court papers in February, the forced yanking of two rules for every new rule issued chills the right of unions, consumer groups, environmentalists, and other organizations "to petition the government for redress of grievances," as the Bill of Rights puts it, by advocating new rules.
Trump's order hurts the CWA and its allies "by putting them in the lose-lose position of either urging agencies to adopt new regulations, when adopting those regulations would depend on the repeal of existing safeguards, or refraining from advocating for new public protections to avoid triggering repeal of existing ones."
Trump's "order imposes a disturbing choice by insisting that other to-be-determined health and safety protections for one set of workers must be repealed in exchange for health and safety protections for another set of workers," the four groups said in February. On August 14, Earthjustice, with Steelworkers' backing, filed a similar suit in San Francisco.