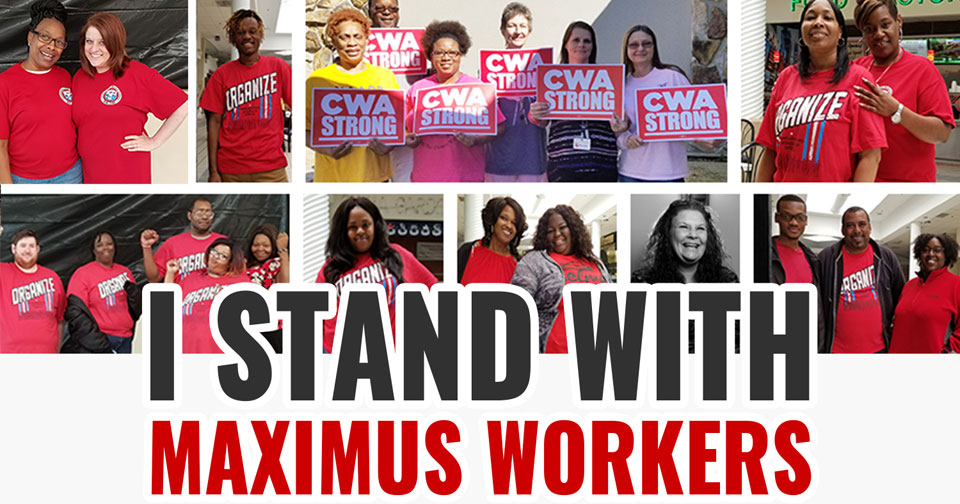 HATTIESBURG, Miss. (PAI)—A top federal contractor, Maximus, which runs call centers in Hattiesburg, Miss., Bogalusa, La., and elsewhere to handle customers of Medicaid and the Affordable Care Act's exchanges, repeatedly breaks federal labor law while trying to fend off workers at those two centers who want to organize with the Communications Workers.
As a result, the union and the workers have filed labor law-breaking—formally called unfair labor practices—complaints against Maximus with the National Labor Relations Board's regional office which covers the two Southern states. The violations include law-breaking this summer but one was as recent as October 6, a week before the complaint went to the board.
The workers are not federal employees. Instead, as a result of past "privatization" of what had been federal jobs, they work for Maximus. It has been accused of—and at least once had to settle—past labor law-breaking at other call centers it runs for the government's Center for Medicare and Medicaid Services. Overall, CWA is trying to organize workers at ten Maximus call centers in eight states.
The call center jobs are important, especially in low-income states such as Mississippi and Louisiana. Many call center employees are workers of color whom venal employers routinely try to exploit. At the same time the call centers can often be best jobs in poor towns.
Maximus has tried to intimidate individual workers, with the advice from the notorious union-busting law firm Jackson Lewis—a firm which, like other union busters, tells companies what labor law bans, but that penalties are light to non-existent. And that firms can do anything else they want to intimidate, harass and exploit workers, again with little to lose.
The latest labor law-breaking in Hattiesburg also was a giant distraction to the workers during their busiest time of the year: The open enrollment period, running through November 1, when consumers can sign up for Medicaid or the ACA's exchanges without penalties.
The two prior instances of labor law-breaking by Hattiesburg call center site manager Crystal Hurt extended from late June through August. A prior CWA complaint to the NLRB, not involving the Hattiesburg center, included an illegal threat to close if workers unionized.
"On or around Oct. 6, 2022," Maximus broke labor law in Hattiesburg "when it implied a promise of benefits by soliciting grievances from employees during a union organizing cam-paign," the complaint, signed by pro-worker attorney Trisha Pande of Chapel Hill, N.C., reads.
Hurt's prior labor law-breaking at Hattiesburg, from late June through August, included her illegally telling the workers "selecting a union would be futile" and forcing workers "to listen to employer speech urging them to not support the union."
"Maximus's clear interference and lack of respect for the rights of the workers to organize their union will not be tolerated," CWA Secretary-Treasurer Sara Steffens said.
"By filing these unfair labor practice charges, the workers are exercising their right to hold the company accountable for its unlawful actions. Instead of using the workers' organizing effort as an opportunity to create a better working environment, the company ramped up its union-busting activities," Steffens' statement continued.
"Maximus is attempting to intimidate workers into giving up. They will not succeed. The workers' commitment to fight for a voice on the job remains strong and the support they are receiving from community members, elected officials, and other allies continues to grow. CWA is and will continue to be steadfast in our support of the workers as they continue to fight back and organize their union," said Steffens, a News Guild/CWA member and ex-organizer for it.
The NLRB was already investigating a complaint saying Maximus broke the law in both Hattiesburg and Bogalusa by selectively enforcing work rules against union supporters and that it denied union reps access to the Bogalusa parking lot—which is not a work space—while letting non-unionists onto it.
And Maximus "instructed off-duty employees to cease encouraging employees to learn about the union in the parking lot adjacent to Bogalusa" and called the cops "to assist" its efforts to clamp down on union organizing activity in the parking lot, that complaint added.