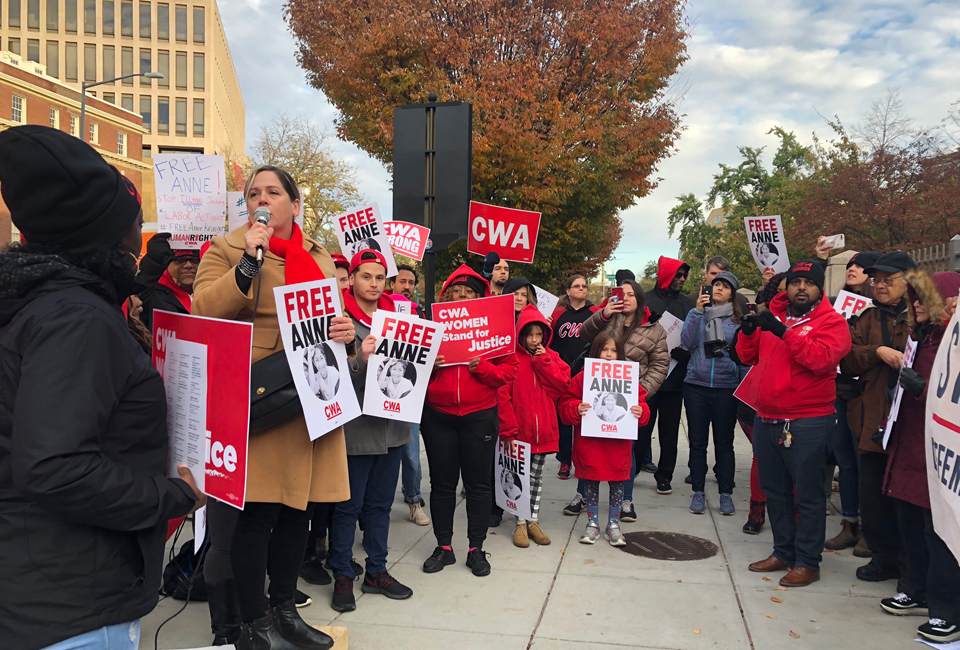 WASHINGTON—The Communications Workers are demanding release of pro-democracy Philippine activists, including at least one U.S. citizen, and an end to the $193 million in U.S. military aid which the nation's authoritarian president, Rodrigo Duterte, uses to oppress opposition.
And to make their point, the union joined a phalanx of Filipino-American groups in a 2-hour-long demonstration in front of the Philippine Embassy on Nov. 9. It followed five other protests nationwide.
"We're here today because the Philippine workers" and unions "supported us during the Verizon strike three years ago," CWA Secretary-Treasurer Sara Steffens, a News Guild member, told the crowd.
"They held solidarity actions with us and hosted our delegation" which visited call centers where Verizon had transferred jobs from U.S. communities—and workers—to underpaid, overworked Filipinos.
Now CWA is returning the favor. Duterte's repression just in the prior week resulted in 70 arrests. Of those, 65 people, including Anne Krueger, who runs an alternative social media outlet the regime hates, were detained. There were raids in three provinces and the national air force dropped 500 pounds of bombs during one of the raids, in northern Samar, targeting the New People's Army, a Maoist guerilla movement.
Those arrested included 40 organizers for Philippine unions, Steffens said. And one other detainee is now a desparacedo, the Spanish word, often used during right-wing regimes in Latin America, for "the disappeared ones," the intensity of which hasn't been seen since the Martial Law of Ferdinand Marcos in the 70's and 80's, Jhong Cruz., regional coordinator of of BAYAN USA in the DMV added
The D.C. demonstration was festooned with signs, many held by CWA members, reading "Free Anne" with her picture.
Duterte's regime was already oppressing democracy activists even as the CWA delegation arrived, Steffens explained. Military police briefly detained the delegation. "Activists, journalists, farmers, lawyers, labor organizers are all not safe under Duterte's oppression," said Jo Quiambao of GABRIELA Washington DC, a progressive grassroots organization for Filipina women. "The intensity of these attacks hasn't been seen since the Martial Law of Ferdinand Marcos in the '70s. Duterte's Memorandum 32 and Executive Order 70 is virtually de facto Martial Law and a vicious crackdown on all forms of dissent.", Cruz added.
Duterte swept to office in 2016 promising an open war on drug trafficking and once in power took the gloves off the police, the military, and virtually anyone with a grudge. Extrajudicial murders, often of whole families without cause, have soared into the tens of thousands, and many have nothing to do with drugs.
Both CWA and the Philippine unions "are dedicated to lifting up low-paid working people," Steffens said. But they face a Philippine government that enjoys massive U.S. support and the union plans to lobby to stop that aid.
Duterte's military, his National Police, and other security agencies receive the U.S. aid, which they use for weapons and other equipment, Steffens explained.
"The U.S. must end this military aid and we'll call on Congress to act on that—and also on employers to act," she added.
The U.S., and particularly U.S. multinational corporations, have a long history of exploitation in the Philippines, the Philippine speakers, from Bayan USA (Bagong Alyansang Makabayan in Tagalog), the domestic chapter of a progressive-anti-imperialist alliance and national democratic movement in the Southeast Asian nation, said.
Exploitation began after the U.S. seized the Philippines in the 1898 Spanish-American War and then, a few years later, refused to grant independence to its Philippine allies, despite a prior promise to do so. That set off a long insurrection, marked by U.S. troops' atrocities. The U.S. won and kept the Philippines as a colonial possession until 1946.
Now U.S. dominance takes the form of economic exploitation, although one demand of Bayan USA is to end not just U.S. military aid to the Philippines, but also the U.S. military presence there.
The economic exploitation comes from the call centers—such as Verizon's—from rampant poverty and high unemployment, from piecework from multinational firms, and from multinational corporations exploiting natural resources seized from indigenous tribes in the Philippines' roughly 7000 Islands.