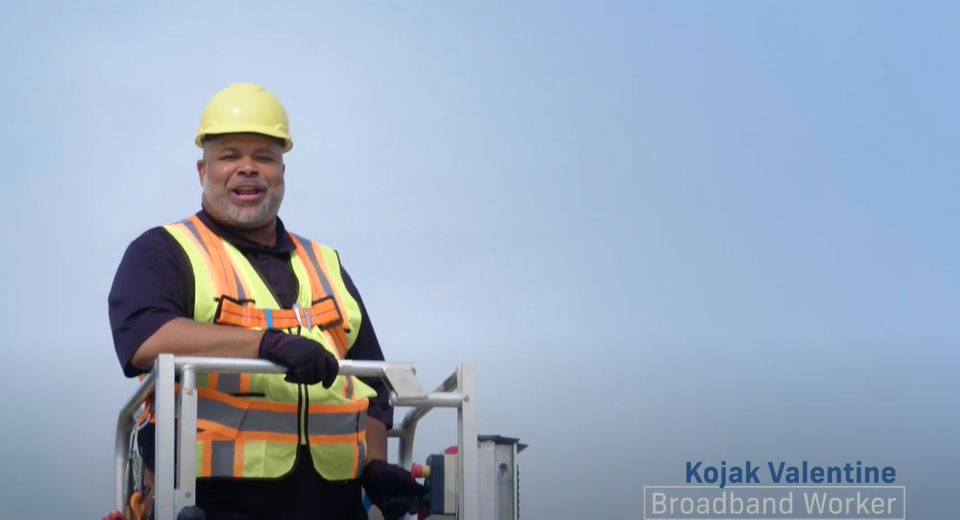 WASHINGTON —The Communications Workers have launched a big, nationwide "Build Broadband Better" drive to convince Congress to wire the entire country—and have well-paid workers with the right to organize do it.
The campaign includes a petition to Congress a TV and digital ad campaign, and a "Broadband Brigade" of current wireless workers to fan out nationwide to push the cause. Details are at www.buildbroadbandbetter.org.
Congress and the Democratic Biden administration are paying attention to the issue. The initial coronavirus rescue law included several billion dollars to expand the wireless network, and all versions of the follow-up legislation—including the compromise version of Biden's American Jobs Act, the "hard" infrastructure bill–add even more.
The coronavirus pandemic exposed massive holes in broadband and Internet access, especially for people of color and low-income households in both rural areas and central cities, the union explained.
It also revealed how dependent the U.S. now is on such access, as lack of broadband meant no Internet access for tens of thousands of school kids forced to fall back on Zoom and distance learning when schools had to shut to combat community spread of the viral plague.
And the kids couldn't learn because either they lacked up-to-date technology to do so or, often, their communities weren't wired.
School kids "shouldn't have to go the McDonald's parking lot" with their tablets to do their homework by receiving Wifi via broadband, union President Chris Shelton says.
But stringing the entire country requires trained, technically knowledgeable workers, available through union-run apprenticeship programs, CWA states.
That also means those workers must have the right to organize, unfettered by bosses' interference and intimidation, too, the petition declares.
"If the pandemic taught us anything, it taught us everybody needs broadband. It's like electricity or water," said Shelton. "CWA has been pushing for universal high speed internet access for 15 years. We support a shared partnership between private companies and the federal government to get this done.
"But Congress needs to make sure it's done right, with experienced, trained union workers, not low-wage subcontractors who make a quick buck and skip town." It demands any legislation with federal broadband money also "prohibit companies that receive" the cash "from subcontracting the work in order to undercut its union employees jobs and standards and that would protect workers' right to organize a union."
CWA also recruited Kojak Valentine, a veteran telecom wireline installer and member of Macomb County, Mich., Local 4008, to narrate a video urging listeners to call Congress.
"Expanding broadband access will help students learn and the economy grow," he says. "When we make sure the work is done by experienced union members, that means reliable service and good jobs.
"Americans need high-speed, affordable broadband to work, learn, shop and succeed in the world today. However, millions of us do not have reliable, affordable broadband access…Tell Congress: Build broadband better."
Broadband firms say they lack workers for wiring the entire nation, an assertion CWA doubts. It notes major broadband companies, led by AT&T, have cut tens of thousands of unionized jobs in the last several years, including workers who could build out the broadband.
"We know Internet service providers will not hold themselves accountable to ensuring that deployment is done right," CWA Legislative Affairs Director Dan Mauer warned at the campaign's July 8 rollout.
"That's why we need legislation that protects good union jobs and workers' right to organize. We look forward to working with the Biden-Harris administration and our country's elected officials to ensure an effective build out."