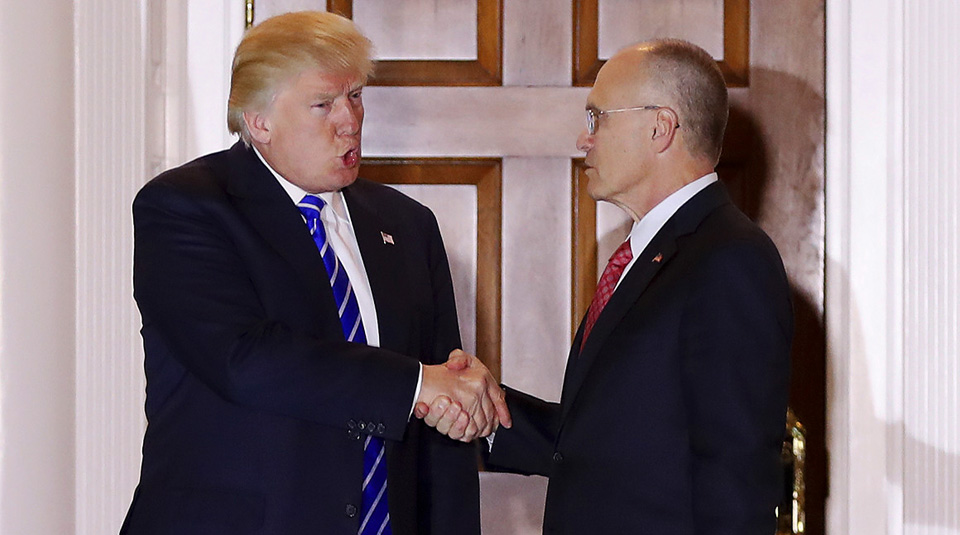 WASHINGTON – The Communications Workers launched a union-wide drive to get members to pressure senators to reject four Cabinet picks made by Republican President-elect Donald Trump: Labor Secretary Andrew Puzder, Treasury Secretary Stephen Mnuchin, Health and Human Services Secretary Tom Price and Commerce Secretary Wilbur Ross.
The month-long campaign began the first week in January with leafleting at work sites, mass phone calls, through text messages and having CWA members contact relatives, colleagues and friends to join the drive. It also features a website with information about the four: www.blockthecorporatecabinet.com.
Union President Chris Shelton outlined the campaign in a Jan. 6 conference call with thousands of activists, saying they must become "alligators" against Trump's millionaire Cabinet picks. Price, an M.D. who is now a GOP Georgia congressman, is the only one who does not hail from the corporate class. He's also the first target, but CWA will concentrate on a different nominee every week.
"We owe to our members, and to millions of Americans who will be hurt by these folks," Shelton explained. The four, along with other Trump Cabinet nominees, "will roll back decades of progress, to enrich themselves and their corporate buddies."
But Shelton and Sen. Jeff Merkley, D-Ore., who joined him on the conference call, admitted that opposing Trump's nominees will be an uphill battle. Senate rules now require only a bare majority — 51 votes—to shut off a filibuster against a Cabinet officer or other official, except for Supreme Court justices.
And Merkley expects Republican leaders to try to ramrod all Trump nominees, including those four, through the Senate. Trump enters the Oval Office on Jan. 20.
So Merkley said Senate Democrats would use hearings on the Trump nominees to lay out the abysmal records of those four, and more, in the hope that Americans would pay attention and bombard the Senate with protests.
He also said that inside the Senate, Democrats would take advantage of rules delays
such as the day between any planned GOP motion to cut off debate on a nominee and a vote, plus the 30 hours of debate allotted after such a "cutoff" passes—to lay the Trump nominees' records bare for all to see, and tie up the Senate as well.
But to halt Puzder, Ross, Price and Mnuchin, workers and their allies must mobilize outside the Senate, both Merkley and Shelton said.
Trump, a millionaire real estate mogul, "is not draining the swamp" in D.C., as he promised during the 2016 presidential campaign, Shelton said. "He's filling the swamp" with "a Cabinet of corporate cronies."
They include not just the four that CWA is going after but Trump nominees for the State Department, the Environmental Protection Agency and other top posts, the two told activists on the conference call.
Shelton particularly targeted Mnuchin and Puzder. He pointed out that Puzder, the nominee to be Labor Secretary, is a fast-food mogul who opposes the minimum wage and overtime pay, and who wants to replace workers with robots.
And Mnuchin, a Wall Streeter who took over a failing bank during the Great Recession, became known as "The Foreclosure King" for his bank's huge numbers of foreclosures—regardless of ability to pay—against workers and consumers financially hit by the recession.
The worst case, Shelton and Merkley said, was when Mnuchin's bank seized the house of a 90-year-old woman whose failing eyesight caused her to underpay her property taxes by 27 cents. "That's because his bank could get more by selling her house," Shelton explained.