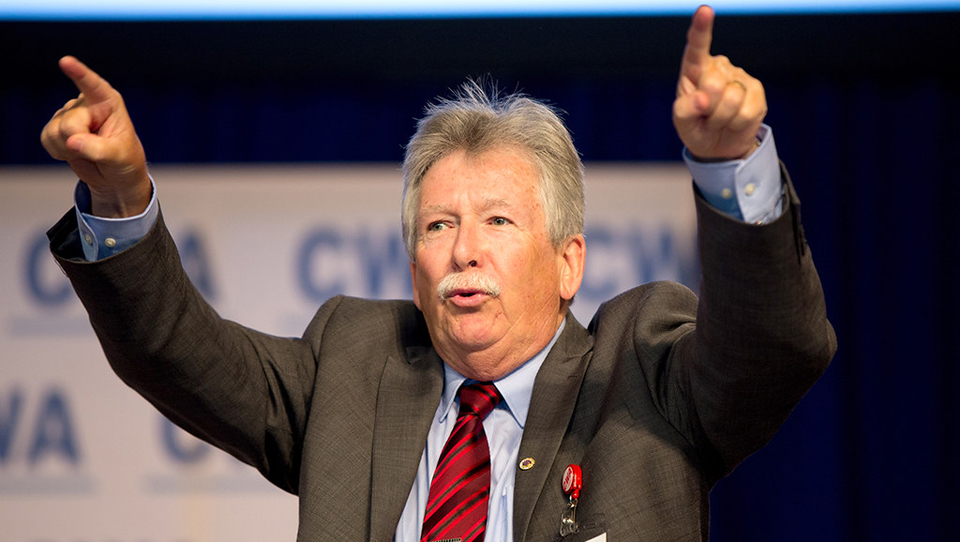 WASHINGTON—The Communications Workers board voted unanimously to make open support of the Protect the Right To Organize (Pro) Act a litmus test for the union's backing of incumbent lawmakers in next year's election.
"If a sitting member of Congress or a senator doesn't vote for the Pro Act to expand workers' rights, they won't receive an endorsement for reelection from CWA in 2020," union  President Chris Shelton said on Oct. 24.
"The stakes have never been higher in this election for workers. All incumbent House and Senate candidates seeking the support of CWA members who are gearing up to knock on thousands of doors, make phone calls, and get out the vote must fight to pass this crucial piece of legislation. Our future depends on it."
The board's decision came just after the first two House Republicans – Chris Smith of New Jersey and Brian Fitzpatrick of Pennsylvania – added their names to those of 214 Democrats in co-sponsoring the Pro Act. The Democratic-run House Education and Labor Committee approved it on a 26-21 party-line vote earlier this year and it awaits floor action.
It also came just after the AFL-CIO organized a mass call-in to Congress by union members nationwide, urging lawmakers to approve the measure, HR2474.
The Pro Act would be the most wide-ranging rewrite of U.S. labor law since the original 1935 National Labor Act. That original pro-worker statute was emasculated by the GOP-passed Taft-Hartley Act in 1947 and Landrum-Griffin Act in 1959. The Pro Act would undo almost all of the damage those two laws did.
Among other things, it would institute real financial penalties against labor law-breakers, impose them on board members and executives as well as line managers, provide for immediate court orders and reinstatement of illegally fired workers, mandate arbitration if the firm refuses to negotiate a first contract with a recognized union, and lower employer- and court-erected barriers to organizing.
It also would negate the U.S. Supreme Court's Janus decision last year, making every single state and local government worker in the U.S. a potential "free rider," who could use union services and protections without paying one red cent for them.
"And what I like the most is that it removes the standing of an employer to be involved in the choice of who represents workers," AFL-CIO President Richard Trumka told a crowd at the University of the District of Columbia Law School on Oct. 24.
"We'll get it passed in the House of Representatives though it may not go through the Senate," Trumka admitted. Senate Majority Leader Mitch McConnell, R-Ky., long ago labeled virtually all legislation coming over from the House "socialist" and vowed it would never see the light of day.
Shelton forecast his board's decision in his keynote address to the CWA convention in Las Vegas earlier this year. So did Local 7777 President Debbie Medina of Colorado, who spoke from the convention floor.
"Our pay, our jobs, and our benefits are under attack, while employers outsource and offshore our jobs," she said. "The system is built to defeat us."
To change that, Shelton said, unionists must be "electing a pro-worker government in 2020. The stakes could not be higher: Whether we will have a pro-labor Supreme Court and National Labor Relations Board, and a government that protects workers, not employers.
"It's not just the presidency, but to hold the House, and the Senate races won't be easy," he warned then. "We must do everything we can to win the Senate and ask American politicians to serve the American people."
That's where the Pro Act litmus test comes in, the union board decided.
"Corporate lobbyists have spent decades weakening our laws to keep the balance of power tilted in favor of CEOs and the super-rich," the board said. "Without worker power, the 1% gets richer while our wages stay stagnant, our working conditions get worse, and our economy stays rigged in favor of the wealthy."
"The Pro Act would give CWA members more power to win the wages, benefits, and working conditions we deserve. It would protect strikers, make it easier for workers to join unions, prevent the misclassification of workers as independent contractors, deal a blow to" – actually it would yank the legality off of – "'right-to-work' laws, and a lot more."
"The pressure is working," the board exclaimed, after more lawmakers, including the two Republicans, signed on immediately after the National Day of Action on the legislation.