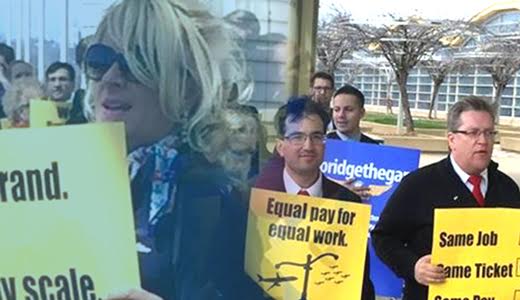 WASHINGTON (PAI) – The Communications Workers and the Teamsters reached a tentative first contract for 15,000 passenger services agents at American Airlines, bargaining chair Ron Collins, a top CWA official, said on Oct. 1.
If ratified by a membership vote, the pact would complete the arduous path agents at American and USAirways took to reach an agreement after the two airlines merged.
It also would be the second joint big win for the Teamsters and CWA. On Sept. 30, those two unions and others announced members had ratified a nationwide pact covering thousands of workers at the American Red Cross.
Collins said the pact with American "makes major improvements in wages and benefits," including an immediate three percent wage hike to match the pay at New Delta – the non-union Delta Airlines, which devoured wall-to-wall union Northwest several years ago. Wages will also rise another 9 percent over the pact's five years, Collins said.
"There will be NO FURLOUGH (his emphasis) during the life of the agreement. The company will eliminate ALL of the RED-COAT CONTRACTORS at the ticket counters throughout the current American Airlines system," Collins said.
He added that American "was determined to outsource stations with five or fewer mainline flights per day, but we were able to save all of those stations thanks in large part to member mobilization.
"Under the tentative agreement, all Passenger Service Employees on payroll on the date of signing will not have their jobs outsourced." And current health care plans will stay in place, while other benefits improve, he added.
"We could not have reached this agreement without the support of our local union leaders, mobilization team members, and every member who supported the organizing and mobilization efforts over the past several months and even years. In particular, the mobilization activity in the last few days made a huge difference at the table and demonstrated the power of our unity," Collins said.
The Teamsters disclosed the Red Cross agreement ratification, which covers 4,200 workers in 24 states, members of the Teamsters, CWA, AFSCME, the Teachers – including their Oregon nurses — the Steelworkers, Auto Workers, UFCW and SEIU. Contract details were not disclosed.
"It was very important that our local unions came together and helped educate members about the importance of this contract, which resulted in over 80 percent approving it," said Teamsters President Jim Hoffa. "Now it is the time to move forward at the American Red Cross so that the unionized workforce can continue to be an asset to the organization."
"Now that this first-ever national contract has been ratified, Red Cross will be in a better position to improve its operations and overall financial condition, while organized labor will enhance its ability to effectively address concerns across the country of current and future union members," said Michael Filler, Director of the Teamsters Public Services Division.
Photo: http://www.afacwa.org/