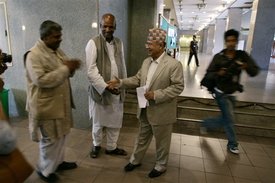 KATMANDU, Nepal (AP) — Lawmakers elected a communist party leader as Nepal's new prime minister on Saturday in a move aimed at ending weeks of political turmoil.
Madhav Kumar Nepal of the Communist Party of Nepal (United Marxist Leninist) was elected unopposed, parliament speaker Subash Nemwang announced.
Parliament members congratulated Nepal, and his supporters cheered and offered him flowers when he walked out of parliament.
Nepal, 56, has the backing of 22 political parties and 350 members in the 601-seat parliament, more than the simple majority required to be elected.
Nepal has been a prominent figure in Nepalese politics for more than a decade. He was a key figure in 2005 protests against the authoritarian rule of then-King Gyanendra and the weeks of street protests that led to the restoration of democracy a year later.
The previous prime minister, former Maoist rebel chief Pushpa Kamal Dahal, resigned May 4 following a dispute with Nepal's president.
Dahal's party, the Communist Party of Nepal (Maoist), had blocked parliamentary proceedings but ended its protest several days ago, allowing Saturday's election.
Maoist lawmakers walked out of parliament on Saturday and did not participate in the process.
Both Dahal's and Nepal's parties are communist but differ in policies and beliefs. CPN-UML did not support the armed struggle conducted by the Maoists, opting, instead, for a course of political struggle against the monarchy and for democracy. The CPN-UML had led the government in the 1990s. It also negotiated with the Maoists more recently to come into the political and peace processes.
The Maoists ended their decade-long armed struggle just three years ago and entered a peace process. They won general elections in 2008 but did not obtain a majority in parliament. Nepal's party has long been part of mainstream politics.
Dahal resigned after President Ram Baran Yadav rejected his sacking of the country's army chief, who had resisted efforts to integrate former Maoist fighters into the military.