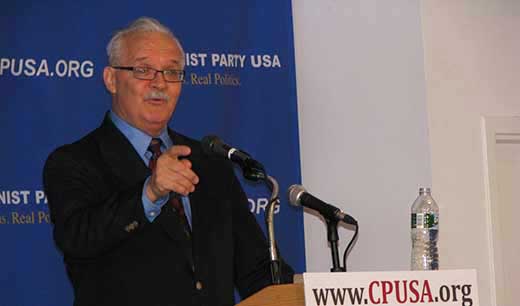 NEW YORK – Just blocks north of Wall Street here, the site of the biggest crime spree in history, Communist Party Chairman Sam Webb said executives who planned, aided and abetted the theft of wealth and sent the economy into a tailspin deserve to "be in prison." Webb opened the 29th Convention of the Communist Party USA, May 21.
Anger at corporations and "bosses," who constantly take, take, take from workers, communities and taxpayers leaving financial crises, joblessness, foreclosures and environmental disasters in their wake, was apparent at this gathering of a few hundred delegates and guests. Anger was also directed at the use of racism and immigrant-bashing to further their pro-Wall Street agenda.
But there wasn't just anger in the keynote and delegate speeches. There was also optimism, compassion and readiness to organize a fightback on jobs and in the mid-term elections.
Saying the far-right political forces in the United States have launched a "new racist counteroffensive" in order to "strip away popular support for the first African American president," Webb said, "if unchallenged" it could lead to a "much uglier version of the Bush-Cheney administration." But if the "racist barrage runs into a powerful anti-racist response coming not only from people of color, but also from the white majority and white workers" it can be stopped.
"My guess," said Webb, "is that the Republican Party, which has turned into an instrument of unabashed racism … will not be successful" in 2010 or in 2012.
Webb called on the delegates to step up their involvement in the fights for jobs, anti-racism and grassroots election work.
Webb also expanded on a vision for socialism. Calling it a "work in progress" Webb spent time on developing a vision for socialism based on U.S. culture, history, democracy and traditions. And that socialism has to be sustainable – environmentally/economically – and given the huge dangers of global warming, socialism is a necessity.
Jarvis Tyner, CPUSA executive vice chairman, welcomed the convention along with CPUSA organizer Rossana Cambron who spoke in Spanish.
"Socialism is getting popular. The right wing has no solutions to this economic crisis, except cut taxes for Wall Street. The Communist Party sees there is a way to come out of this crisis by uplifting all working people, not the Dow Jones," Tyner said in a statement.
Secretary-Treasurer Roberta Wood says, "When just about every working-class family in this country has somebody out of work, while Wall Street profits haven't missed a beat, you know capitalism isn't working. The American people can do better and we're here to talk about how. And we're serious."
Numerous delegates took the floor and spoke about the new Arizona law, SB 1070, which empowers state law enforcement to stop anybody suspected of being "illegal." A delegate from Phoenix hailed the boycott of Arizona, which has taken on a "life of its own" with so many organizations, businesses and government bodies refusing to bring their tourism or other business to the state.
Young people, their future bleak with skyrocketing jobless rates, education cuts and the promotion of violence also were addressed by many delegates.
The convention sets the main political strategy for the next four years and elects a collective leadership body called the national committee. Workshops on saving public education, winning green jobs and sustainable environment, religious and faith-based communities and building online communities and organizing were among the more than 22 workshops. Convention plenary sessions are on jobs, 2010 elections, struggles for equality, peace and solidarity, the Young Communist League, and building the party and its online media.
The CPUSA received international greetings from communist and workers parties from around the world. In a deeply emotional moment, Vietnam's Deputy Ambassador to the United States, Minh Tien Nguyen, gave greetings on behalf of the Communist Party of Vietnam.
Founded in 1919, the Communist Party USA has been on the U.S. political scene for more than 90 years. For more information go to, www.cpusa.org.
Photo: Marilyn Bechtel