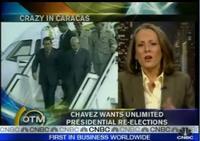 Watch New York Communist Party Chair Elena Mora on CNBC's "On the Money."
Mora takes on anti-Chavez views and speaks about developments in Venezuela, as well as the U.S. Mora wrote an article about her recent trip to Venezuela on Women and the Bolivarian Revolution for the People's Weekly World .
Mora is also a contributing editor to Political Affairs.
To make a donation to the Communist Party go to .