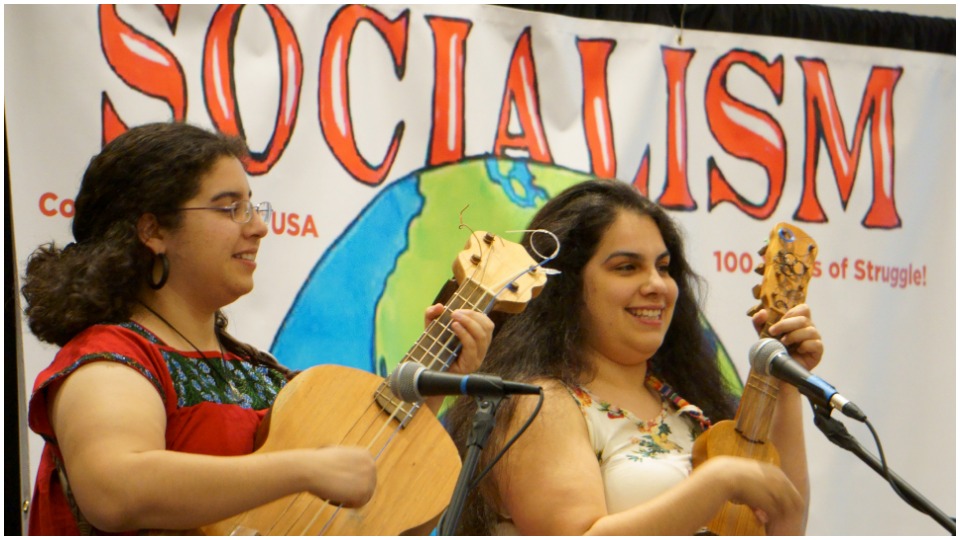 CHICAGO—More than 300 delegates and guests opened the Communist Party USA's 100th anniversary convention in Chicago on Friday, emphasizing their backing of the Green New Deal, full legalization of all immigrants, protecting voting rights, and other issues.
That agenda developed through speeches and in the discussion of resolutions put before the convention. But no one should really be surprised at the party's priorities, said Chicago delegate Pepe Lozano, a national committee member.
Speaking of the party's 100-year history, Lozano said, "This is the working-class heritage we uphold today." He delivered the convention's opening declaration. "We proclaim that we stand for the equality of all working people in the struggle against U.S. capitalist exploitation," he thundered.
"Anti-communism along with racism and white supremacy are the big weapons" in President Donald Trump's "arsenal to convince workers to capitulate in the war against imperialism," said veteran party leader Jarvis Tyner, the party's former vice chair and two-time vice presidential candidate.
"This party never rejected proletarian internationalism and understands it the best because we live in the belly of the beast."
And in a statement that could apply to all the issues, one delegate said of fighting voter suppression: "We need to go back to the basics of 'Workers of the world unite.' We need to talk about diversity and how it contributes to our society—and how it helps defeat the divide-and-conquer tactics of the capitalists."
The resolutions and priorities are expected to take up most of the meeting's three days, along with brainstorming on ways to get the party's message out to a wider population. Delegates will also elect a new national leadership.
Tyner said the party must particularly emphasize contacting people of color and LGBTQ people. Such outreach and recruitment are what's needed to fight the right and its domination of the mass media added People's World Social Media editor Chauncey Robinson. The online paper, successor to the old Daily Worker, is a big part of that, delegates learned.
Peoples World Editor-in-chief John Wojcik reminded those assembled that since its first issue hit the streets in 1924, the publication has been "raising the standards of struggle against the few who rob and plunder the many." That same tradition is bringing it fresh growth today.
A decade ago, People's World had only 1,900 subscribers when it stopped its print edition, the publication's managing editor, C.J. Atkins, told the meeting. Now, it's on course to capture 2 million readers this year.
Sets top priorities
The resolutions considered by delegates included some nuts and bolts about how to address major challenges in advance of the 2020 election and attract new members to the century-old group. But much of the language is still "aspirational," as one delegate put it.
The Green New Deal resolution, for example, was part of a workshop which linked elimination of fossil fuel domination to other goals: Creation of new jobs, guaranteed health care, pensions and wage support for workers who lose their jobs, and ending environmental racism.
It's "a call to action for a livable planet, a mobilization program, and a call to common sense," one panelist from Minnesota named Virginia said. "Our resolution says it's the legal duty of the federal government to get to net zero greenhouse gas emissions, and 80% of Americans agree with those goals."
But the resolution on the GND also includes what she called a 10-year mobilization plan for party members to connect with other Americans in forums, meetings, activism, and lots of one-on-one contacts.
Delegates repeatedly emphasized, in discussing the Green New Deal, the interconnection of combatting global warming to other issues—notably racism and economic abuse.
The interconnections are both negative—capitalist exploitation driving the planet "to the edge of disaster"—and positive, such as creating coalitions to lobby for and establish worker-managed enterprises to replace fossil fuel factories with "solar, wind, hydro" and other alternative energy sources.
GND can be "a central plank" in a strong political front, an Austin, Texas, man said. But the front also must include support for workplace democracy and strong worker rights legislation, such as the PRO Act, which organized labor and its Democratic congressional allies currently push, he warned.
That's because while the Green New Deal is a key cause of progressives nationwide, led by Rep. Alexandria Ocasio-Cortez, D-N.Y., it's hit resistance from some unions. That's still a problem to overcome, the moderator of the Green New Deal/Working Class workshop admitted.
"The Green New Deal will require massive cuts in the nation's swollen military budget," the moderator said. "It needs support from the entire labor movement."
So one "resolved" section of the Green New Deal resolution demands strong union rights, an end to employer "intimidation and harassment," plus "guaranteed incomes and jobs" for workers who will lose their employment when fossil fuel plants close.
"We need to struggle to make sure (union) leadership does not avoid" the GND issue, added a retired Machinists local president who spoke via Zoom because he couldn't attend the convention. "The Service Employees and the Association of Flight Attendants have already endorsed it—but we have to push the others."
"If workers don't get high wages from" the Green New Deal, "or if they don't get jobs, they won't support it," an Illinoisan warned. "We need to be a connector between labor and the environmental groups," a Pennsylvanian added.
The party shouldn't just talk to its own members but must reach out to like-minded groups, even if they disagree on some issues, said a woman Unite Here organizer from New Haven, Conn., during a second plenary session devoted to worker unity.
"We have to respect differences, but share what we have in common," she explained. "What we did in New Haven was to reach out to other movements and put our people"—progressives of all hues—"in political office." They did so, she added, by registering 20,000 new voters and getting them to the polls last November.
Workers must use those same weapons of mobilization, registration, voting, and pressure on politicians to legalize the undocumented and protect reproductive rights, panelists added. Both causes have majority popular support, but they face strident opposition from Trump, his cronies, and the radical right.
"We need to be talking about legal status not just for the Dreamers or DACA and TPS recipients, but to promote legalizing all immigrants," said one panelist. "We should promote this with elected officials at all levels."
After all, "We don't have any trouble welcoming undocumented people into my union," said an Electrical Worker (IBEW) member from Houston. "But our (construction) contractors do a lot of checking." The immigration discussion produced another shot at Trump, as an African-American man from New York drew a big cheer when he declared "ICE should be abolished."
Trump has ordered Immigration and Customs Enforcement agents to round-up and deport Spanish-speaking people who reside within the U.S. He wants ICE to conduct mass raids in 10 cities, including Chicago, Houston, Miami, Los Angeles, and New York, starting June 23.
In response, Chicago Mayor Lori Lightfoot announced June 21 that in her "sanctuary city" she's also ordered the city police department to terminate all information-sharing with ICE. United We Dream, the top organization for Dreamers, set up a hotline for migrants to report sightings of ICE agents, so local communities can be warned. So has a progressive Chicago Latinx immigrant rights group.
As for reproductive rights, a doctor from rural Pennsylvania pointed out that while abortion is legal in the Keystone State, it isn't necessarily available. Rural residents must drive up to 2-1/2 hours to the nearest clinic, and many "may have (legal) access but not have the dollars to pay." There are no clinics in 90% of U.S. counties. "The fight for reproductive health should be part of single-payer" government-run health care, she stated.
The Unite Here organizer added her union has already selected three swing states to dispatch dozens of organizers to next year: Florida, Nevada, and Arizona. The CP's political committee, which reported its recommendations on June 22, has been working on a comprehensive brochure explaining the party's stand on key issues—and inviting voters to "join us."
International guests
The working-class struggle against exploitation also extends beyond U.S. borders, foreign guests told convention delegates.
"It is necessary to get rid of the warmongers and profit-makers," said Victor Grossman, a German guest and former U.S. soldier who defected east when under threat from the anti-communist McCarran Act in 1952. "Imperialism attacks freedoms and fundamental rights," added Albano Nunes of Portugal.
Alex Granado, a member of the Communist Youth of Venezuela, described the struggle of popular forces, including the Venezuelan Communist Party, for embattled the embattled Bolivarian Republic against reactionary forces within and without the country who want to overthrow him. Trump leads the anti-Maduro forces outside Venezuela.
"The increasingly frequent struggles against the bourgeoisie demand we must move forward," Granado said. "We must move towards creation of a socialist system."
"The capitalist system causes the ills of the working class," Granado continued. And Trump's actions, supporting the right wing and its political puppets—and even on occasion threatening military intervention—"threaten the freedom of all classes of Venezuelans."
Liz Rowley, leader of the Communist Party of Canada, brought the foreign struggle even closer. She noted the U.S.-Mexico-Canada Agreement (USMCA)—the so-called "free trade" successor to jobs-destroying NAFTA—is "a continental corporate constitution to assert control over the peoples of this continent."
Canadian Prime Minister Justin Trudeau's Liberal government is pushing the USMCA, as is Trump. But House Speaker Nancy Pelosi, D-Calif., is sitting on it. She refuses to bring up legislation to implement the USMCA without stronger guaranteed worker rights, environmental protections, and massive changes to Mexican labor laws and practices. Mexico's Senate, however, has already ratified the pact, 113-4.