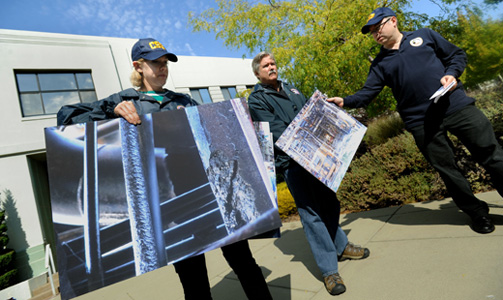 In an unprecedented move, a community environmental organization will participate directly in investigating the disastrous Aug. 6 fire at Richmond, Calif.'s Chevron refinery. Communities for a Better Environment (CBE) announced Aug. 14 that it has accepted an invitation to join in a city-county "root cause analysis" of the incident that sent plumes of toxic smoke pouring over the city and neighboring communities.
CBE community organizer Andrés Soto said in a telephone interview that the "close incident review" under an industrial safety ordinance adopted by the city of Richmond and surrounding Contra Costa County was originally planned to include only "government actors." But, Soto said, "we have been working with people in the county and city so closely that when we said, 'hey, it's time to include the community at the table,' they chose to go ahead and do that." He called the step "unprecedented."
All information given the city and county will be "shared with all committee members including community members," and will add weight to community demands for greater safety, Soto said.
Noting that Chevron is preparing an environmental impact review of its plans to modernize and upgrade the refinery, Soto said CBE would like to go beyond the current requirement that emissions be limited to current levels, and demand that emissions be reduced. He added, "We also want to see Chevron endow a community environmental justice fund that will help the environmental justice community in Richmond, and help fund and stimulate urban agriculture, and use that as a way for employment."
The incident began with a leak in an old pipe, possibly dating to the 1970s, in the refinery's No. 4 crude unit. When workers removed fiberglass insulation, the leak burst into flame.
Over 9,000 people were treated at area hospitals in the following days, for eye, nose and throat irritation and respiratory problems including asthma attacks. A few were hospitalized.
Five refinery workers were treated for minor injuries, and investigators said over a dozen could have suffered severe injuries or death.
Over 8,000 residents of this city, where 85 percent of the population is listed as "minorities" by the U.S. Census, and a quarter of residents live below the federal poverty line, have so far filed claims with the refinery for damages incurred in the explosion's aftermath.
At midweek, federal, state and local investigating agencies were still waiting word that the burned-out unit was safe to enter. Attorneys for nine local residents filed lawsuits in county court Aug. 15 seeking safety upgrades including to a faulty community alert system.
Chevron has a long history of accidents and violations at the Richmond refinery, and at facilities around the world. At Richmond, a 1999 explosion sent up an 18,000 pound plume of sulfur dioxide smoke. In 2007 an explosion triggered a five-alarm fire. Old pipes were blamed in both incidents.
In Nigeria, a January 2012 explosion at a Chevron exploration rig took the lives of two workers and caused a fire that Chevron said might burn for months in waters off the Niger Delta.
In Brazil, a 2011 offshore oil spill resulted in 155,000 gallons of oil seeping into the ocean near a Chevron well.
Also last year, an explosion in a large storage tank at the Chevron refinery in southwest Wales cost the lives of four workers.
Nor is Chevron the only oil firm involved in environmental disasters. Writing in the Los Angeles this week, environmental commentator Antonia Juhasz noted serious oil fires this year "at a ConocoPhillips refinery in Los Angeles, two at one BP refinery in Indiana, and in Louisiana, Oklahoma, Tennessee, Washington, and at other locations." Juhasz cited a United Steelworkers estimate that at least one fire occurs every week at a U.S. oil refinery.
Photo: Shauna Lawhorne, left, of the U.S. Chemical Safety Board Public Affairs office, organizes photographs as CSB Managing Director Daniel Horowitz, right, and Don Holstrom, director of CSB western regional office, center, speak at a news conference to answer questions regarding the agency's ongoing investigation at the Chevron Refinery in Richmond, Calif., Aug.14. The CSB is an independent federal agency charged with investigating industrial chemical accidents and is conducting an investigation of the Aug. 6 fire at the Richmond Refinery. Dan Honda, Contra Costa Times/AP