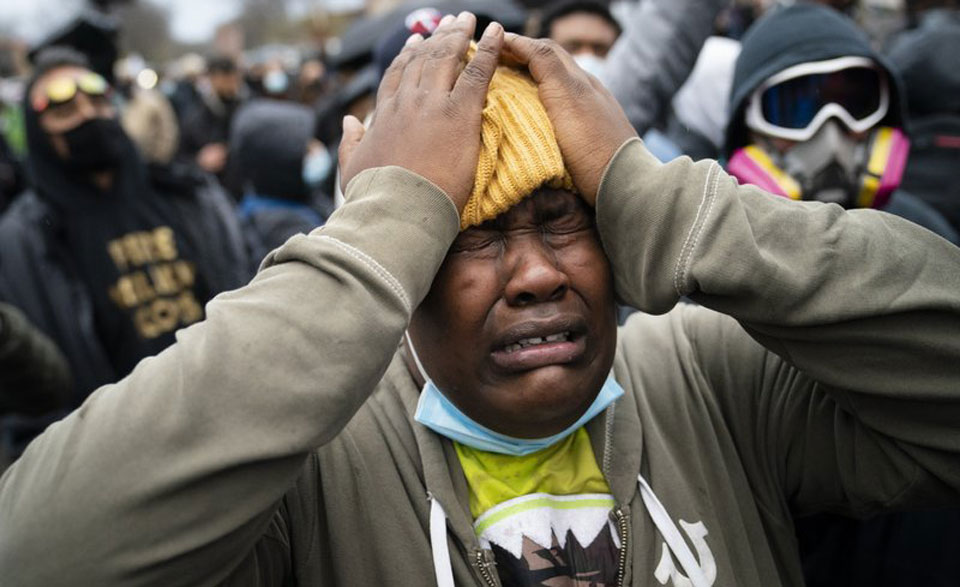 BROOKLYN CENTER, Minn. (AP) — Black community leaders and family members of Daunte Wright were calling for more serious charges against a white police officer in Wright's death, comparing her case to the murder charge brought against a Black officer who killed a white woman in nearby Minneapolis.
Former Brooklyn Center police Officer Kim Potter was charged with second-degree manslaughter in Sunday's shooting of Wright, a 20-year-old Black man, during a traffic stop. The former police chief in Brooklyn Center, a majority nonwhite suburb, said Potter mistakenly fired her handgun when she meant to use her Taser. Both the chief and Potter resigned Tuesday. Potter was due for her initial court appearance Thursday.
However, protesters and Wright's family members say there's no excuse for the shooting and want prosecutors to file more serious charges.
"The family is glad she got charged but they do hope and pray for a day where they get equal justice," Wright family attorney Ben Crump said Wednesday. "Why should we always get a fragment of justice?"
Advocates for Wright point to the 2017 case of Mohamed Noor. The Black former Minneapolis police officer fatally shot Justine Ruszczyk Damond, a white woman who was a dual citizen of the U.S. and Australia, in the alley behind her home after she called 911 to report what she thought was a woman being assaulted.
Noor was convicted of third-degree murder in addition to second-degree manslaughter and sentenced to 12 1/2 years in prison. Potter's charge carries a maximum 10-year prison sentence.
Noor testified that he fired to protect his partner's life after hearing a loud bang on the squad car and seeing a woman at his partner's window raising her arm. But prosecutors criticized Noor for shooting without seeing a weapon or Damond's hands and disputed whether either of them really heard a bang.
Potter's attorney has not spoken publicly or returned messages from The Associated Press about the shooting of Wright and the criminal case. Potter was released from the Hennepin County Jail late Wednesday on $100,000 bail.
Wright's death came as the broader Minneapolis area nervously awaits the outcome of the trial for Derek Chauvin, one of four officers charged in George Floyd's death. Crump pointed to that trial as having the potential to set a precedent for "police officers being held accountable and sent to prison for killing Black people."
On her body camera video, Potter is heard yelling "Taser!" three times before she fires and then says, "Holy (expletive), I shot him."
Potter, a 26-year veteran, was training another officer at the time of the stop.
"This was no accident," Crump said after charges were announced. "This was an intentional, deliberate, and unlawful use of force."
Protesters who have clashed with police since Sunday's shooting have also drawn comparisons to the Noor case in arguing that white police officers receive preferential treatment in a system biased against Black people.
Intent isn't a necessary component of second-degree manslaughter in Minnesota. The charge can be applied in circumstances where a person is suspected of causing a death by "culpable negligence" that creates an unreasonable risk and consciously takes chances to cause a death.
"Certain occupations carry an immense responsibility and none more so than a sworn police officer," Imran Ali, Washington County assistant criminal division chief, said in a statement announcing the charge against Potter. "(Potter's) action caused the unlawful killing of Mr. Wright and she must be held accountable."