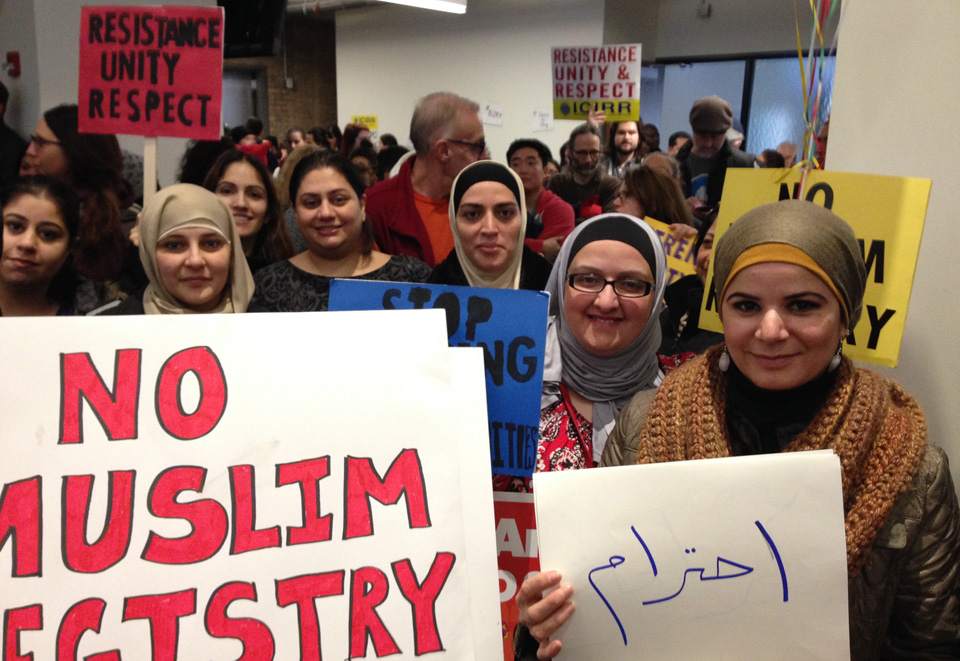 CHICAGO – Nareman Taha believes there is power in numbers. She held a sign that said "Respect" in Arabic and stood with a dozen other women with signs that said, "No Muslim registry."
Taha, the director of Arab American Family Services, led a delegation from the southwest suburb of Bridgeview to rally here Jan. 14 with more than 1,000 people worried that the incoming Trump administration will strip away their rights because of religion, ethnicity, immigration status, race, income, gender, disability or sexuality.
"Coming together with other communities and building partnerships is strengthening our voices," Taha said. "We have one common struggle today: How do we stand together against such hatred and racism."
Taha said that her community, and especially the young people and Muslim women who wear a head covering making them easily identifiable, have experienced fear because of the uptick in violence motivated by hate. "We feel it. We see it."
The rally sponsor, the Illinois Coalition for Immigrant and Refugee Rights, said the Chicago action was one of 50 organized across the country. Held at the Chicago Teachers Union hall, rights advocates sought to unite for mutual aid and to protect what they called "vulnerable communities."
The CTU's parent union, the American Federation of Teachers, recently pledged to protect undocumented students from deportation and others who may be threatened by the incoming Trump administration. Mayors of major cities, including Chicago's Rahm Emanuel, vowed to protect undocumented immigrants from the wrath of Trump even as the president-elect said he would pull federal funds from "sanctuary cities."
"The threat of deportation is imminent for our communities," said Cristina Jiménez, executive director of United We Dream and one of the rally's organizers. "We will keep fighting. We're not going back into the shadows."
The protest here issued a platform for "resistance, unity and respect" that included actions to take on the local, state and federal levels.
"Together we say no to deportations, no to a Muslim registry, and no to any tactics that attempt to divide and criminalize our communities," part of the platform states.
Of special concern were the 740,000 immigrant young people across the country who are covered by the Deferred Action for Childhood Arrivals, a program started by the Obama administration that offers eligible undocumented youth protection from deportation and a temporary work permit. President-elect Trump has said he would end the program.
Hyeondo Hwang of the Korean American Resource and Cultural Center and a DACA beneficiary said the program means "first and foremost feeling safe in this great country where I grew up in, where I feel love and where I plan on spending the rest of my life."
He said being a proud son of a cab driver and nail salon worker, who had to leave South Korea when life there was looking bleak, DACA gives him "a shot at becoming a scientist." Hwang works at a chemistry lab in order to put himself through school.
"Dismantling DACA takes away young people's dreams and potential. It's damaging to the workforce and economy," he said and urged the audience to support federal legislation called the BRIDGE Act, which would allow DACA-eligible young people to stay and work in the United States. BRIDGE stands for "Bar Removal of Individuals who Dream of Growing our Economy" and is co-sponsored by Sen. Dick Durbin of Illinois and Rep. Luis Gutierrez, D-Ill.
Syrian refugee Rehab Alkadi said she came to the U.S. one year ago after fleeing the war and violence in her country.
"A refugee is someone who lost everything, who needs to rebuild their life and start a life from zero, or maybe below zero," she said. "When we come to America, we are not trying to be a burden on anyone. We want just to live in peace with our dignity."
Illinois Gov. Bruce Rauner announced the state would "temporarily" stop taking in refugees after the Paris attack in November 2015. Trump affirmed he would "temporarily" ban Muslims from coming into the U.S., establish a registry and referred to Syrian refugees as "illegals" in a recent interview with the Times of London and Germany-based Bild.
A group of religious leaders opened the rally with prayers and appeals for the public to stand up for immigrants, workers rights, people of all faiths and refugees.
"Our faith moves us," said Father Tony Pizzo of St. Rita Parish, "and our commitment to the principles of democracy compels us to appreciate, respect and solidify our relationships with all who are of good character and will embrace unity and respect."
Emphasizing the unity of values between those of the Christian, Islamic and Jewish faiths, Ron Taylor, pastor of Disciples for Christ Church, pledged to "stand together in unity."
"These are the values that say 'no' to the politics of divide and conquer," he said. "Regardless of what happens in the coming days, we know that love will conquer all."
Dr. Bassam Osman, chair and co-founder of The Council of Islamic Organizations of Greater Chicago, elicited one of the loudest cheers from the crowd when he called out the president-elect by name in an opening prayer: "Lord, this land is your land, it is not Trump's land."